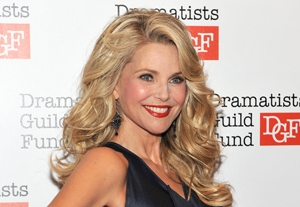 Inside Broadway held its annual Broadway Beacon Awards on Monday night, honoring Christie Brinkley, Nick Jonas, IATSE Local One President James J. Claffey Jr., and the Millennium Broadway Hotel, where the event was held. The awards show focused on the honorees' contributions to the theater community, as well as the work that Inside Broadway, a not-for-profit educational theater company, has done with students throughout New York City.
The evening included a performance by Elizabeth Stanley, who just finished starring in "Million Dollar Quartet" Off-Broadway, plenty of jokes from entertainment reporter Julie Chang, who hosted the event, and even a surprise performance by Jonas, which incited much squealing from the younger members of the audience.
But it was a group of ten students from P.S. 97 in Brooklyn who kicked off the show, performing an adorable rendition of "New York, New York" from the Leonard Bernstein musical, "On the Town," which prompted Brinkley to give a standing ovation from the front row.
Michael Presser, the executive director of Inside Broadway, gave a few words thanking those who have contributed to Inside Broadway and highlighting some of the organization's achievements. Since he started Inside Broadway 30 years ago, Presser said, almost one million children have participated in its programs.
"These are difficult times," he told the audience. "So more than ever, we need the support of our friends to get the message out that it's important to have art in children's lives. It's important to have the theater be a part of children's lives."
Chang then introduced the first honoree of the night, Brinkley, who recently made her Broadway debut in "Chicago."
"Even just as a theatergoer, I always get butterflies in my stomach when they strike that first chord of the overture," said Brinkley, who radiated in a red and white dress with her blonde hair curled in a 1950s retro style. "But to have been invited to be on the stage and be a part of the magic … it's still something that I can hardly believe is happening to me."
After Brinkley accepted her award, Chang introduced Claffey, who gave a heartfelt speech in which he expressed his appreciation for Inside Broadway and asked the audience to applaud the employees backstage. Chang then introduced Stanley, who performed a number of Broadway classics and mentioned her own work with Inside Broadway; she performed in the company's rendition of "On the Town" a few years ago, and lauded the organization's work.
"The arts and education are two things that can never have enough love," said Stanley. "So thanks for giving yours to Inside Broadway."
Stanley's performance was followed by a short speech from Patricia Armstrong, the Millennium Broadway Hotel's Director of Sales and Marketing, who accepted the hotel's award. Jonas was the last honoree to take to the stage, after introductions from both Chang and David Chase, who served as musical director of "How to Succeed in Business Without Really Trying" when Jonas starred in the show. His performance as J. Pierrepont Finch was a return to the stage for Jonas; he first appeared on Broadway at age 7.
"I'd say that it really shaped who I am as a person — having the experience of working with these people, who work so hard to bring these stories to life," Jonas said. "They're doing something they love. And I think anyone can say that's a true blessing in life."
Jonas then surprised the audience with a performance of "I Believe in You" from "How to Succeed," which delighted the public school students up in the balcony. A group from Junior High School 278 in Brooklyn finished the show, performing a medley of songs from "Anything Goes," followed by the feel-good tune, "Brotherhood of Man," from "How to Succeed." The song, which received the largest standing ovation of the show, was perhaps the best way to summarize the evening: a celebration of philanthropy, the theater community, and "the noble tie that binds all human hearts and minds."