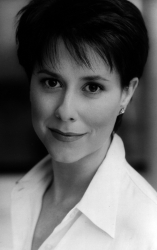 All of a sudden, she's everywhere.
"This past year has been really great," said Chicago actress Kate Fry. She has been working almost nonstop for the past year and a half, at some of Chicago's most prestigious theatres, in some of the theatre's best roles.
In each performance, no matter the size of the role, she has made a lasting mark on the audience's mind. Her Stagebill bio has grown notably in the past year, piling on such roles as Julia in Chicago Shakespeare Theatre's The Two Gentlemen of Verona, Viola in Twelfth Night at Court Theatre, and Eliza in Pygmalion at Apple Tree. This classical and demanding repertoire ideally suits this bright actress, who has her degree in Performance Studies from Northwestern University's challenging and esteemed program. But she hasn't always been cast in such a manner.
"I remember the first couple of years after I graduated... I did a lot of musicals. I always wanted to do this type of theatre, but I had a long wait. You know, unemployment and then dinner theatre..." her voice trailed into a giggle. That musical theatre work will serve her well when she reprises the role of Eliza Doolittle, this time with song, in Court Theatre's production of My Fair Lady.
Coincidentally, or perhaps by mysterious design, many of Fry's recent roles have featured major external transformations (in both Two Gentlemen of Verona and Twelfth Night, her characters have disguised themselves as boys; in Pygmalion Eliza transforms from a "squashed cabbage leaf" to elegance personified). "I love characters who go through that kind of change," said Fry. "It's more than just turning into a boy... the outer accoutrements are just a reflection of the real transformation. Those are such exciting roles that it's hard not to have a special appreciation for them."
The appreciation Fry feels for her characters is matched by that of the Chicago theatre community for this young, versatile, and understated actress. Her repeated appearances at Court, Chicago Shakespeare, and Apple Tree are testament to these theatres' enthusiasm about Fry's skill.
Soon Fry will perform on the stage of Chicago Shakespeare Theater once again, in As You Like It (not in breeches this time, however; she plays the girly Celia), directed by David H. Bell. "He is one of the most generous people I've met," marveled Fry. "The first week of rehearsal he took the entire cast and crew out to dinner. Including cocktails. I think they'll have him back," she laughed.
The Winnetka native has no designs on leaving this close-knit theatre community, either. "I definitely want to stay...Here you develop working relationships with people, and you get to work with them again and again," she said. "It's like family, and it has all the pros and cons of family... everyone knows each other so well."
For this intelligent actress, the process of learning and cultivating new skills and new roles is best done by trial and error on the stage, in front of the world. "The best way to learn is just by doing and doing. You keep working, and keep getting better," Kate advised as she continues to do just that.