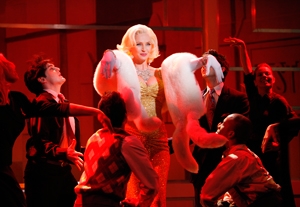 For the first time since silent movies, New York City is giving Hollywood a run for its money.

According to a recent study from the Boston Consulting Group, film and television production in New York City is the largest in the city's history. The film and TV industry now employs 130,000 people in New York, an increase of 30,000 jobs since 2004. In 2011, 23 TV shows were shot in New York, compared with only nine a decade ago; at least 13 pilots were filmed in the city this spring. And 2012 is on track to be the busiest year for television production in city history, according to Mayor Bloomberg and NYC Media and Entertainment Commissioner Katherine Oliver.

At least six new prime-time shows will be "Made in N.Y." this year. NBC's new mid-season detective series "Infamous," being cast by Bonnie Finnegan and Steven Jacobs of Finnegan Jacobs Casting, begins shooting in September. Casting director Julie Tucker of Tucker/Meyerson Casting is casting Kevin Bacon's serial killer drama "The Following" for Fox and the new CBS legal drama "Made in Jersey." CBS' "Elementary," starring Jonny Lee Miller as a modern version of Sherlock Holmes, is both filmed and set in New York City; Mark Saks is casting the series. ABC's "666 Park Avenue," a new drama in which the managers of a historic New York City apartment building begin to experience supernatural phenomena, will be cast by Suzanne Ryan. The new CBS cop drama "Golden Boy" and the CW's "Sex and the City" prequel "The Carrie Diaries" will also shoot in New York this year.

Among the ongoing series that will or have resumed production, HBO's Prohibition-era drama "Boardwalk Empire" shoots until Sept. 24, and the pay channel's half-hour comedy "Girls" shoots through the end of August; both productions are primarily in the Greenpoint area of Brooklyn. The USA series "White Collar" and "Royal Pains" -- sure to be renewed for additional seasons -- shoot into late summer or early fall NBC's "30 Rock," "Smash," and "Law & Order: Special Victims Unit" all will resume production this year, as will the CBS dramas "The Good Wife" and "Blue Bloods." Showtime's "Nurse Jackie," the Adult Swim series "Delocated," the CW drama "Gossip Girl," and Louis C.K.'s hit FX comedy "Louie" all film in the city as well.

Studio space in the city has nearly doubled since 2002 to match the growing demand for film, television, and commercial production. Kaufman Astoria Studios also received approval to build New York's first-ever outdoor studio lot on its Queens campus; construction is expected to finish in time for the 2013 summer season and thereby attract film and TV productions that otherwise may have chosen to shoot in Los Angeles or elsewhere.

Among the films set for a New York shoot are "They Came Together," David Wain's romantic comedy spoof starring Amy Poehler and Paul Rudd that starts production in July; Beth Bowling and Kim Miscia are the casting directors. Feature films shooting in and around the five boroughs in August include "Malavita," by director Luc Besson ("The Professional") and being cast by CD Amanda Mackey of Mackey/Sandrich Casting; and "The Wolf of Wall Street," director Martin Scorsese's adaptation of the bestselling book, starring Leonardo DiCaprio. "Noah," Darren Aronofsky's biblical epic starring Russell Crowe, will shoot between Aug. 22 and Nov. 6 in the area. Woody Allen is even returning to New York to film portions of his next (untitled) movie this summer. In addition, Troma's "Return to Class of Nuke 'Em High," the indie film "The Laurel Bay Country Club Burglar," and sci-fi feature "Forgotten Kingdom" will be setting up shop in the city soon.

For actors looking to get into the business as an extra for TV series and feature films, check Back Stage for casting notices from background casting offices Central Casting New York and Grant Wilfley Casting, which hire extras for many of the above projects. Be sure to check the New York production listings for updates.