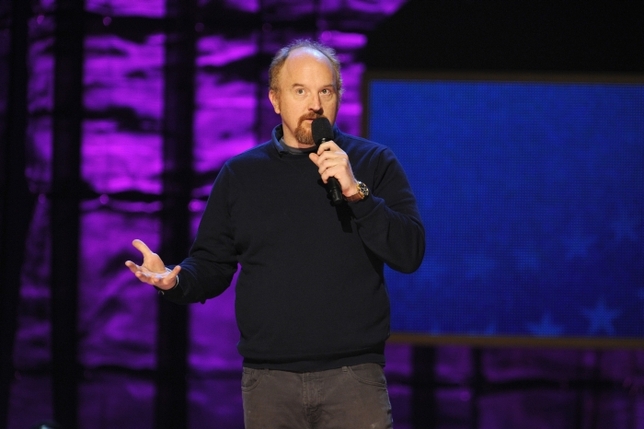 Following news this week that Jerry Seinfeld is adding a Dec. 19 benefit performance on Long Island to his standup schedule to aid the victims of Hurricane Sandy, New York-based comedian Louis C.K. has also announced that he will headline two Sandy benefit shows on Staten Island this month.

The Emmy-winning comedian-writer-actor will share the healing power of laughter in two Nov. 17 performances, at 7 p.m. and 9:45 p.m., at Staten Island's St. George Theater. All proceeds will go towards the ongoing relief efforts in the aftermath of the superstorm. The news was first reported by SI Live and later confirmed by C.K., who is selling tickets directly to fans and supporters on his website.

SI Live reported Nov. 8, "250 first-tier tickets will be auctioned to the highest bidders, with an additional 500 tix gifted to victims of Hurricane Sandy. The next block of 500 will sell for $90; and the last 500 will be $45. Proceeds will benefit the burgeoning Staten Island Hurricane Relief Fund." (But tickets currently available on C.K.'s site are being sold for $65, with a limit of four per person.)

"The goal is to entertain and help our neighbors on SI," C.K. tweeted. "If any scumbag tries to resell these tix for profit please don't participate."

And just hours before taking the stage to host the Nov. 3 episode of "Saturday Night Live," C.K. wrote the following email to his fans:

"Here we are in the middle of New York City, which was just slammed by a hurricane, leaving behind so much trouble, so much difficulty and trauma, which everyone here is still dealing with every day… It's pretty impossible to describe walking through these city streets in total darkness. It can't even be called a trip through time, because as long as New York has lived, it's been lit. By electricity, gas lamps, candlelight, kerosene. But this was pitch black, street after street, corner round corner. And for me, the Village being the very place that made me into a comedian and a man, to walk through the heart of it and feel like, in a way, it was dead, I can't tell you how that felt. And you also had a palpable sense that inside each dark window was a family or a student or an artist or an old woman living alone, just being in the dark and waiting for the day to come back. Like we were all having one big sleep over, but not so much fun as that. This is how a lot of the city is still. I know people in Queens, Brooklyn, Staten Island, New Jersey, all over, are not normal yet. And not normal is hard."

C.K. cancelled two Oct. 28 shows at New York City Center prior to the storm. Those shows have been rescheduled for March 2.

All proceeds from Seinfeld's sold-out Dec. 6 performance on Staten Island, also at the St. George Theater, will be donated to the relief efforts as well.