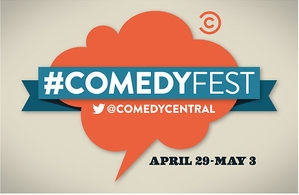 Next week, Comedy Central will partner with Twitter to launch an experiment in how cable channels present content—and how audiences watch it. From April 29 to May 3, the two companies will take the comedy festival outside the realm of dingy bars and concert halls and into the digital age with online festival #ComedyFest. And for those who might think the week-long line-up will only attract the millennial set, comedic greats like Mel Brooks and Carl Reiner are already set to participate.
"Twitter has become an essential medium for comedy and comedians," said Michele Ganeless, president of Comedy Central, in a statement. "#ComedyFest will exist in the twittersphere—creating comedy that lives on social media. It's a great extension for our brand; it's where our audience lives."
During the festival, comedians like Jeffrey Ross and director Paul Feig will not only post video clips of standup routines but will also contribute jokes to the hashtag #ComedyFest. In addition, Comedy Central is planning a number of fringe programs like "Vine Dining with Steve Agee and Friends," in which the comedian Agee will tell six-second stories using Vine, Twitter's video sharing service that was launched in January.
The festival will kick-off at an event at the Paley Center in Los Angeles on Monday evening when, with the help of Carl Reiner and moderator Judd Apatow, Mel Brooks will set up a Twitter account in front of a live audience. A livestream of the event will be presented on Twitter.
While television programming has yet to fully transition over to Twitter, you can find the full schedule for #ComedyFest at CC.com. Or you can, of course, follow them on Twitter.