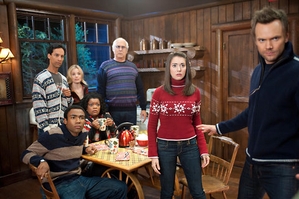 Performers hoping to land a coveted guest role in NBC's comedy lineup need the right mix of character acting and improv skills, according to Josh Einsohn, a casting director who works with Juel Bestrop at her Los Angeles office.
Einsohn, who was promoted to casting director in July, cast "Community" and "Up All Night" with Bestrop, and their office is working on "The Gates," an NBC comedy pilot set at the gates of an elementary school.
On "Community," Einsohn is primarily involved in casting speaking roles
The series, which boasts an impressive ensemble cast that includes Chevy Chase, Joel McHale, and Gillian Jacobs, is routinely casting "quick, fun, small parts" that can turn into reoccurring roles, he said. "'Community' is definitely one of the [series] more open to off-the-wall casting.
"The kind of people that we find the best are the ones that are skilled at developing a character and who are really good at improv," Einsohn said. "Improv is all about pushing the limits and a character has definitions for how far it can go. The strongest ones for a comedy know how to do both really well."
It can be tough to find the right performer, in part, because the show's devoted fan base can blow hot or cold on the show's guest stars. "Nobody ever really knows what's going to connect with the audience," he said.
Einsohn singled out" Inspector Spacetime," played by Travis Richey, as one example of a guest spot that grew into something more. "Everyone fell in love with the character."
"Community" is also a show that generates consistent social media buzz, but Einsohn said there isn't pressure to find actors with, say, Twitter appeal. "I think there are people that we have cast who do have a social media reach, but it's always been about casting the right people creatively," he said.
Einsohn encouraged actors interested in a role on the series to take improv training on top of traditional acting classes. "Even if you're good at it and have it naturally," he said, "it's a muscle you have to exercise and keep limber."