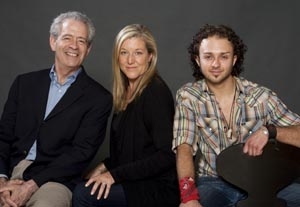 When they were students at the American Academy of Dramatic Arts in New York, James Kautz, Matthew Pilieci, and Derek Ahonen were already disaffected with mainstream theater. They wanted to "open up an honest dialogue between audiences and artists," says Kautz. "We wanted to ask difficult questions: social, political, spiritual, sexual."
Yet for five years they pursued traditional careers, an experience that only confirmed for them their lack of connection to commercial, "producer-friendly" plays "that don't challenge audiences," Kautz continues. After giving Los Angeles a shot and deciding that wasn't their scene either, they drove to Las Vegas, "convinced we'd win $60,000 and start a company. We lost $3,000 but decided to start a company anyway."
That was how the Amoralists began.
They're certainly not the first actors to form their own theater company, but in recent years the phenomenon has become more common—some might even say de rigueur. Increased competition for fewer roles means actors are no longer willing to wait for opportunities to come to them, and dissatisfaction with theater's commercial bent has inspired many to blaze their own artistic paths. Here are seven troupes that did just that.
No Judgment
The Amoralists was born in 2006, and though its founders haven't yet obtained tax-exempt status or defined their respective roles, they are, according to the company's mission statement, "dedicated to an honest expression of the American condition" and exploring "complex characters of moral ambiguity." That's where the name the Amoralists comes from: "Because we're not making moral judgments about the characters or their actions," says Kautz.
The company has produced five original full-length plays at rented spaces around the city, most recently at P.S. 122, where it restaged Ahonen's "The Pied Piper of the Lower East Side," first produced in 2007. Time Out New York gave it a rave review; The New Yorker had reservations but compared its vitality to that of Sam Shepard's early work; and Kautz hopes a producer moves it Off-Broadway.
The founders have largely paid the theater's expenses themselves, with help from Fractured Atlas, an arts service organization. They also raise money by hosting parties at bars, where bands perform and actors and playwrights read new work.
"My goal as an actor is to keep people confronting issues they might not be confronting otherwise," Kautz says. "If I could do that in a movie directed by Sean Penn, hell yes, I'd be interested. If I could do it on Broadway, yes. But I haven't seen it on Broadway. So if that means I'm going to be working on the Lower East Side, that's awesome too!"
Though the Amoralists has found a foothold relatively quickly, Kautz advises actors to beware of the struggles ahead. "Have an honest conversation with yourself if you're thinking of starting a company," he says. "Know why you're doing it. It's a huge commitment."
Practically Speaking
Actor Mary McCann, a founding member of the 24-year-old Atlantic Theater Company, believes that a shared aesthetic and sense of purpose is pivotal to a theater's sustainability. The Atlantic was the brainchild of playwright David Mamet and actor William H. Macy, who started it with a group of undergraduate drama students they had taught at NYU's Tisch School of the Arts.
After Mamet and Macy incorporated the theater, "they turned it over to us, though they continued as our advisers and mentors," says McCann. The shared aesthetic is the acting technique that Mamet and Macy developed, known as "practical aesthetics," which involves "presenting a character through actions and objectives and honoring the playwright's words," she says.
Mary Steenburgen, Felicity Huffman, Kathryn Erbe, David Pittu, and Camryn Manheim are among the actors who've appeared with the Atlantic, which has produced more than 120 works, including the Tony Award winners "The Beauty Queen of Leenane" and "Spring Awakening," its first musical. In recent years, new plays by Woody Allen and Ethan Coen have also premiered at the Atlantic.
McCann's advice to new theater troupes is to "figure out your mission. It will guide you to your success and keep you strong during your failures."
A Niche of Our Own
The Actors Company Theatre was founded in 1992 by a group of working theater professionals—eight actors and two directors—who wanted a company dedicated to the classic literature of theater, says co–artistic director Scott Alan Evans. Quickly they defined their niche, drafted bylaws, and decided who would lead: Three artistic directors would have the final say in play selection, casting, and company membership.
The mission was to present rarely seen plays that were language- and actor-driven, says Evans, particularly works with good, challenging, or unexpected roles for company members, such as "Three Men on a Horse," "The Firebugs," and "Light Up the Sky."
But another early goal, he says, was fiscal responsibility. TACT secured its nonprofit status almost immediately, negotiated an Actors' Equity Association contract, and has always paid its actors, however modestly. It developed fundraising and marketing strategies, solicited funds from individual donors, and sought help from the Alliance of Resident Theatres/New York.
TACT has produced more than 90 shows, including the 2002 world premiere of Noël Coward's "Long Island Sound"—its first fully staged production. Until then the company had made its reputation with concert stagings, which Evans likens to "Encores! for straight plays," referring to a popular series that presents concert readings of neglected musicals. In 2006, TACT presented two full productions at the Beckett Theatre on West 42nd Street's Theatre Row, becoming one of its resident companies.
Evans, who serves alongside Simon Jones and Cynthia Harris, advises new theater groups to court individual donors, rather than counting on government largesse or private foundations, and to take advantage of the Internet for marketing. "If I were starting out now, I'd do Web marketing exclusively," he says. But his most important advice is to "have a very clear idea of what you want to do. Be specific and be able to articulate it in a sentence or two."
Citizen Artists
Finding work as an actor is frustrating, says Melissa Friedman, but giving herself and her actor friends a platform was not the major reason for starting Epic Theatre Ensemble, now in its ninth year. The goal was to produce plays that speak to political and social concerns and to teach in the community.
Epic was conceived as a seven-member collective—"We call ourselves citizen artists," says Friedman, a founding executive director—with each artist contributing a particular area of expertise, from fundraising to marketing to box office. Friedman is the conduit to New York City's public schools, where she and other members serve as teaching artists. Though the educational component was philosophically, not fiscally, motivated, she says, it nonetheless attracted funding from foundations early on, with state and federal money following. The company also obtained a substantial line of credit from ART/NY.
Epic's early success was partly due to its members' range of business skills and partly due to timing, Friedman says. The company was set to bow on Sept. 11, 2001, after which its mission seemed especially relevant. Since then it has won Obie, Lucille Lortel, and Outer Critics Circle awards, and notable actors such as Kathleen Chalfant, David Strathairn, and Aasif Mandvi have performed in its plays.
"Starting small and building up a track record" is one way to start a theater company, Friedman says, but actors who want to start bigger are best served if they already have some serious experience, such as working as a producer's assistant, designing graphics, or volunteering at a theater fundraising gala. It's a chance to hone skills that will be valuable later, she says, and to cultivate contacts who may be able to donate money or serve on a board of directors.
Diversity's Maze
Though LAByrinth Theater Company has evolved over the years—becoming identified with actor-director Philip Seymour Hoffman and playwright Stephen Adly Guirgis—it began in 1992, when Yul Vázquez teamed up with seven other Latino actors hungry to perform in gritty, realistic plays that reflected the urban Latino experience.
They got theater space from the INTAR Hispanic American Arts Center, where they flexed their creative muscles—improvising, playing theater games, and developing short plays. They also hosted parties that Vázquez compares to "Caligula," where they made money by selling liquor. They soon had quite a following. Guirgis, Paul Calderon, and Sam Rockwell came on board, and today LAByrinth champions multidisciplinary exploration by its members. It was close to three years before Hoffman and John Ortiz took the helm as artistic directors, later joined by John Gould Rubin. Vázquez admits he had little to do with creating the new structure, though he says the evolution was "organic."
It was the plays of Guirgis, often directed by Hoffman, that helped put the company on the map. Works like "Our Lady of 121st Street," "Jesus Hopped the 'A' Train," and "The Last Days of Judas Iscariot"—which depict street characters in stark, frequently comic terms, in keeping with the actors' original mission—have earned Lucille Lortel, Drama Desk, Outer Critics Circle, and Laurence Olivier Award nominations. The company now boasts 117 established and emerging artists from a wide range of cultural and ethnic backgrounds.
Recently, Hoffman, Ortiz, and Gould stepped down and were replaced by Vázquez, Guirgis, and Mimi O'Donnell. As one of its original members, Vázquez has appeared in many LAByrinth productions, plus more than 30 films, including "American Gangster," "War of the Worlds," and "Runaway Bride."
Part of LAByrinth's evolving mission, he says, will involve helping fledgling theater companies get on their feet, and workshops for that purpose are upcoming. Vázquez urges actors interested in starting a theater troupe to focus their attention on "getting together religiously to act." Hopefully, he says, the rest will follow.
The Beat Goes On
In 1986, inspired by the title of John Tytell's 1976 book about the Beat Generation, a group of actors started Naked Angels. They wanted to perform in new, provocative works that were timely and political—exploring topics such as homelessness and hate—and they quickly attracted an audience, says Tim Ransom, a co-founder and former artistic director.
They were aided by the donation of theater space by a member's relative. Dubbed the Space, it served as the company's home for a number of years and helped it generate public and press attention, says Geoffrey Nauffts, the current artistic director. "We had a fantastic vibe, and we were a hotbed of young talent in New York."
Naked Angels gained a reputation for throwing terrific fundraising parties (it didn't hurt that one of the members was a friend of John F. Kennedy Jr., who became a fan and served on the board of directors); one Hamptons gala earned $250,000, says Ransom.
But even talent, moxie, and connections weren't enough in the early days, as nobody got paid and some of Naked Angels' most talented artists moved to greener pastures, especially after earning glowing reviews. That's when the company realized it had to change course. Though Ransom is sometimes nostalgic for the old days—before the headaches of Equity contract restrictions and structured job functions—he advocates "having a leader and creating a structure as early as possible. It's important to know who is doing what: who seeks board members, who does the marketing, and who does the fundraising. It enhances the art."
With 49 members and an offshoot in Los Angeles, Naked Angels has produced hundreds of readings, workshops, and full productions by the likes of Jon Robin Baitz, Kenneth Lonergan, Warren Leight, and Nauffts himself, whose well-received play "Next Fall" is enjoying an extended run Off-Broadway. The company's actors have included Marisa Tomei, Rob Morrow, Gina Gershon, Lili Taylor, Sarah Jessica Parker, and Matthew Broderick. Recently Naked Angels named Andy Donald its associate artistic director; his duties include developing a series of radio plays for the Internet.
According to Nauffts, he and his cohorts have sustained themselves for 24 years through "mutual trust and a clear understanding of the theater's identity: what makes it unique and stand apart from the others."
The Jewel in His Crown
Unlike the other groups, the 25-year-old Pearl Theatre Company was the brainchild of one person, Shepard Sobel, though he says he had actors with him from the outset, including his wife, Joanne Camp, whom he calls a co-founder. Their dream was to build a European-style resident acting company that performed the classics—Shakespeare, Chekhov, Molière, Strindberg, and others.
So Sobel got advice from Volunteer Lawyers for the Arts, the Arts & Business Council of New York, and ART/NY, and obtained nonprofit status, an Equity contract, even bulk mailing rates. But by the end of the first year, he realized he needed help with marketing and other business matters and hired an administrative partner. "If you're taking a lease on a space," he says, "you need to know where your money is coming from for a year in advance."
Though he never established a true resident company—the actors don't get a yearly salary, for example—the Pearl has the unified vision and purpose of a resident troupe, Sobel says, and the actors earn more money than they would as freelancers, especially if they're in more than one production a season. Today the company has 11 members—two have been on board from the start—and plays are selected based on how the roles suit its performers.
But Sobel is leaving his artistic director post after 25 years, because, he says, while it's been a great run, both he and the company need a change. His skills are no longer viable in today's economic culture, he explains, and J.R. Sullivan, his replacement, will move the Pearl in new directions, including to its new home at City Center Stage II.
But some things never change. "When you create a company, you are birthing an entity, and there are responsibilities that go with that," Sobel says. "Be sure you understand it and be prepared for the commitment." And who would know more about commitment than Sobel?