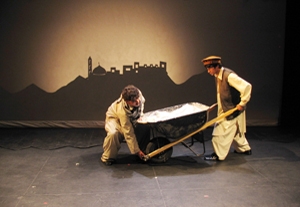 When the Bond Street Theatre was founded in the late 1970s, the company's mission was to offer solace through performance to audiences in international hot spots. "We are an artistic humanitarian organization," says Joanna Sherman, the company's artistic director. Over the years, Bond Street set up shop in such strife-torn regions as Colombia, the Balkans, Afghanistan, Pakistan, and India, among many others. Their next stop is Myanmar, formally known as Burma, where it will collaborate with a local theater company.
Thanks to globalization and the Internet, Sherman believes, a burgeoning number of theater and film artists will want to make political/social/cultural differences in regions around the world. They will use theater, film, and the classroom as their vehicles. Back Stage talked with seven such artists to find out why and how they went abroad, the challenges they faced, and how their experiences forced them to redefine their aesthetic and ambitions.
What Makes Them Tick
"For me, art and activism are intertwined," says writer-actor Laura Schleifer. "I created the word 'artivist' to describe me." Last year, Schleifer participated in a six-week tour of the West Bank, Egypt, and Jordan, performing with a British troupe called Boomchucka Circus, a company that combined traditional circus with theater.
Actor Christopher Gottschalk was disaffected with American policies in the Middle East and especially the previous administration's war on terrorism. At the same time, he was thinking of branching out into an academic career. On his first Google search, he discovered that the American University of Kuwait was seeking an assistant professor of the humanities in theater and drama. "I felt as if the universe was responding to me," he recalls.
Playwright Winter Miller says she did not consider herself all that politically engaged, certainly not by international crises. Still, as a research assistant to Nicholas Kristof, who covered the genocide in Darfur for The New York Times (and won a Pulitzer for his articles), Miller was familiar with the subject and appalled that more people did not know about it. "I wondered how I could spread the word," she recalls. "I knew that playwriting was the tool in my toolbox." She won a commission from the Guthrie Theater to write a play on Darfur, and despite Kristof's protest that it was a "suicide mission," Miller spent a week with him in the Sudan border, interviewing genocide survivors. The effort led to the play "In Darfur," which was staged at the Guthrie and the Public's Delacorte Theater.
Actor Darin Dahms was, by his own admission, insulated and naive, and he had never been out of the country, when journalist friend Soenke C. Weiss insisted Dahms join him in northern Uganda, where civil war had been raging for 20 years. Weiss wanted to collaborate on a play and give voice to the experiences of very young children who had been abducted, brutalized, and turned into mini-soldiers by the Lord's Resistance Army, a rebel group. Dahms and Weiss' play, "Butterflies of Uganda: The Memories of a Child Soldier" has been performed at the Greenway Court Theatre in Los Angeles and was nominated for six NAACP awards.
Aaron Landsman, a New York actor-writer identified with site-specific theater, didn't think of himself as especially political. But in 2006 when he read about the sham elections in Belarus, his interest was piqued, especially when he learned about a company called Belarus Free Theatre, which was constantly being monitored and censored by the government. "Because they were forbidden to perform on the stage, they were performing in 'safe houses,' " he recalls. "It's ironic. I do site-specific work out of aesthetic choice. They do it as a necessity." That was his political awakening that ultimately brought him to Belarus.
Rachel Wood, a director and performer, has recently relocated to Cape Town, South Africa, to join her boyfriend. Her goal now is to establish a theater career in Cape Town.
Paying the Expenses
Lots of preparation is involved in going abroad, not the least of which is coming up with the money. Landsman became an ally of the Free Theatre, arranged for the company to perform in the Under the Radar Festival, and ultimately landed a commission from the company to be part of a Belarus-based theater festival. But many artists have to pay their own way abroad. Others are fortunate enough to earn grants if they have enough lead time and are able to track down foundations that have interest in the regions they're traveling to.
Schleifer expected a modest stipend from the British company that hired her, and she knew she'd be living with local families abroad. Airfare was her responsibility. Through a Craigslist ad, she gave a series of voiceover lessons to a travel agent's wife in exchange for a roundtrip ticket.
Possession of a current passport and getting appropriate vaccinations are essential. Winter Miller suggests checking out the Centers for Disease Control website for information. "Go see a doc who deals with travelers to tropical places if that's relevant," says Miller. "Take an anti-malarial. Pack yourself a small medical kit. Bring your own tampons. Bring Wetnaps if you're not going to be showering regularly. Basically pack like you're going camping and may not have access to pharmaceuticals." Knowing the condition of the water is also a good idea. In some countries, it is advisable not to drink the water or eat raw vegetables rinsed in cold water. In some regions, vegetables should be boiled.
In most major cities English is spoken today; in other areas translators are needed. Be aware of the customs and culturally appropriate dress, as well as regional politics and practices. If you're going alone to a foreign country, Aaron Landsman says, let a travel agency make the arrangements. "And if you're hosted by a dissident group, best to let them use the travel agency of their choice, so they know exactly what to say and not say," he says. "I was told not to have anything on my computer's hard drive that said, 'Free Theater,' so I renamed all the files that might have had that name. They didn't search my hard drive, but they have been known to. I was told also not to speak to anyone on my flight who might have been part of the contingent I was meeting. So, there were a couple of people on my flight from Prague to Minsk who I recognized as fellow playwrights from photos I had been sent, but we didn't acknowledge each other. The airport is scary—lots of military."
Be ready for a variety of attitudes toward Americans—from hostility and distrust to admiration. "Most people are curious about the States and the people there, and in Palestine people were especially interested in American Jews, since I'm Jewish," says Laura Schleifer. "Some people will ask for your help, thinking you may have some power and influence over your government as an American, which is heartbreaking. I had this happen a few times with Iraqi refugees who had loved ones that were still stuck in Iraq and were desperately trying to get them out."
Life in a (Pre, Post or Current) War Zone
Sherman recalls that of all the countries Bond Street Theatre visited, Colombia felt the most immediately dangerous. "We had armed bodyguards with us at all times," she says. "We flew from place to place instead of driving. There were the local guerrillas, the paramilitary, the military, the drug lords, and the ne'er-do-wells." Gottschalk recalls bomb threats and multiple evacuation drills during his tenure at the university in Kuwait, "with smoke bombs and bloodied dummies, and special effects creating as much realism as possible for the students."
Schleifer says the lack of stability was palpable. When the company arrived in Egypt, the recent assassination of a major Hezbollah leader resulted in Hamas retaliating against Israel, which in turn led to Israel retaliating against Hamas. Air strikes made it impossible to do a show in one city, and a planned bus trip to another was canceled because fighting had broken out between Israeli soldiers and rock-throwing Palestinians.
Landsman recounts the cloak-and-dagger secrecy involved in going to see a play in Belarus produced by Free Theatre. "They drive you to an unmarked house that had been donated by friends," he says. "There is one light bulb on in the house, and the windows have been blacked out. Before we arrived we were told to make sure we had our passports on us. Six months before we were there, police had broken in and arrested the entire company and audience, detaining everyone. It's a wild thing, having your passport on you in case you're interrogated for watching a play." Landsman says the company was the target of special monitoring because it had in the past produced the works of Harold Pinter and Sarah Kane, neither of whom had the official government stamp of approval.
"We were not directly threatened, but there was a moment when it was clear we were being watched," Miller recalls. "Word had come that one village that was about to be attacked. A few people were streaming in with injuries while others were leaving the village, except those who could not. They were too old or infirm. We took pictures, thinking, 'Is this the last record of these people alive?' There was nothing we could do, though we did call Doctors Without Borders to let them know what was happening."
"There is a high level of crime, and I do not travel in my car without locking my doors," Wood says of her new home, which she adds still feels the effects of apartheid: "Most houses have barbed wire and electrical fences and home security systems. A lot of people have guns, and you can get killed for a cell phone. The violence feels totally random. A person can get mugged at any time for anything. The townships are third-world countries. There is a level of desperation that's hard for me to comprehend."
What They Did There and the Conflicts Experienced
While Gottschalk never felt personally threatened, he says he was undoubtedly in an alien culture among Arab Muslims who were deeply religious and tribally defined. But, at the same time, the Muslims were feeling the effects of globalization, surrounded by BMWs and McDonald's. Indeed, his students' familiarity with pirated American TV programs— such as "Friends," "24," and "Boston Legal"—formed a bridge with them. Still, they viewed his theater class as a social club and saw him as a babysitter. "To get their attention I read Aristophanes' "Lysistrata." "One girl wearing a head scarf said, 'Are you aware that pornography is illegal in Kuwait?' I said, 'Is this pornography?' which led to an incredible discussion on Islam's definition of pornography, which in turn led to their saying how frustrated they were with being Kuwaiti. Some students talked about their lack of liberties, while others talked about having too many liberties and freedoms." As a result, Gottschalk says, "I have greater empathy for the frustration in the Arab world than I did when I arrived but less empathy for how they express it. Before, I thought of them as victims. Now I see their culture has its own distinctive problems."
Schleifer was ambivalent as the solo Jew in her theater group, especially in the West Bank, where she felt an added layer of guilt and responsibility for what she viewed as Israel's excessive force in the region. Hebrew, a language she had always found familiar and comforting, suddenly felt oppressive to her when she saw it scrawled on walls or posters in the West Bank. "On the second or third day, I told the wife and mother of the family I was staying with that I was Jewish. She said she knew that and welcomed and embraced me, calling me her 'Jewish daughter.' They were so thrilled that as an American and Jew I was doing what I was doing for them. Our purpose was to perform with the circus and bring joy to children who had none."
Dahms conducted interviews for his play in refugee camps and rehabilitation centers for children who escaped or had been rescued. He reports that there were more than 1.5 million displaced persons in the camps and that the horrors they had endured were staggering. "My play is based on the experiences of one young girl who was 12 when she was abducted, forced to kill her father, was raped repeatedly by various officers in the [Lord's Resistance Army], and found out she was pregnant when she was 14," he says. "She tried to kill herself but was rescued and decided to keep the baby. One of the points in the play is what do you tell your child about her father. I met her when she was 20 and her child was 6." During the course of his interviews, he encountered many children who were afraid of him. "Some had never seen a white person," he says. "I played theater games with them, and after a while we became friends." Dahms' greatest challenge was from the Ugandan community in Los Angeles who were concerned, before even reading or seeing his play, that it might reinforce stereotypes.
Miller also recalls interviewing women who had been brutalized. Indeed, the central character in her play was based on the experiences of a Darfur woman who had been raped and while she was in the hospital arrested because the rape was viewed as her fault. She was then whipped by the police.
"I began to feel it wasn't my story to tell, but I had a commission so I had to do it," Miller says. "I contacted Lynn Nottage, who had been to the Congo [and whose play 'Ruined,' based on interviews with survivors, won the Pulitzer Prize]. She also struggled with this issue of co-opting somebody else's story. But some of the women said to me, 'Please, tell our story.' The presence of a white person with a notebook made them believe their words would have an effect. They believed if the world knew what was going on, they would be saved. In the end, I tried to write a play that illuminated what was happening in Darfur so that the audience would want do something about it."
Redefined Sensibilities and Goals
All the artists interviewed say their aesthetics and ambitions have been redefined by their experiences. Sherman, for example, has grown increasingly interested in global theatrical forms, helping to initiate many theatrical exchange programs, while appreciating the profound links among disparate cultures and the universal forms of expression even in the world's most troubled regions.
Gottschalk says that because he has had such limited resources in his classroom, he learned to make virtue of necessity. Indeed, he has come to appreciate bare-boned theater where storytelling—often conveyed through universally understood gesture and body language—is at its core. His ambition was never to be a superstar, but the need for fame and fortune has diminished even more. He's stopped thinking in terms of "three-to-five-year plans." "My experience has forced me to think outside the American box," he says. "I have a larger view of life. I want to contribute something of value as a human being and theater artist."
Schleifer echoes the view, adding she is more conscious of herself as a Jewish artist and the responsibility that comes with it. She says she is especially interested in exploring "the Holocaust and its impact on the Jewish psyche" in her work.
Landsman talks about being more focused on theater's content, not simply its form. "Though I love formalistic theater—that's where I come from—being in Belarus has made me realize the importance of having something to say and then saying it clearly. Without sounding jingoistic, I've come to appreciate the freedoms we have here and how precious they are. And because I want to make sure they're in place, I've become more politically engaged, especially in arts advocacy."
Dahms says that when he returned from Uganda, he saw the entertainment industry as terribly exploitative, making lots of money on movies about Africa, "being very concerned with whether it's a good story but not really caring about the human issues."
Dahms also discovered his playwriting talent and currently has several others plays on the drawing board, including a solo show about Tom Dooley, a naval officer in Vietnam whose philanthropic work was the foundation for the Peace Corps and Doctors Without Borders. "I'm using his experiences to talk about my evolved consciousness on humanitarian service and activism," Dahms says. In addition, he feels a huge responsibility toward children and is hoping to bring a group of actors to Uganda to interact and share theater with the kids.
Miller is likewise interested in creating theater with young people in areas of conflict, such as Liberia and the Congo. She says her experience in Darfur and the writing of the play has broadened her understanding of theater: "I still don't want to write a polemic, but I'm excited about plays that can be both political and dramatic."
Wood has been forced to adapt by virtue of forging a career in another country. The good news is that artistic directors are willing to meet with her. She's also happy about the chance to produce, direct, and act. Doing it all is intrinsic to theater in that part of the world, she says. Still, much of South African theater is serious and issue-oriented, and as much as she might like to do a comedy, the idea would probably fall flat, she says. Wood is also aware that audiences continue to be largely segregated. "For audiences to become more mixed, I would want my pieces to be multicultural," she adds. "I would do blind-race casting. That would be my contribution."
The operative word for all those we talked with is "contribution"—as artists with social purpose performing on a global stage.