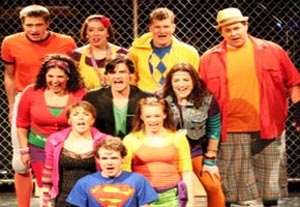 "We're not suffering like some areas of the country, where you hear about greatly reduced single-ticket sales," says
Victoria Nolan
, managing director of Yale Repertory Theatre. "Perhaps it's because this is
Connecticut
, where there's a pretty strong commitment to supporting and attending the arts."
Yet theatre in Connecticut is showing signs of economic stress: Stamford Theatre Works has closed. The Stamford Center for the Arts' Rich Forum sits largely unused. Fairfield Theatre Company is presenting nothing but concerts, and Bridgeport's Downtown Cabaret Theatre is no longer producing its own shows.
What's going on? In one of the nation's richest states, home to several top regional theatres, ticket sales are reportedly holding steady yet contributions are down. Here's how some Connecticut theatres are trying to balance the artistic and the financial as they cope with the economy.
Westport Country Playhouse
"Right now I'm stewarding a season chosen by Joanne and Anne," says Mark Lamos, new artistic director of Westport Country Playhouse. He's referring to previous artistic director Joanne Woodward and her associate Anne Keefe. Lamos is keeping
Around the World in Eighty Days, Children, tick, tick
…
boom
, and
How the Other Half Loves
, but the fifth and sixth attractions will be his choices. By 2010 the slate will be entirely his own. Janet Foster in New York is the company's casting director.
"What I'd like to do -- of course, there's always a disparity between what you'd like to do and what you can do -- is get a lot of new writers involved in workshops and dialogues," he says. "I think there could be a healthy relationship between the commercial New York theatre and Westport... . Some of what we do will be determined by the fact that it's been a summer operation. The intention is to turn it into a year-round theatre. I think that will take a while due to budget restraints, the recession. The audience needs to be looked at and developed—who they are, might be, were. All of that has not really been dealt with in any substantive ways yet."
Westport's seasons, even in its days as a summer theatre, have included the kind of serious works and classics for which Lamos was noted when he led Hartford Stage. "I do want to do exciting theatre, and that's lots of different kinds of plays, including great comedies," he says. "I don't know if I'll move into the classics right off the bat; it doesn't feel quite right for me here. I'd like to explore more proscenium plays at first. In a year or two, you'll be able to describe my artistic point of view. My urge is always to have the work reflect the audience, so you have a dialogue with them."
Long Wharf Theatre
"These are very tough economic times," says Gordon Edelstein, artistic director of Long Wharf Theatre, who is still contemplating moving the theatre to downtown New Haven from its location in the meatpacking area. "Everyone is nervous about the bottom line. You'd be foolish not to be. But audiences are so far responding to our season," which has included Brian Dennehy in
Hughie
, Athol Fugard's new play
Coming Home
, and the premiere of Paula Vogel's
A Civil War Christmas
.
"The work that we choose to do tries to be of its moment, affected by the moment we're in," says Edelstein, who casts through James Calleri Casting in New York. He's a little surprised there's been "no appreciable downturn at the box office this year," he adds, "but the plays we've done so far this season seemed to have spoken to our audiences."
The downturn in contributions scares him, but he's sticking to his guns: "What I find entertaining, a general audience might not, and vice versa, but I try to produce plays that are expressions of my personal taste and also reflect the taste of my audience. That's the challenge of the job: to find where those two tastes meet. I think twice and three times before programming a play that will probably not appeal to the general audience." He adds, "I want to share things I love: the plays, the actors, my passions."
Yale Repertory Theatre
Though Victoria Nolan acknowledges that Yale Rep is not immune to the downturn, she remains optimistic. A recent $2.85 million grant from the Robina Foundation will allow the company to commission new plays, hold workshops, and hire a literary manager. Also new is a joint project with the university's music school called the Summer Institute for Music Theatre, a two-week program in June that will develop three new works. Both student and professional actors will be involved. Tara Rubin Casting in New York is Yale Rep's casting director.
"According to market research, the Rep's audiences like new work and re-imagined classics," Nolan says. "The stories don't have to be linear or traditional, but the plays have to be high-caliber: high production values and superb acting."
Yale Rep's advantage is that it's part of a major university with a strong arts curriculum, allowing it to present such rarities as Bill Camp's adaptation of Dostoyevsky's
Notes From the Underground
. "The level of student interest in things theatrical spills over, so that over 1,000 subscriptions are bought by students," Nolan says. "Our ticket sales are up, we have a wide variety of pricing options, and we're right on target. True, the state of the economy is terrible. We have to be mindful, and we're going to have cuts next year. Yet although our audiences are not suddenly growing…we have a distinct core that has a rigorous willingness to take the journey with us."
Hartford Stage
While contributions are off at Hartford Stage, artistic director Michael Wilson points out that theatregoers flocked to
To Kill a Mockingbird
. "Audiences love stories," he says. "Also, Hartford is a place where people cross racial and socioeconomic lines. I think that will serve us well during this economic downturn."
Audience development -- reaching out through the company's educational arm and attracting audiences of color by developing plays by emerging writers -- is among the theatre's goals. "Part of our mission has been to not only uphold classics but to expand audiences by developing a new generation," Wilson says. "I actually think there is a livelier and more stimulating mix of audiences out there. I want to have a very vigorous and challenging body of work, but I'm aware that we need balance."
In the Internet age, he sees the theatre as one of the few places where people can come together. But "we have to keep prices affordable and have works that people want to see," he adds. "You have to build the new theatregoer through admittedly more popular and familiar works, without reducing your standards. Still, you have to be passionate about what's on your stage."
Actors are cast largely out of New York, but Connecticut performers are hired too. "We have an extended family of artists that appear frequently with us," Wilson says. "It's almost what's left of our resident acting company. I came of age on that model and like the idea of actors having an attachment to the theatre that goes beyond being in just one play." This fall, 21 actors, each playing three or four parts, will be seen in Horton Foote's nine-hour
Orphans' Home
cycle. "I think it's going to be exciting for audiences."
Ivoryton Playhouse
"We're keeping our heads above water," says Jacqueline Hubbard, executive director of the Ivoryton Playhouse. "Because we've done everything to keep our ticket prices low, we're not hit as hard as some others. Besides, we have a loyal base of supporters, with a 92 percent subscription renewal rate. Eighty percent of our budget comes from ticket sales." The theatre has tried such marketing ploys as restaurant tie-ins and flexible subscription packages.
Ivoryton concentrates on small-cast shows along with musicals (
The Full Monty, Godspell
), and Hubbard, who casts in-house, thinks this isn't the climate for experimentation. "It's not a year to risk anything new," she says. "When we have the money, we'll try some new stuff, popping it in like spinach. We were all set to do a new play this year, until the economy crashed. We have to find a balance, appealing to an audience's tastes while preserving artistic integrity."
The Irish
...
and How They Got That Way
was a huge seller;
The Beauty Queen of Leenane
was not.
"It's a tricky balance," she admits. "We did not go daring this year. It's not a dumbing down, but sometimes you just have to build your coffers. This year we've kept it simple. Hopefully, if things pick up, then next year we'll be able to say, 'You know, I want to try this.' "
Goodspeed Musicals
"From our point of view, it's too early to tell about a falloff," says Michael P. Price, executive director of Goodspeed Musicals in East Haddam. "But there's a lot of pain out there, and there's always the possibility that it could come home to roost." The theatre is on a take-no-chances path this year, with familiar tuners like
Camelot, 42nd Street
, and
A Funny Thing Happened on the Way to the Forum
. Stuart Howard is the company's casting director in New York, while Carol Rubin casts locally. "You have to be mission-driven, not economy-driven," Price explains. "Unless you're in Iowa, you don't produce that way."
Price would prefer having a repertory company, as Goodspeed did in the past. "That was a joyous time," he says. "Live theatre brings something to the public that they can't get by sitting at home alone in front of the tube. It encases them with glamour, with style and grace. Theatre runs in a cycle, like everything else. There are good times and not-such-good times. When you veer from that point of view, you're more likely to fail."
For a longer version of this story, with interviews with the artistic directors of TheaterWorks and Seven Angels Theater, visit www.backstage.com.