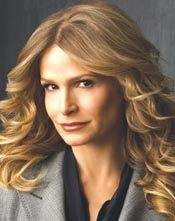 When Kyra Sedgwick learned that The Closer's Deputy Police Chief Brenda Johnson shared temperamental traits with Detective Jane Tennison on Prime Suspect, the actor was open to considering the script. After reading it, Sedgwick was sold on the idea of starring in the L.A.-based TNT drama, even though it would mean time away from her East Coast-based family, including husband Kevin Bacon. "I found Brenda immediately likable, with tons of potential," says Sedgwick, who won the 2007 Golden Globe for best actress in a drama series in addition to scoring Emmy and SAG nominations for her portrayal. "The challenge was to play a woman of power and not apologize for her. Even in 2007, women are not used to being powerful. I wanted to make her real and believable and someone coming from a real place. I worked on her Southern accent diligently. It's important that it sounds authentic."
In the highly rated police drama, the crime-solving, Atlanta-born Johnson is an amalgam of aggressiveness, fierce determination, and Southern belle politeness; she'll pull out all the stops to elicit a confession from her interviewees, but her signature is the relentless use of the phrase "Thank you, thank you very much." What makes Johnson an especially interesting figure to play is that while she has an uncanny understanding of others, "she's not self-analytical at all," says Sedgwick. "She has no self-awareness. She's clueless." As the actor tells it, Johnson's abrasive professional style coupled with her personal vulnerability and fallibility is endearing. "She's struggling, and I do relate to that," Sedgwick says. "I'm always wondering about my goals and trying to answer the question 'Who am I?'"
One thing is certain: Sedgwick has had a successful career. She has been a working actor since age 16, initially in a recurring role on Another World, without ever having to take a day job. But it's her current gig that has put her on the public's radar, and no one is more surprised than she. "I never thought The Closer would be so successful," she muses. "It's not that my life has changed in any massive way, but I'm just higher on the list of actors who are called in. I don't audition as often. I'm now seen as someone who can make money."
Sedgwick also has an executive bent, and last year she was made a producer on the show. The role works well for her. "It felt right because of the work I was doing on the show anyway," she says. "I would often make notes and share them. This is a very collaborative group, and everyone is approachable. They listen. But now that I'm a producer, I can say what I want to say without apology."
College as Stopgap
Sedgwick always wanted to act. Though she spent a year at the University of Southern California and half a year at Sarah Lawrence College, she notes, "The only reason I went to college at all was to keep me from sitting around at the phone, waiting for it to ring with my next audition. I'd like to go back to college now and study everything."
Of her numerous acting teachers, Sedgwick says, "The good ones are clear about what they want and don't play mind games. The actor is going to do the best work when he feels the support of the teacher — or the director — who creates a safe environment." Stella Adler was "downright tough," says Sedgwick. "And although she'd often pick on an acting student, I got a lot from her. But then, I had a strong sense of self and a good family foundation. And I never stayed in any acting class very long, usually not more than six months. I'd go to different teachers. I think it's a good way to get different points of view."
Playing Johnson has afforded Sedgwick one of her most significant insights into acting: "When you live with a character for a long period of time and work at the speed we do, you can't spend a whole lot of time thinking about it. You learn your lines and just get in there and do it instinctually. It's very freeing, and there are occasions when Brenda just takes over."
Sedgwick says the most challenging film she tackled was The Woodsman — not just because of the film's gritty look at child abuse "but the fact that I had to work with Kevin and pretend we didn't know each other," she says. "I find that very difficult. But working with him as a director is terrific."
With two kids — a son in college and a daughter a few years younger than him — Sedgwick is keenly aware of how difficult it is to juggle career and family. "We live one day at a time," she says. "We don't plan what we're going to do." Nonetheless, it's clear that her family is a top priority for her. "A movie only takes a few weeks," she says. "And even now, in The Closer, I'm home for six months. And when I'm not, the kids come out every other weekend." She adds, "Yes, it is tough."
Sedgwick hopes neither of her kids follows in hers or Bacon's footsteps. "It's such a difficult, insecure, self-centered business," she says. "I'd love to see my kids do something that involves them in a bigger picture. I'm happy that they don't know what they want to do just yet. If I have one regret, it's that my world got so small quickly."