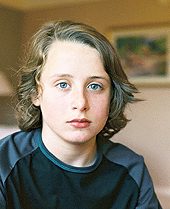 There has to be something in the Culkin blood that produces talented young actors. First there was Macaulay (Home Alone), then Kieran (The Cider House Rules). More recently, audiences have taken note of Rory, who first came to our attention in Kenneth Lonergan's 2000 film debut, You Can Count on Me, in which he starred opposite Laura Linney and Mark Ruffalo. Next came M. Night Shyamalan's Signs, in which he played Mel Gibson's son. Rory, the youngest of seven Culkin children, can now be seen in first-time feature writer/director Jacob Aaron Estes' Mean Creek, which opens this week. Rory stars as Sam, an 11-year-old kid who is tired of being targeted by the school bully (Josh Peck) and with the help of his older brother (Trevor Morgan) and some friends seeks payback.
According to Estes, Rory was the only actor working on his film with whom he was familiar--largely because Estes had been interested in casting Rory's older brothers for the same part, but they grew up before he could offer them the role. "I had seen Rory in You Can Count on Me, and he was superb," Estes tells Back Stage West. "And obviously he has this family history going on. When I first wrote the script in '97 there was talk of Macaulay Culkin [playing the lead], and then it could have been Kieran, and so Rory was on our minds when we started to cast it, but since it was such a small project we weren't sure if were going to be able to attract him. We ended up sending him the script and offering him the part. He read it, his mom read it, his representatives read it, and they just responded really passionately and enthusiastically to the material, which was what we needed in order to make this movie."
Estes was particularly impressed by Rory's ability to react, not just act, on-screen. "Rory really is able to be an observer and a participant in a scene without saying much, which is a really tough thing to do," says the filmmaker. "It's easy to feel like you've got to be saying something or doing something all the time, and he's comfortable enough just being there and being part of the scene and reacting and observing. We needed that for Sam, and we needed someone who effortlessly conveyed a sense of sensitivity and intelligence and self-awareness because Sam was a really self-aware kid--not self-conscious but self-aware. Rory fit the bill on all those levels. And when I see his work, I just believe his work. I believe he believed he was in these environments. He'd never overdo anything, which is tough. One of the hallmarks of bad kid acting is they overdo things, and he avoided that."
Ask the youngest of the Culkin clan what he thinks about his own acting and he's not as complimentary. "I don't see myself as a solid actor, because I'm not. I'm still kind of looking for it, but I'm picking up things along the way from different people." Indeed, Rory has had some strong mentors so far. "Mark Ruffalo: He's the man. He taught me everything. I just try to pick up on things without asking. Like Edward Norton; I just did something with him called Down in the Valley." As for an actor who has had the most influence, he says, "My favorite actor I can't work with: River Phoenix."
His advice for younger actors is to always be open to learning from more experienced actors and directors. Even with training, a child actor isn't going to know everything there is to know. "Don't go in there solid, because you're going to learn things, and it's going to screw you up, I think, if you're [overly confident]," says Culkin. "You'll learn different things that you never even thought to do or you thought was a bad thing to do."
Rory, now age 15, started out acting by playing the younger version of his older brothers' characters. "I kind of grew of up on the set with my brothers and sisters." Still, Rory did not spend most of his childhood acting, as did his eldest brother. After Richie Rich in 1994, Rory didn't return to acting for another five years, when Lonergan cast him in You Can Count on Me. "I guess I did take a break, even though I didn't consider it that. I wasn't really an actor. I was just always playing my older brothers' characters when they were little. So I didn't think of it as me stopping. Just recently I found out, 'Your career really flatlined when you were 7.' I didn't know I had a career."
Rory was initially uncomfortable about acting again. "I remember the first day of rehearsal, and [Lonergan's], like, 'Do the scene,' and I wasn't acting for years, and I was, like, 'I can't do this,' and he just said, 'Yes, you can.' If he didn't say that I would be screwed."
The young performer also appreciated that his director and co-stars treated him as an equal--something that he doesn't always find on other sets. "Looking back, I guess they just treated me like an adult, and I didn't realize it until I went on to my next thing and they all treated me as a lesser [person]." Rory equally admires when a director can relate to him as a kid. "I like it if they really remember being a kid, being a 15-year-old, or what I play [in Mean Creek], an 11-year-old--people who know what they're talking about. I don't like it when directors have no idea what kids are like. For some reason they just forgot, and they're trying to connect. It sucks whenever that happens, but it was cool with Jacob and with Kenny Lonergan. We were learning together."