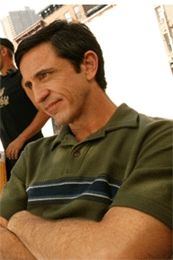 Craig Chester does not like watching himself onscreen. Even after more than a decade as a professional actor and roles in such memorable films as Kiss Me, Guido, and I Shot Andy Warhol, it's just not something he can get used to. Chester anticipates squirming in his seat as he takes in a special screening of his first film, Swoon, at Los Angeles' Egyptian Theatre. As he prepares to relive the very beginning of his career, Chester is also set to embark on an entirely new stage: His feature directorial debut, Adam & Steve, opens March 31 after a successful festival run.
It's a full-circle sort of moment as Chester recalls his modest beginnings. "I was a weird gay kid who didn't think I would have a career acting, and I did," he says, sounding genuinely surprised after all these years. "It's kind of amazing. I think I worked because I didn't know it was supposed to be hard--honestly. I just came to New York, and I was, like, 'I'm gonna be an actor. I'm gonna work, and it's gonna happen.' It just seemed like a given to me; I never doubted it. And when it happened, I was, like, 'Okay, I got my first movie, that's what I'm here for.'"
Chester earned an Independent Spirit Award nomination in 1993 for Swoon and went on to appear in TV shows such as Sex and the City and Law & Order: Criminal Intent, as well as a number of indie and festival-favorite films. He's been to so many fests over the years, he jokes, he could probably write a Zagat Guide to festivals. He's also tried his hand at writing: His memoir, Why the Long Face? The Adventures of a Truly Independent Actor, came out in 2003, and a screenplay he wrote, Save Me, has been in development at Fox Searchlight for several years and is set to start lensing soon.
While attending festivals as an actor, he got the initial inspiration for Adam & Steve, a sweetly eccentric romantic comedy about two men falling in love. "I'd go to these film festivals, and there would always be these gay couples there, and they would always come up to me after every movie I was in and ask, 'When are they going to make a movie about us?' Like, about a gay relationship," Chester remembers. "Over the years I would be, like, 'Well, I don't know. I'm sure someone will do it eventually.' And nobody did. So I sort of wrote it to fill that gap, in a way. I've been in relationships, my gay friends have been in relationships, but there's just such a lack of real movies or images about what that's about and what that's like. So to me, the movie's very much a movie about movies and about romantic mythology and how it's similar when you're gay and how it's different when you're gay."
In Adam & Steve, the title characters have a disastrous one-night encounter in the 1980s and don't recognize each other when they meet 15 years later. Unaware of their shared history, neurotic nice guy New Yorker Adam (Chester) starts dating Steve (Malcolm Gets), a wound-too-tight doctor who enjoys brief sexual encounters with guys he picks up at the gym. The duo experiences all the romantic peaks and pitfalls of a modern relationship, aided in their quest for love by best friends Rhonda (Parker Posey) and Michael (Chris Kattan).
The film's tone is at once romantic and outrageous, sincere and irreverent, and it reflects Chester's unique sensibility. "I felt that independent films were getting kind of stodgy and a little precious," he says. "I really miss the irreverence of early John Waters or early Woody Allen. Independent film was where people did comedies; that's where you went to do your outrageous slapstick comedies, and Hollywood made dramas. Now it's sort of the opposite: Now Hollywood makes comedies, and there are no comedies made independently, and if they are, they're quirky kinds of dramedies. I wanted to reclaim the irreverent kind of comedy that you can only get away with outside of the studio system."
Chester always intended to play Adam, but he didn't plan on directing the film. After a false start with financing, things picked up when a friend introduced Chester to production company Funny Boy Films, which produced 2003's festival favorite Latter Days. "It's a lot like dating," says Chester of looking for the right production company. "People think, 'Oh, you guys would like each other.' There's a lot of yenta-ing going on. But it was true. As soon as I met George Bendele, who was the producer, I knew that this movie was right for him. We really clicked." Signing up with Funny Boy also gave Chester distribution: The company, he says, had built-in distribution with TLA Releasing, which is set to release the film in 12 major markets.
Wanted: Cast and Crew
With Funny Boy onboard, the search for a director began, but eventually everyone realized that Chester was the best man for the job. "We were in preproduction, and everyone sort of saw how the tone of the movie was very specific to me," says Chester. "The tone of the movie is very unique; it's got its own voice, and it's very specific. So I wound up doing it because I didn't think anyone else would get it right."
When it came to casting, Chester had the major components in place early on. He wrote the part of Rhonda for best friend Posey, and he knew that he wanted Gets, another pal, to play Steve. "Malcolm and I have this great chemistry...and that simple relationship is so crucial. It has to work or the movie won't work," says Chester.
He found Kattan, who is perhaps best-known for his long-running stint on Saturday Night Live, while doing a series of staged readings of the script in Los Angeles and New York. When he didn't have an actor to play Michael for one particular reading, Chester called an agent he knew and asked her to send over some headshots. One was Kattan's. "I wouldn't have thought of Chris for that part, because it's written as sort of a macho straight guy," says Chester. "But then I thought, 'Well, let's take a risk on him.' He showed up, and he just did this whole thing with that character that was not what I had written but was interesting to me, sort of against type. He brought this perverse quality to that character that wasn't on the page. There's a quality with Chris that [makes you think] maybe he's fucking with you a little bit. I liked that about him, this mischievous quality he had."
To fill out the rest of the cast--which includes such notables as Sally Kirkland, Paul Sand, and Julie Hagerty--Chester teamed with casting director Kerry Barden, who cast him in Kiss Me, Guido and I Shot Andy Warhol. "I have to say, being an actor, suddenly being on the other side of the audition process was so valuable and so amazing," he says. "People would come in, and I would sort of bleed for everyone who walked in the door: 'I'm just like you, it's okay, don't be nervous.' Because I'm an actor, I loved that part of the process--the audition process. I hate it on the other side, [but] I was able to be the kind of person I want to audition for and create an environment that was creative and not cold."
Adam & Steve was shot in 22 days on Super 16 in L.A. and New York, with a budget of just over $1 million. "I really wanted the movie to have a grain to it," says Chester of the decision to use Super 16. "We talked about shooting in high-def, and I really wanted to shoot on film because I wanted the movie to look like a classic movie; I didn't want it to look like now. Plus the '80s stuff I don't think would have worked if it was shot on digital video; it would have looked like now. And I think New York looks good with that kind of graininess in the film--it's more romantic to me."
The movie was edited on Avid by Phyllis K. Housen. And even though Chester doesn't like to watch himself, he was very involved in the process. "In the editing room after a while, I did sort of develop this ability to go, 'That's Adam,'" he says. "It's weird. I did disassociate in some way. But in the same way, I would watch Malcolm, and I would go, 'That's Steve.' You do it with almost all the actors."
With Adam & Steve set to debut, Chester is turning his attention to other screenplays, including a script about actor Montgomery Clift. He says he might direct himself again if he had more money and time, and there's a part of him that would like to be "the gay Woody Allen."
For now, however, it's been a thrill for him to return to those film festivals that gave him his start as an actor and witness fest audiences enjoying Adam & Steve. The movie bowed at the Tribeca Film Festival in April 2005 and has since played at fests all over the globe. "The audience's reaction has been really, really favorable," he says. "We submitted [to Tribeca] because they heard about the movie and they actually asked us for it--they wanted to see it. I've had so many movies at festivals over the years, [and] I know a lot of those people, the programmers. The festival world is a world that I know very well, and everyone is sort of interested to see me finally direct something."
------------------------------------------
This article was first published Spring 2006 in ACTion, Back Stage's quarterly magazine on performers creating their own film and video projects. ACTion is a free supplement to Back Stage.