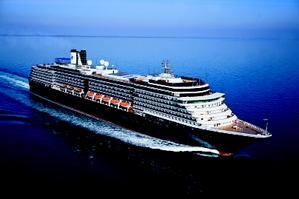 RWS and Associates Entertainment, Inc., in New York, which produces stage shows for theme parks, leading resorts, and other venues across the U.S., is in the midst of designing and casting five new Broadway-level stage productions for Holland America Line. The shows will each have an original theme and be directed and choreographed by Broadway veterans using state-of-the-art theater technology.
"Holland America selected us to be one of their entertainment partners, and we're collaborating to elevate the live show experience on board ship," said Ryan Stana, CEO of RWS. "We'll write and produce five new and original thematic productions built from the ground up with our creative team." Stana said the main stage theaters on board the M/S Eurodam and M/S Westerdam, which hold more than a thousand audience members each, are being renovated and upgraded with the latest in theater technology.
"Each show will feature 12 singers and dancers," said Stana. "But we also have a new digital kinetic LED package in these theaters, much like the one that was used in 'Ghost The Musical' last year." Binder Casting will cast the shows for RWS, and in September, each production will be workshopped in New York City for Holland America Line officials and selected focus group audiences before it goes to sea.
"It will be a revolutionized type of entertainment," said Stana. "We're offering another outlet for professional performers, who also get the unique benefit of seeing the world while they work. Our main goal with this is to create an environment where performers say, 'I want to work on a cruise ship.' We want that to become the standard."
Stana said that the shows will run 37 minutes each and will be musical revues. Holland America plans to launch the cruises at the end of December.
"We're looking for actors who are willing to take this to the next level and who are willing to leave New York to see the world," said Jason Styres, casting associate with Binder Casting. "We're doing the whole process of going to agents and doing open calls as well as putting that together with what we already have to build a great team."
Binder provided casting for the Broadway hits "The Lion King," "Nice Work If You Can Get It," and "Movin' Out," among others. "The real challenge for us is finding a really diverse performer," said Styres. "We're looking for someone who can sing, for example, something really formal and follow that up with a really strong pop sound. We're looking for performers who will really step up."
Stana said that finding the right team of performers is critical to the success of the productions. "Nothing makes us more proud than seeing our performers succeed, book agents, or go on national tours or do sitcoms. We're looking for performers with a strong work ethic and who will take this kind of entertainment to the next level. It's a great moment for us, and we want to really shock the industry with this new show launch."
Binder Casting will hold open casting calls for singers and dancers beginning July 22 at Pearl Studios, 519 8th Ave., on the 12th floor.