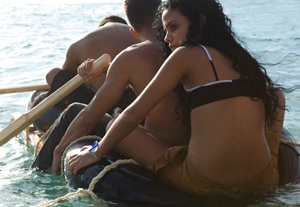 After landing in Miami last week on their way to the Tribeca Film Festival in New York, Cuban actors Anailin de la Rua de la Torre and Javier Nunez Florian have reportedly disappeared. They were expected to attend the North American premiere screening of "
Una Noche
" (or "One Night") at TFF on Thursday, April 19, but never boarded the plane following their layover in Miami.
Life seems to be imitating art for the young first-time actors, who had never been to the United States before. Their whereabouts are unknown, but they are assumed to have defected to the U.S. "Una Noche" is about three Cuban teens who decide to escape a life of poverty in Havana and defect to Miami via a homemade raft. The film is part of Tribeca's 2012 World Narrative Competition.
Dariel Arrechada, who co-stars with de la Torre and Florian in the film, did accompany director Lucy Mulloy at the screening in New York. Mulloy said she was "disappointed" by the actors' decision to skip out on the screening. "I really was thinking that they were going to come here and enjoy the festival, and I thought they would love to participate in it," she told the
Huffington Post
. Mulloy added, "I just hope they're safe and well."
In a statement released April 23, a TFF spokeswoman said, "Only Dariel Arrechada attended the Tribeca Film Festival premiere screening of 'Una Noche' on Thursday, April 19. We have not had any contact with Anailin de la Rua de la Torre or with Javier Nunez Florian."
Arrechada and Mulloy don't believe the missing actors wish to go back to Cuba. "Well, to be sincere, I think they're going to stay,"
Arrechada told the Huffington Post
. Arrechada said he intends to return to his home in Cuba.
De la Torre and Florian's visas that are valid through the duration of the festival, which ends Sunday, April 29, but Virginia-based immigration lawyer Jonathan Ginsburg said the actors will not have to return to Cuba if they wish to remain in the U.S.
"They're home safe; they've slid in," Ginsburg told Back Stage. "There's a law that prevents [the U.S. government] from returning [Cuban immigrants]." In 1995, the Clinton administration approved the "wet foot-dry foot" policy, allowing any Cuban citizen who arrives by air or boat and sets foot on U.S. soil to remain in the country and seek residency a year later.
"I would say that they should get to USCIS [U.S. Citizenship Immigration Service] or Immigrations and Customs Enforcement and apply for asylum as quickly as possible because they're going to get it and in one year they can apply for permanent residence, and in the meantime they can get work authorization," Ginsburg said. "Right now they're wasting their time hiding out, unless they're hiding from someone in particular."
Mulloy, a British-born graduate of New York University's film program, shot "Una Noche" in Cuba with full support from the Cuban government. "Una Noche" is her first feature film. She was already working on a sequel and intended to include de la Torre and Florian in her next project, but recent events have left those plans in limbo.
This is not the only time a Cuban invited to TFF has remained in America after the conclusion of the fest. Laimir Fano Villaescusa, who in 2009 won a prize for his short "Ode to the Pineapple," an examination of cultural and racial stereotypes in contemporary Cuba, was the first to do so.