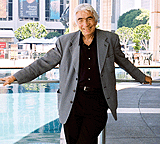 When Gordon Davidson steps down from his artistic director/producer position with the Center Theatre Group at the end of this year, it will bring an end to a chapter of what has been one of the most influential careers in American theatre history. From the time he became artistic director of the Mark Taper Forum, in 1967, through bringing a notable quality and national notice to the L.A. theatre scene, to his becoming artistic director/producer of the Ahmanson Theatre in 1989, Davidson's commitment to creating and presenting world-class theatre has been unwavering. He and his productions have been honored with more or less every theatre award in existence, from Tonys (The Shadow Box, Children of a Lesser God) to Pulitzers (The Kentucky Cycle, Angels in America), and in 1999 he was appointed by President Clinton to the National Council on the Arts. But Davidson has no intention of resting on his laurels.
"I'm not retiring," he says. "I'm moving on. I'm not tired; I just thought it was time, on a couple of accounts. I did some math a couple of years ago. I have a whole wall of [theatre] posters in my house, when you go upstairs. Something made me stop one day, and I started counting. Then I realized that, in the first 25 years, I'd directed over 30 plays--a little more than one a year. The balancing act between doing it and administrating and raising funds seemed OK. I enjoyed directing, and I didn't mind the other part of it, because it seemed contained. When I took over the Ahmanson in 1989 to the present, I realized I'd directed only four or five plays in the last 15 years. I don't like that math. I thought, 'Wait a minute, that's not what I signed on for.' The amount added on by the Ahmanson with its planning, the amount of paperwork in general, and the need to find money from different sources--all of that started to get a little much. So I thought, 'Maybe it's time.'
"Basically I'm done when I finish the next season in all three theatres," explains Davidson. "Michael [Ritchie, producer of the Williamstown Theatre Festival] will be coming on Jan. 1, and he'll officially become the artistic director. I'll have the title of Founding Artistic Director. We agreed that he would have his hands full planning the new season, and I'd like to finish the plays that I've chosen, including directing the next-to-last play of the season. I've held a slot open for that. I have some specific ideas, but I need time to work it out. I decided to get the [Kirk] Douglas [Theatre] open first. I have a consultancy [with CTG] for three years. Which simply means--and I mean this very sincerely--it's Michael's theatre. He's going to have a chance to run it. If he needs anything, I'll be there, even if it didn't say consultancy. It's also good, I think, to stay out of the way. Taking over from a founding director is tricky, and there are too many bloody corpses along the way. I vowed that this [transition] would be smooth and without problems. I can't predict, but he's a good man. He's a producer, not a director, so he won't have to deal with finding his own [shows to direct], and he'll have his hands full with three theatres."
Not content with merely supervising his final seasons at the Taper and the Ahmanson and directing the penultimate Taper show of the 2005 season, Davidson is launching the mid-sized 300-seat Kirk Douglas Theatre in Culver City as a venue for original work and family entertainment. He's also directing its premiere production, Charles L. Mee's A Perfect Wedding.
"[The play] appealed to me because it's wonderful, because it's joyous; it's a celebration of life," he says. "It's about freedom, and finding your own individuality. It tips its hat to A Midsummer Night's Dream and the effect of going into the woods as a form of liberation. It's a very inclusive play in terms of sexual persuasion. It's funny and literate. And I thought, well, if I can't find a play to do about Iraq or the elections or the Middle East--which I did look for, because I thought, my God, we're opening at about the time of the election--this would serve. In that I made a discovery. In the late '60s, politics required people to speak out. I think it isn't less now; it's just different. It's harder to put your hands around it. You're bombarded on TV anyway with the news and then the rebuttal of the news and then the reconstruction of the news. I thought, 'Maybe something else that people need is something that touches their hearts.' Something about being a human in a world where one may feel less and less human."
An Innocent on Boards
Davidson grew up in Brooklyn, N.Y., a child of the 1940s, and early on discovered he had a facility for, as he puts it, "things technical."
"[My schooling] led me to a life of inquiry and imagination, and the technological era led me to believe that engineering would be exciting," says Davidson. "I chose [to attend] Cornell because I got a good scholarship there, and it was a five-year work/study program. In the course of five years, you worked for a year. I worked for the General Electric Company in Electronics Park in Syracuse, N.Y., and in a naval ordnance plant designing guidance missile systems. I was a little edgy about that, and I looked for something else to do. I got a job ushering at Tanglewood Music Festival at night, and one day I asked myself: 'Why am I having more fun at night?' And that was it. I went back to school and did liberal arts, went on to a master's, then was in the Army. My first job was at the American Shakespeare Festival, run by John Houseman. I found that one thing does lead to another. I came to California because John asked me to come here, and I stayed because they offered me a job running the theatre they had started at UCLA, and here I am.
"They first opened the Philharmonic in 1964," he continues. "Two years later they opened [the Taper and the Ahmanson]. They built them without knowing what the hell they were building them for. They just built them based on technical input and advice. By luck, the Taper happens to be a great theatre. There's no backstage, no flies, no storage, but the relationship between the audience and the stage is as good as it gets. Someone encouraged Mrs. [Dorothy] Chandler [patron of CTG's neighboring Dorothy Chandler Pavilion] to come and see our production of Candide at UCLA. She came, she liked it, and she invited me down. Simple as that. I guess I didn't know enough to be scared. I thought, 'This is good.' There's no question that I fell in love with the space."
Davidson was appointed artistic director and producer for the Ahmanson Theatre 22 years later, concurrent with his continuing duties at the Taper. This ultimately led to a refurbishment of the larger theatre, a legacy of which Davidson is proud, though the circumstances of his getting the job were semi-chaotic.
"At one point there were three artistic directors running around," he recalls. "[The Ahmanson] was really in trouble. They booked Phantom of the Opera, and people were shocked. How could you do a booking? At that time no show had run [here] more than 18 months. I think it was Chorus Line. They asked me, 'What should the Ahmanson do?' I said, 'The first thing I'd do is to find another place to play, because if this play stays here over two years--it turned out to be four years--the audience is going to disappear. We'd better keep in front of the audience.' I said, 'We should go to the Doolittle [Theatre].' UCLA asked if we wanted to rent it, and so I did. I don't regret it. I think it was good time well-spent."
Concerning the challenge of creating new work for the stage. Davidson says, "On the one hand, it's exhilarating. But hard. If you do it for the reason that you have your eyes on the prize, really want to get to Broadway--that's death. The great fortune I've had is that, through most of these experiences, I was a true innocent. Not innocent of doing it, but innocent of understanding what the ramifications might be. It's all about process, and it doesn't happen at the same time. It doesn't happen from a set of notes. I do think it happens partly because of an atmosphere, and I am proud of the atmosphere we've created here. Not just me, but the staff takes a real responsibility for nurturing. Plays aren't fixable, in the conventional sense. They're not three act plays that follow a certain formula, rising action and then a climax and then a denouement: It doesn't work like that. It's a freer form. Therefore how you work on it varies from play to play. Yes, there can be accusations of workshopping a play to death, and sometimes you go back to the first draft of a play and realize how much better it was. We're just simply trying to figure out what's working, and what isn't. You have to be willing to risk. I think that's been my guiding principle. There's no one way."
Hitting the Highlights
When asked what he considers the highlights of his career, it seems there have been so many that it's difficult for him to focus on a few, but Davidson gamely gives it a shot.
"Each really has its own story," he says. "I was amazed at the first play I did, The Devils, because it did cause such controversy. I was innocent about it; why was it causing trouble? It's a true story based on a famous book by Aldous Huxley, but the Catholic hierarchy got upset. So what I was proud of there was the way the [CTG] board, especially the board president Lew Wasserman, handled things. Once he understood [why we were doing this], he defended it. He took no prisoners. I'm very proud of [In the Matter of J. Robert] Oppenheimer. The Catonsville Nine was an extraordinary experience. It was real life, they were living it. [Daniel] Berrigan went underground, and my lines were tapped by the FBI. I was observed all the time. When those actors performed that act of burning the draft cards, the audience became part of that and understood something better about what you could do. You have a choice. You can stand up. That's all they were saying, you know? We don't agree with this, and we're taking an action in order to bring attention [to the situation]. It taught me about the power of live theatre, how people can have different views and talk about things."
Davidson continues, "Children of a Lesser God, of course, a journey into the world of the deaf, and beyond that you learn about sign language and the extraordinary power and desire to communicate on the part of people like actor Phyllis Frelich--what a great artist she is. It was mind-blowing. It goes on and on. I think, as a producer, Zoot Suit. Angels in America was an extraordinary highlight, but I don't want to do an injustice to all the other [great plays]. All in all, there are two aspects. One is the journey that you make with the writer, designers, and actors--those elements that make theatre happen. When you create an atmosphere in which people feel free and encouraged and receive guidance and no limitations or parameters, that's one of the great things. The other thing is this bloody audience, which can blow your mind by the amazing things they can absorb and give back to you, feel a part of, and remember. I consider myself very lucky and very blessed. I have fought my battles, but I refused to let them get me down. All in all, the people have been very good to me."
The one-two punch of winning the Pulitzer Prize for Kentucky Cycle in 1991 and for Angels in America in 1992 was certainly a career high point, as Davidson recalls.
"It was tremendously rewarding, and somewhat humbling," he says. "That we could even think to do it, that people would actually come and sit through eight hours. It just so happened that [they occurred back-to-back]. The Kentucky Cycle was important because of the scope of it and the fact that it was a beautiful piece of writing. Angels was a play that changed people's lives. It came at the exact right time, when AIDS and public homosexuality were very valid questions, and Tony [Kushner] has the gift--in all of his work--of being just ahead of the curve. It's writing that allows other writing to happen; it stimulates it. He's a pioneer. We're blessed to have him. It gave me a terrific feeling, that the recognition went beyond the walls of our theatre and began to have some meaning."
Angel in American Theatre
Playwright Tony Kushner (Angels in America, Homebody/Kabul) is effusive in his praise of Davidson, not only from his personal relationship with the man but also from the way he's contributed to American theatre.
"Gordon was central in the development of Angels," says Kushner. The Taper was with it from the very first time it was ever produced anywhere--at the Taper--all the way to its world premiere as the entire two-part event, which was at the Taper in 1992. And then on to Broadway. Gordon was intimately involved with it every step of the way and was really a godfather. He took it very much to heart; he really shepherded it. He gave me immensely valuable dramaturgical advice. He's a brilliant and wonderful and loving producer, and did incredibly important work making sure it was protected once it got to Broadway, which is a much trickier place. I don't think that the play would have had the success that it had without Gordon. He's basically maintained that relationship with me since then. He's done every play I've done since, whether it's something with commercial potential or not. He's been right there and has always wanted me to feel that the Taper was my home. More than any other producer outside of New York--maybe more than any other producer--[he's] been very interested in everything that I've done. I don't know if this is an experience other playwrights have had, but certainly for me he's been a real--I know it's corny to say it--angel. He's really been extraordinary and kind of the ideal, in a way, of what you'd want a producer to be. He's smart and he's passionate and he's very concerned with the world. He's done battle on my behalf, but in a sense on everybody's behalf, on the National Council of the Arts, to try to get the NEA to stay true to its mission of really supporting serious theatre artists as opposed to becoming yet another producing entity, which is what it's in danger of becoming now. I certainly would have had a very different career in the American theatre without him. I admire him and love him; he's a very dear friend now, as well. He's been great.
"He's a pioneer of serious theatre in Los Angeles," Kushner continues. "It's clear that for many years the Taper has been the cornerstone theatre in L.A. He's maintained the Taper as one of the most important theatres in the United States and in the world. Nationally the thing to say about him is that, along with Joe Papp and Zelda Fichandler--as I read the history of the American theatre—Gordon is one of the generation I call the "mandarin generation," the people who created nonprofit theatre in the U.S. They figured out how to make it work, they figured out how to get it funded, and they figured out to how to build nonprofit institutions into theatres that were capable financially of producing on a large scale. They gave theatres a spectacular institutional home. No one since Gordon's generation has done anything in the theatre more significant than that. It completely changed what theatre in the U.S. was about. Before these guys created this movement, the only place you could be a serious playwright or serious theatre artist in the States was on Broadway, and that was very limiting. You needed to be male and white, and it was, to a certain degree, circumscribed by commercial considerations. I think the fact that we now have a theatre that is as great as the theatre of any country on Earth, has to do very much with people like Joe Papp, Zelda Fichandler, and Gordon."
Anna Deavere Smith, whose Twilight: Los Angeles was produced at the Taper to great acclaim, echoes Kushner's sentiments. "[Davidson] loves artists, loves talking to us, and is absolutely tireless in his commitment," she says. "He is protective, he takes risks, and he is steady. He is rare. He is the top of his generation and created a new generation. He will stand in American theatre history for centuries."
Playwright Luis Alfaro (Breakfast, Lunch & Dinner), who is currently the director of new play development at the Taper, says: "When I think of Gordon, I think of consistency. This is a remarkable gift to have in a time when theatres are closing left and right or changing their mission statements in mid-season. Since the '70s, Gordon has been asking a question in the theatre: 'How do we live?' He's answered it through original plays, adaptations, a few musicals, and, I would say, a pretty diverse group of storytellers. What makes him unique is that he has a conscience, he has taste, and he knows excellence when he sees it. He is endlessly fascinating."
When asked how he feels the L.A. theatre scene has changed in the past four decades, Davidson is positive.
"I think in general the scene has improved," he says. "When I started, it was showcase productions up and down Melrose and Santa Monica, vanity productions, people wanting to be seen, all that. When Equity waived the rules and created the 99-Seat theatres, it started to change. Some very worthwhile places, theatre artists who are serious about their work. [Places such as] The Actors' Gang. Company work--younger people coming out of schools, they stay together. Then they start to have family responsibilities at 30... I can't complain at all. I wish we were all closer together, and could all wind up [an evening] at the same theatre bar."
Contemplating what he plans to do after his duties on the upcoming CTG season are completed, Davidson isn't certain. But then he doesn't want to be. "There's an answer, and there isn't an answer," he says. "What I'd like to say is: 'I don't know.' I've planned every day of my life, seven days a week, for the last 38 years. I would like to be directing more. I'm going to try to write a little bit of my thoughts about this period. I want to do a different kind of traveling than just going to London and New York. I've got a grandchild, and I hope I have others. I'd like to spend my 70s in a different way, and that's really what it comes down to."
Finally, when asked if he has any advice for his successor, Michael Ritchie, Davidson is succinct. "I'm not trying to sound like an old fart," he says. "I'd say: 'Be your own master. Don't try to please everybody; please yourself.' Some of this he knows. This is just a larger sandbox, and there are more things in it to master. Ultimately you have to answer to yourself, before you can start answering to [the world]. Have fun." BSW