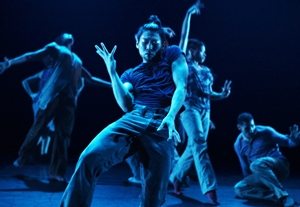 Prized by dance-lovers for consistently presenting superlative performances of new works by the most interesting emerging choreographers from abroad, New York's Cedar Lake Contemporary Ballet is once again serving up gratifying fare. In a two-week, two-program season at the Joyce Theater, the troupe is offering New York premieres of pieces by the Netherland's Regina van Berkel, the U.K.-based Hofesh Shechter, Sweden's Alexander Ekman, and Canada's Crystal Pite, as well as a world premiere by Sweden's Jo Stromgren and the return of French choreographer Angelin Preljocaj's provocative duet "Annonciation." As the company is richly endowed by Wal-Mart heiress Nancy Laurie, its tantalizing smorgasbord of choreography is rendered by an elite (and well-compensated) cadre of performers, representing the world's top-tier contemporary dancers.
The opening night program book-ended Preljocaj's sharply symbolic depiction of the impregnation of the Virgin Mary with two fierce ensemble works: Shechter's startlingly innovative "Violet Kid" and Pite's only slightly less impressive "Grace Engine."  Though surely risking arrest by the PC police, Shechter built his piece out of a breathtaking, original movement vocabulary that organically blends ape-like actions and postures with street dance moves, gangsta-rap gestures, and violent images. Hunched over, heads dropped, arms hanging loose or reaching high, taking bouncy little steps in deep plie, or gliding along the floor, as itchy hand gestures punctuate silky port de bras, the dancers proffer an athletic stylization of primal-feeling movement that proves powerfully dramatic. They sometimes vibrate uncontrollably, beat their chest, or bang their head against the air in front of them, and as they move (mainly as individuals in large group unison), we get the sense of a tribe living in a hostile environment. They're aggressive but intriguing, not frightening.
SImply Marvela (Julieta Cervantes)

Multi-disciplinarily gifted, Shechter not only designed the dancers' attractively casual "street" costumes (with Junghyun Georgia Lee), but he also set his powerful choreography to an affecting score of his own composition. Recorded percussion rhythms make roaring metallic waves of sound as they combine with foreboding tones from a live string trio that (under wonderfully murky lighting designed by Shechter, with Jim French) appears mysteriously suspended up in the air.   
Similarly dark, ferocious, and tribal in tone, feel, and choreographic structure, Pite's work suffers from being viewed on the heels of Shechter's. It begins elegantly, with a stylish black-suited society fighting -- successfully -- to undergo their daily lives, using clean, fine-tuned, unpredictable movements. These are not oppressed people, yet they are constantly on guard, stalking, poised to attack from a deep lunge like runners getting set for a race. Though they don't physically engage with one another we can tell from their actions that they are being hit, hurt, snuck up on, and continuously assaulted by their surroundings. Unfortunately, about half-way through the piece, they discard their jackets and it is here that Pite loses her way. The piece meanders through two pointless duets and an array of clichéd actions -- silent screams, people banding together in a struggle to survive -- and by the end what had felt smart and contemporary deteriorates into dull and familiar. 
Presented by Cedar Lake Contemporary Ballet in association with The Joyce Theater Foundation, at the Joyce Theater, 175 Eighth Ave., NYC. May 15-27. Tue.-Wed., 7:30 p.m.; Thu.-Fri., 8 p.m.; Sat., 8 p.m.; Sun., 2 p.m.; Sat., May 19, 2 p.m.; Sun., May 20, 7:30 p.m. (212) 242-0800 or www.joyce.org.