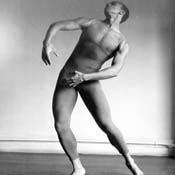 "I have been doing this since the 1940s, and I have been out of work one week in my whole life," says Donald McKayle, the African-American choreographer named by the Dance Heritage Coalition as one of the first 100 of America's Irreplaceable Dance Treasures. "And that one week that I was out of work, I couldn't even collect unemployment, because in California you need to wait 10 days before it becomes activated." McKayle has choreographed more than 90 works for the concert stage, numerous Broadway musicals -- including Golden Boy, Sophisticated Ladies, and Raisin, which he also directed -- the Hollywood films The Great White Hope, The Jazz Singer, and Disney's Bedknobs and Broomsticks, and the television special Free To Be...You and Me.
"Work in as many areas as you can," says McKayle, when asked what advice he would give to someone looking to establish a successful career as a professional dancer today. "The more colors you have on your palette, the more you have to work with and the more you can aspire to." In addition to his work as a choreographer and director, for the past 20 years McKayle has been a professor of dance and choreography at the University of California, Irvine. In 1995 he set up a student performance company there called the UCI Etude Ensemble. "It was in response to -- well, let me explain," says McKayle. "I'm on the board of trustees of the National Foundation for Advancement of the Arts, which gives awards to young artists, 17- and 18-year-olds. And I observed that the dance recipients didn't always have very good material to show, particularly in the modern-dance field. The ballet people, of course, had variations from the great classical ballets to perform. So I decided to choreograph something that the modern dancers could study -- like ballet dancers study classical variations -- and that they could perform at the auditions. I called the piece 'Rainbow Etude,' because it was based on 'Rainbow 'Round My Shoulder.' Then [former Paul Taylor principal dancer] Carolyn Adams and her sister -- they operate an organization called the American Dance Legacy Institute, out of Brown University -- they decided to publish my 'Rainbow Etude' in a video/DVD format to be circulated to students and teachers all around the country. I originally set the work on six students from UCI. Well, that group of six performers grew to 18, and that's basically how the student company was formed."
McKayle is proud that students from Etude Ensemble have gone on to jobs dancing with the Joffrey Ballet, Nashville Ballet, Mark Morris Dance Group, and Martha Graham Dance Company, as well as at Radio City Music Hall and in countless Broadway musicals and national touring productions. "This group has really been feeding the professional companies and shows, and the dancers are getting work in all different dance genres. I am so proud of them. We have had great success establishing a linkage between what they do here in the company and what they go on to do in the professional world. Three of the dancers who will be graduating in June are in New York right now, auditioning for the Ailey company. I can't wait to hear what happened," says McKayle.
A Student of the Human Condition
Born in New York City in 1930, McKayle performed in the 1954 Broadway musical House of Flowers, served as dance captain and a swing for the Jets in the 1957 Broadway musical West Side Story, and was a guest dancer with the companies of Martha Graham and Merce Cunningham. A choreographer from the get-go, McKayle began making dances at virtually the same time he embarked on his professional performing career. He quickly became known for creating works that examined the human condition and generated compassion for the characters that peopled them. Rarely are his works based on abstract concepts or pure movement aesthetics.
McKayle's latest project is Return, a new musical based on Sonia Levitin's award-winning young-adult novel about Operation Moses, a secret mid-1980s airlift that rescued 8,000 Ethiopian Jews from persecution. Directed and choreographed by McKayle, with book and lyrics by Levitin and music by William Kevin Anderson, Return is premiering at the Edgemar Center for the Arts in Santa Monica, Calif., playing now through July 20, as a feature event in the Festival of New American Musicals.
"I came to this project about two years ago, when it was first presented to me by the author, Sonia Levitin," explains McKayle. "I had met her at an event that had to do with slavery in present-day Africa, and I thought, My God, this is something I must learn more about. So we began to talk, and she explained to me the story of Operation Moses. And then I realized that I knew about the story, because my wife was Israeli, and I had heard about a secret Israeli mission to rescue people from Africa. The people had traveled by foot all the way from their small villages in the mountains of Ethiopia to the border of Sudan, where they were then airlifted and taken to Israel. When I was in Israel, I met some of them, or actually the children of some of them. These were Ethiopian Jews, but they were young enough that they had been born in Israel. And they had formed a choir that sang so beautifully. I became very well acquainted with them and their music, so when Sonia brought me her book and asked how I felt about her translating it into a musical, I said, 'Please, go for it! It's an absolutely gripping story.' "
In 2005 McKayle was honored at the John F. Kennedy Center in Washington, D.C., and awarded a medal as a Master of African American Choreography. Many of McKayle's choreographic works explore themes that reflect aspects of the African-American experience. His first major work, Games, now a modern-dance classic, premiered in 1951 and is based on his childhood memories of the street games played by inner-city children. McKayle's most famous work is the heart-rending "Rainbow 'Round My Shoulder," choreographed in 1959; frequently performed by the Alvin Ailey American Dance Theater, it is set to the songs of Southern chain gangs and portrays the hopes and hardships of the African-American laborers. His well-known "District Storyville," from 1962, depicts life in the red-light district of New Orleans. In February, McKayle created a new work, "Hey-Hay, Going to Kansas City," which employs vernacular dances from the 1930s and pays tribute to the golden age of Kansas City jazz.
Ten retrospectives of McKayle's works have been mounted over the years, and in 1987 he was one of the featured choreographers for the Black Tradition in American Modern Dance, a dance-preservation project undertaken by the American Dance Festival. McKayle's dances are prominently featured in the repertoires of the Ailey company, the Dayton Contemporary Dance Company, the Lula Washington Dance Theatre, the Cleo Parker Robinson Dance Ensemble, and Ballet San Jose. He currently serves as an artistic mentor for the Lim贸n Dance Company and was the first foreign choreographer to be engaged by Batsheva Dance Company of Israel.
McKayle has also received the 2007 Black College Dance Exchange Honors, the 2006 Dance Masters of America Award, a lifetime achievement award from Boston Youth Moves, the Capezio Award, the American Dance Guild Award, two choreography fellowships from the National Endowment for the Arts, five Tony Award nominations, an Outer Critics Circle Award, the NAACP Image Award, an Emmy nomination, and a Los Angeles Drama Logue Award. "And now," he says, "I'm on my way to Seattle, where I'll be receiving an honorary degree from the Cornish College for the Arts."
For more information about McKayle's life and work, check out his autobiography, 'Transcending Boundaries: My Dancing Life', or the documentary 'Heartbeats of a Dance Maker', produced by PBS television. Return runs through July 20 at Edgemar Center for the Arts, 2437 Main St., Santa Monica, Calif. (310) 392-7327 or www.returnthemusical.com for information.
Lisa Jo Sagolla can be reached at ljsagolla@juno.com.