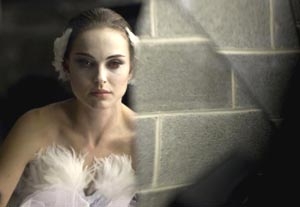 Natalie Portman "always wanted to do a film relating to dance," and director Darren Aronofsky wanted to work with the actor since seeing 1994's "The Professional." Now, after a 10-year process, they're getting what they want courtesy of "Black Swan," Aronofsky's dark psychological thriller set in the world of ballet. Following a brief meeting with Portman, Aronofsky started to develop the project but ran into roadblocks from the ballet world, which wasn't keen on having its dark side exposed on the big screen. The helmer kept at it, under Portman's encouragement. "Over the years, Natalie would say, 'I'm getting too old to play a dancer in a ballet film,' " he says. But eventually "Black Swan" came to fruition, with Portman's killer performance taking center stage.
Preparing for the role
Portman started studying dance at age 12, and later became fascinated with playing Nina, who dances the Swan Queen in the "Swan Lake" story that provides the backdrop to the film. She says the complicated character—the innocent White Swan who must transform into the wicked Black Swan at points in the ballet—felt more like playing "two characters." But the psychological torture Nina experiences pales in comparison with the rigorous fitness and dance training Portman endured for the role. She says she trained two hours per day for six months before production even started, just so she would be fit enough to avoid injury once the dance training began. Later, that training increased to five hours per day that included a one-mile swim, toning, and three hours of ballet class. Then, "Two months before we had the choreography, we were doing probably eight hours a day," she notes. "The physical discipline of it really helped for the emotional side of the character because you get the sense of the dancer's lifestyle of only working out. You know it's a ballet dancer's life when you don't drink, you don't go out with your friends, you don't have much food. You are constantly putting your body through extreme pain." Part of that pain, she adds, included months of wearing pointe shoes, which she notes felt "very medieval."
Head games
Barbara Hershey came in after all the ballet scenes had wrapped to film scenes as Nina's controlling mother, Erica. And to truly capture the passive-aggressive relationship, Aronofsky had Hershey pen letters—in character—to Nina to make the most of Hershey's two and a half weeks on set. "Barbara wrote really, really gorgeous letters," Portman says. Portman's bachelor's degree in psychology from Harvard also came in handy when it came to clinically diagnosing Nina. "The scratching, the bulimia, the anorexic/bulimia forms OCD," the 2003 grad says. "Ballet really lends itself to that, like when it comes to breaking in pointe shoes every day and preparing new shoes for every performance. It's such a process, and it's almost religious in nature."
Detaching
Once production wrapped, Portman found it easy to let go of the intense dieting, training, and dance rehearsals that came with playing the perfectionist she personifies onscreen. "As soon as I finish a scene, I'm back to being me," she says. "As soon as I finish shooting, I want to be myself again. I'm not someone who has to stay in character." And her first meal after production wrapped? "Pasta for breakfast, lunch, and dinner."   
Outtakes
-Won a Golden Globe Award and received an Oscar nomination for "Closer"
-Wrote and directed the short film "Eve" and a segment for the film "New York, I Love You"
-Nominated for a Film Independent Spirit Award for her performance in "Black Swan"