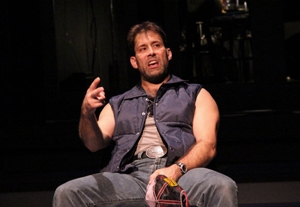 A mounting debt and economic downturn forced the
Caldwell Theatre Company
in Boca Raton, Florida to postpone the world premiere of their production, "Our Lady of Allapattah." The company also had to pay the actors in their most recent production, "Working," out of the
Actors Equity Association
Bond.
"Postponing 'Our Lady of Allapattah' was a choice," artistic director Clive Cholerton told "
The Miami Herald
." "We limped our way through 'Working.' We could never catch our breath." "Working" closed April 1, and the actors' final paychecks came from the bond, a necessary precaution when working with union actors.
The Equity Bond guarantees that actors will receive minimum salary, pension, and health credits guaranteed in their contract. Companies typically post the amount needed to cover their actors' salaries before production to protect them from not receiving their paychecks. Funds are returned 28 days after the show closes as long as no claims are made.  
However, Caldwell has been caught under mountain of debt and had to tap into the bond when ticket sales couldn't cover necessities. Legacy Bank filed a foreclosure lawsuit on the Caldwell's $10 million showcase theatre after the company was unable to pay the Count de Hoernle Theatre's $5.9 million mortgage. Plummeting ticket sales, costs of production, and a rocky economy are forcing the company to consider filing for bankruptcy.
"Theater is so tied to economics, perhaps more than any other art form," said Tim Cusack, co-artistic director of Theatre Askew, a company based in New York City. "If I'm primarily a poet, I can sit and write my poems. Maybe they'll get published, maybe they won't, but I can still make the work. When you're making theater, it becomes an incredibly complex system of stages, actors, designers, publicity, reaching the audience and maintaining the audience."
The Bond
The daunting task of funding the bond makes some independent theater companies hesitant to run a show on the Equity contract during a struggling economy. For a high price, Equity contracts provide benefits like minimum wage, per diem and health benefits for union actors while showcase contracts limit ticket prices to $18 and the overall budget for the production can't exceed more than $20,000.  
"I know a lot of us are very gun shy about moving to contract because we're really scared that [using the bond] is going to happen," said Cusack. "For most of us in independent theatre, we've held back at the showcase level because once you cross that line with the union, the expectation is that you never get to go back."
Maria Somma, spokesperson for the Equity confirmed the commitment.
"Once they use the bond, in order to have any future contracts there has to be a bond that covers salaries," Somma told "The Herald." "New contracts don't get released unless there's a bond, which has to remain in place through the run of the show."
Since Equity works with a large range of theaters, some artists believe the union does not account for smaller companies in its contract provisions.
"The Actors Equity is not small-theater-minded and it's not their fault," said Edward Elefterion, artistic director at New York's Rabbit Hole Ensemble. "That's the way the union was developed. This was decades ago when there weren't a lot of tiny little Off-Off Broadway theatres and if there were, they weren't working with actors making a living out of Broadway."
Help is on the Way
The Caldwell isn't the only institution having trouble in the hostile post-recession, arts environment, and as a result, the League of Independent Theater to take initiative in New York.
In early February the Independent Theater Fund was created to assist smaller theater companies with the general struggles, economic and otherwise, of being a New York City arts institution. The fund gathered nearly 50 Off Off-Broadway companies to donate 5 cents of each ticket sold this year towards a funding pool for independent theater. The fund will take effect August 1.
However, the sheer volume of theatergoing in New York City is what makes this both a wonderful hub of art and a dog-eat-dog environment. "If you're trying to do this in New York, you've got to realize that you will not be noticed and that's okay," said Elefterion.
"It's easy when 'The New York Times' [has] a 2-page-spread about your production," Cusack added. "It's when no one's paying attention that this work becomes heroic. My colleagues are heroic."