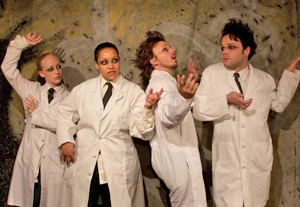 If you were guessing the locale of a leading regional American theater known for championing new, experimental work, you might first suggest San Francisco, Minneapolis, or Seattle. If someone prompted, "Think Texas," your mind would likely leap to Austin. Unless you were in the know about such things, you wouldn't name the Undermain Theatre, in Dallas.
"The Undermain is an unsung American treasure, and more people should know about it," says Len Jenkin, the Obie Award–winning, New York–based playwright whose "Port Twilight, or A History of Science" is currently enjoying its world premiere on the Undermain stage. "The Undermain is able to do a really extraordinary thing," Jenkin notes, "in that in a much more conservative town than some others in the United States, they're able to do the most adventurous kind of theater work, to do it really well, to do it imaginatively, and to keep doing it. They've been at it for 25 years, which is a long time for any small theater to survive."
Poetry Men
Undermain artistic director Katherine Owens co-founded the Undermain with Raphael Parry in 1983. At the time there was relatively little nonmainstream drama being produced in the Dallas area. Over the seasons, the company has presented a wide array of playwrights including stalwarts of the traditional dramatic canon such as Shakespeare, Tennessee Williams, and Samuel Beckett. It has also investigated the work of contemporary British dramatists, including Caryl Churchill and Howard Brenton. But it is most known for its association with a group of writers—Jenkin, along with Mac Wellman, John O'Keefe, and Jeffrey M. Jones—whose work is customarily linked to the Off-Off-Broadway scene below 14th Street in New York City.
"They really introduced us to each other and to a whole other world of writing," Owens explains. "Those guys were sort of a 'downtown' phenomenon, and they weren't being done other places as much. I think it was really good for them to see how their plays played in other places. I didn't think they were ever Manhattan-specific or anything like that, although their style was a little confusing for people."
Owens concedes she may have shared people's misapprehensions about these artists for a time. "I think people viewed the plays as a bit surrealistic when we first started, and maybe I thought the same thing. But now I view the work as concerned with language and poetry. And most of these writers we're dealing with are poets or are somehow connected to poetry—or the language is very present [in their work]. I think that's why we spent some time doing some of the British writers, because that was part of our interest in language-driven work."
The Dallas audience has become increasingly attuned to the Undermain's sensibility, Owens says. She is not sure whether to attribute this to changes in the city or in the larger cultural Zeitgeist. But she senses a sophistication among Dallas theatergoers that has become noticeably stronger in recent seasons. Indeed, during the last two years—despite the country's economic headaches—audience turnout for Undermain shows has been better than ever. The theater has been able to stage productions with relatively large casts at a time when other groups have turned increasingly to monodramas and two-handers.
Pillars of the Community
The Undermain is literally an underground theater, located in the basement of a former U.S. Customs warehouse in the Deep Ellum district—an area of east Dallas famous for its music and entertainment scene. "Ellum" is a corruption of "Elm," one of the neighborhood's streets.
"It's an odd space which you really have to learn to love," says Jenkin, noting that directors and designers have found ways to utilize the theater's potentially sightline-blocking columns to advantage. For her part, Owens thinks it's a "beautiful space," conceding that the pillars and the low ceilings make it unusual. "But it's good for focusing on the work," she contends. "It's large. It's sort of like the plains of Texas. It's wide. A designer, Russell Parkman, recently pointed out that the playing space is actually much, much larger than the audience [space], so that's kind of a strange feeling when you're in there."
From its earliest days, the Undermain has maintained a core company of actors, many of whom have MFA training and hold Equity cards. The theater operates under a flexible "umbrella" contract, negotiated by the Undermain and other nearby theaters two decades ago. Owens notes, however, that many of the central performers these days are former rock musicians who spent years performing with bands in New York and then wound up in Dallas. Being centered in the heart of a neighborhood famous for jazz and blues clubs has prompted cross-pollination among musicians and theater artists.
The infusion of music into the Undermain accelerated in the 2005-06 season with "Waiting for a Train," a play about country music pioneer Jimmie Rodgers starring Owens' husband, Bruce DuBose, Undermain's executive producer and one of its leading players. Last season, the theater produced "Greendale," a rock opera based on Neil Young's CD and subsequent live solo show. DuBose, along with playwright Lynne Alvarez, translated the piece for the stage, and it became one of the company's biggest successes, first in Dallas and then in New York City, where it was produced as part of the Ice Factory Festival. Musicians appearing in "Greendale" included Kenny Withrow of New Bohemians, Paul Semrad of Course of Empire, and Alan Emert from Brave Combo.
Just a Song at Twilight
Owens notes that music also plays a big part in Jenkin's work, including "Port Twilight," which she directed. Billed as a "futuristic sci-fi thriller," it is the third Jenkin play the Undermain has mounted, after "Poor Folk's Pleasure" (1990) and "Margo Veil" (2005). The latter show, Owens says, was an important one in the theater's evolution. Named play of the year by the Dallas Morning News, "Margo" represented a sort of sea change for the Undermain, in that, despite the huge challenges its structure and language presented to audiences, it enjoyed enormous popularity. The company seems to have struck gold again with "Port Twilight," which the Morning News has hailed as a "marvel of theatrical wizardry."
"It's a big play. It's an ambitious play, I hope," says Jenkin. "It's a series of love stories and also a play about science. And all of this is set in a sort of fantastic, dead-end city of the near future, called Port Twilight." Characters in the play include a rabbi and his menacing golem, a chorus of scientists, and a hard-boiled B-movie producer. The apocalyptic action plays out on a graffiti-canvas of a set, designed by Tony winner John Arnone.
The image of "twilight" may function, Owens suggests, as a good metaphor for all of Jenkin's work: "A Len Jenkin play is like driving through the American night when all the windows are still lit and the shades haven't come down," she says. "I think that image of twilight is so beautiful, because it refers to the astonishing visibility of that particular time of day, when you can see the houses and the outline of houses. And you can see people on the street but also people within their houses."
Jenkin structured the play to mirror the actions of the human genome. But he says he meant to treat the idea of science in a broad manner. "I mean, there's traditional laboratory science: genetics and nanotechnology and things like that. I don't mean to make this play sound like a treatise on science. It's certainly not. There are also ideas about more 'magical' science in the play."
Think Globally, Act Locally
The structure of "Port Twilight," says Owens, calls for most cast members to portray a "tonic" character, along with a secondary character that is either a "funny offbeat version" of the tonic or else a complete departure. Jenkin's work, she adds, typically has a "sketch" quality that makes deep explorations on the part of an actor somewhat beside the point. "There's just almost no way to go in and knock together a history of these characters," she explains. "You would just be weighed down by it. So the sketched quality, the vaudeville quality—I think those are very, very important."
Maintaining a consistent core company of actors has fortified the theater, says Owens. Having flourished for a quarter century, the company is now also multigenerational, something that wasn't true in the early days, when all members tended to be in their 20s. When roles must be filled from outside the company, the Undermain draws on other local talent rather than pulling in performers from Los Angeles or New York.
Still, the Undermain remains decidedly connected to the outside world. Its shows have played at theater festivals in the Balkans, and it regularly transfers its more successful shows to Manhattan. Owens and DuBose maintain an apartment in New York, and Owens often finds it easier to come north to work with playwrights than to have them fly to Texas. New York will always, she concludes, be important to the Undermain, in no small measure because of unconventional nature of the material the theater presents.