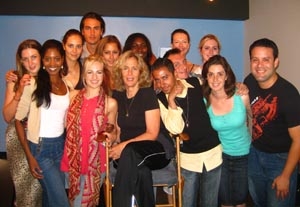 Earlier this summer, a group of international students came to Hollywood with one goal in mind: to improve their acting skills. Each came from different backgrounds—from dance to modeling to financing—but all say they believe that Hollywood was their true calling.
With family support behind them, the students set off for an adventure unlike anything they have experienced before. For South African student Alan Santini, who has a background in finance, his family saw the emotion and commitment that he was willing to provide and wanted nothing more than for him to follow his dreams. "My family is and remains very supportive," he says. "I suppose it comes down to how strongly you believe that this is what you want to do for the rest of your life. They see that dedication, devotion and ultimate passion [I have] for this industry." Finnish student Silva Karar couldn't agree more. "My parents are so happy for me and really supportive in anything I do," she says. "I have really cool parents."
Prior to coming to Hollywood, the students had no idea what to expect from the world-famous town. Austrian student Pia Bundy, who previously studied at the Lee Strasberg Institute in New York has never seen such a whirlwind of different people and characters in such close proximity. Though this may frustrate or annoy some, Bundy sees Hollywood as the ideal place to improve her acting skills. "I would rather call it Hollyweird," she says. "I lived right on the corner of Hollywood Boulevard, so every day when I got my Coffee Bean I bumped into 'Marilyn Monroe,' 'Spiderman,' 'Kiss,' and many other interesting people," referring to those who dress up to portray celebs on the boulevard. "But for me as an actress [this is] the perfect place to observe and absorb and put it into my work." Karar says she has found people more welcoming and open-minded. "People are welcoming for sure, much more than in Finland."
Finding a place to live was easy, as each student had a friend or companion already living in Los Angeles. Santini and Bundy had good friends with whom they stayed; Karar moved in with her boyfriend in Huntington Beach. That didn't, however, stop the students from becoming a very tight-knit group. It wasn't simply because they didn't know too many other people. According to Bundy, "I think we developed such a strong group spirit because of the circumstances that we as actors share. [We share] our deepest, most emotional, most personal stories and are often very vulnerable and open up completely. I am sure that was one of the main reasons why we all felt like a family after a couple of days."
Getting It Together
Of the many acting studios in and around Hollywood, Margie Haber and her International Studies Program was these students' school of choice. Karar says Haber's book, "How to Get the Part Without Falling Apart," fascinated her and made her want to come to Hollywood and experience it firsthand. For Italian student Antonio Peligra, a friend and fellow actor previously studied with Haber and had great things to say about his experience. Says Peligra, "He was doing the same work I was doing in Rome, and he went here, to Margie Haber's studio, for several years, and I saw how it was working. His creativity and all this about 'living the life' and 'stop acting' were fascinating, and I wanted to have the same experience." It was not only the openness and new techniques Peligra learned from his experience in Hollywood; for the first time he felt he could be himself without any preconceived notions. An Italian drama school graduate, he claims that unlike in Italy, where most drama schools have the idea of "the power," in Hollywood and at Haber's studio, students are allowed to be more open and make mistakes. Furthermore, Peligra believes that Hollywood and Haber have the philosophy that acting is about "telling the story to express and not to impress." He also says he feels, for the first time, that his homosexuality is not an issue.
Haber says her teaching revolves around the connection the actors must have with one another. "It's taking the attention off of yourself and putting it on to the person in front of you," says Haber. Peligra echoes, "It's about finding a place in which we can feel the simple connection with something—which can be an experience, a story, images, or people. It's all about finding this place, this balance, and experiencing something [with another person]." Santini says the main thing he learned was to be "available to your partner(s), investing yourself fully into the slice of life or the experience, to everything around you, thereby making it that much more truthful."

Home and Hearth
With the monthlong course completed and summer's end swiftly approaching, some students, like Santini, plan on staying here permanently, while others are disappointed to be headed back to their home countries. Many of the students never thought they would want to stay longer than the course. Now, Bundy wants nothing more than to be granted an artist's visa so she can continue her studies; Santini says he signed up with Haber for the next 18 months.
As the students look toward their futures in acting, they realize the struggles they'll face, but their dreams and aspirations are strong. When asked where they see themselves in five or 10 years, the students respond rather simply yet with excitement in their voices. Bundy sees herself in L.A., New York, or "wherever the work is, wherever I can put everything in there, what is in me." Karar looks forward to experiences and communications with other people, as well as the ability to do "extreme things." Peligra envisions a future where he can "perform something that I'm interested in and have the possibility to really connect with my partner and the audience." However, in what may be the quintessential hope and goal of every actor, Santini says, "I just want to be working."
Margie Haber will lead a workshop at Back Stage's tradeshow, Actorfest LA, Nov. 14 from noon to 1:30 p.m. at the California Market Center in downtown Los Angeles. The intensive is called
"Live the Life
:
Stop Acting
!,"
focusing on living the character in your body instead of your head. Go to www.actorfest.com to register
.