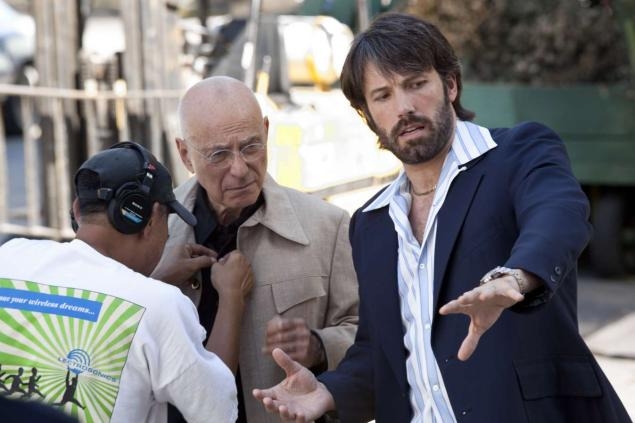 Saturday! Saturday! Saturday! It's Affleck versus Spielberg! Spielberg! Spielberg!
Things are coming to a head at the Directors Guild of America (DGA) Awards this Saturday night, where "Argo" will either continue it's dominance with Ben Affleck winning Outstanding Directorial Achievement in Motion Pictures or Steven Spielberg finally gaining some ground by winning for "Lincoln." Either victory will shake things up considerably.
See, in case you haven't heard, Affleck failed to get a best director nomination from the Academy Awards. Apparently everyone thought that meant there was no way "Argo" could win best picture—until it went on to win top prizes at the Critic's Choice, Golden Globe, PGA, and SAG Awards. But if Affleck does win the DGA, it will be only the seventh time since 1948 that the DGA winner failed to win the Oscar. (Ironically, one of those times was in 1985, when Spielberg himself won the DGA for "The Color Purple" and lost the Oscar to Sydney Pollack for "Out of Africa." In 2000, Ang Lee—nominated this year for "Life of Pi"—won for "Crouching Tiger, Hidden Dragon," but lost the Oscar to Steven Soderbergh for "Traffic.")
Voting closes on Friday, Feb. 1, which means there is still time for people to either join the "Poor Ben Affleck, let's give him the DGA Award to make up for those mean Oscar people mistreating him" camp or the "Come on, 'Argo' wasn't that good it's ridiculous it's sweeping all these awards let's take them down a notch" camp. Or maybe, just maybe, there's another camp: one in which people vote for who they truly find deserving. Perhaps it's my naïveté to believe most people belong to the later camp. That said, who do I think will be the big winner Saturday night?
The smart money is on "Argo" continuing its sweep, with the added bonus that Affleck gets a sympathy vote. However, the DGA loves Spielberg. They were recognizing him long before the Oscars, giving him a nod in 1976 for "Jaws." He's been nominated for this prize 11 times, winning thrice, and they even gave him a Lifetime Achievement Award in 2000. And "Lincoln" is quite an achievement—his best film in years, and perhaps his most performance-driven ever.
Then there are those who think Ang Lee has just been quietly waiting in the shadows to make his move. He took "Life of Pi," an unfilmmable book, and made it into an international blockbuster. It's a huge directorial achievement, blending spectacular visual effects with beautiful performances. And he is the only director to receive nods from all the major groups—Critic's Choice, Academy Awards, BAFTAs, and DGA. (Spielberg was left off the BAFTA list.)
So what's going to happen at the DGAs? My gut tells me Spielberg. I can't explain it; that's what a gut instinct is. But it's steered me wrong before, so I'm putting my money on Affleck. It makes sense. Even if he hadn't been overlooked by the Academy, I think he would have won this—he did a great job, he's a well-liked guy, and he's struck the perfect balance between being seen and staying humble. So I have no problem with Affleck winning.
But where does that leave us Oscar night? DGA nominees Affleck, Kathryn Bigelow, and Tom Hooper are out and Michael Haneke, David O. Russell, and Benh Zeitlin are in. If Spielberg wins the DGA, I think it's Spielberg for the Oscar. If he loses the DGA...well, I still think it's Spielberg for the Oscar. Though I reserve the right to change my mind on that one as we sense the way the winds are blowing. There are five great directors, each with their own solid base of supporters in the Oscar race. So I'm not expecting Saturday's DGA win to add much more clarity to the weirdest race in years.
Final predictions:
Outstanding Directorial Achievement in Motion Pictures
*Ben Affleck, "Argo
Tom Hooper, "Les Misérables"
Ang Lee, "Life of Pi"
Steven Spielberg, "Lincoln"
Kathryn Bigelow, "Zero Dark Thirty"
Outstanding Directorial Achievement in Commercials
Fredrik Bond, Commercials: Surfer, Puma; Eternal Optimism, Budweiser
*Lance Acord, Commercials: Jogger, Nike; The Dog Strikes Back, Volkswagen 2012; Thread, Levi's; Greatness, Nike
Steve Ayson, Commercials: Beer Chase, Carlton Draught; Let Me Go, The Cosmopolitan of Las Vegas
Alejandro González Iñárritu, Commercial: Best Job, Proctor and Gamble
Tom Kuntz, Commercials: Terry Crews Muscle Music, Old Spice; Stray Animals, DirecTV; Roadside Ditch, DirecTV; Platoon, DirecTV
Acord has a great mix of styles and genres this year; and that Volkswagen dog is adorable.
Outstanding Directorial Achievement in Daytime Serials
*"General Hospital," Scott McKinsey
"General Hospital," Larry Carpenter
"General Hospital," William Ludel
"Days of Our Lives," Albert Alarr
"One Life to Live," Jill Mitwell
McKinsey should score his third DGA win Saturday night.
Outstanding Directorial Achievement in Musical Variety
"12-12-12 the Concert for Sandy Relief," Michael Dempsey
"Saturday Night Live: Mick Jagger," Don Roy King
*"The Daily Show with Jon Stewart," Chuck O'Neil
"The 84th Annual Academy Awards," Don Mischer
"The 66th Annual Tony Awards," Glenn Weiss
Those awards shows will cancel each other out, "SNL" is only as good as it's writing, and everyone loves Jon Stewart.
Outstanding Directorial Achievement in Comedy Series
"30 Rock," Beth McCarthy-Miller
For the episode "Live from Studio 6H".
"The Big Bang Theory," Mark Cendrowski
For the episode "The Date Night Variable".
*"Modern Family," Bryan Cranston
For the episode "Election Night".
"Louie," Louis C.K.
For the episode "New Year's Eve".
"Girls," Lena Dunham
For the episode "Pilot".
Unlike those Oscar meanies, the DGA loves to reward actor-directors, hence the presence of Cranston, C.K., and Dunham. I want to believe one-man-show C.K. will take the award, but I guessed his show for PGA and he lost to "Modern Family." So I'm sticking with "Modern Family" this time—and Cranston is having a good week with two SAG Award wins, he may as well take home a DGA, too.
Outstanding Directorial Achievement in Children's Programs
"Let It Shine," Paul Hoen
"Girl Vs. Monster," Stuart Gillard
*"Camp Fred," Jonathan Judge
"Don't Divorce Me! Kids' Rules for Parents on Divorce," Amy Schatz
"Big Time Movie," Savage Steve Holland
Got no idea on this one; was tempted to go with Holland because I've heard of him, but I just love the name "Camp Fred."
Outstanding Directorial Achievement in Dramatic Series
"Homeland," Michael Cuesta
Episode: "The Choice"
"Mad Men," Jennifer Getzinger
Episode: "A Little Kiss"
*"Breaking Bad," Rian Johnson
Episode: "Fifty-One"
"Homeland," Lesli Linka Glatter
Episode: Q&A
"The Newsroom," Greg Mottola
Episode: "We Just Decided To"
With two "Homeland" episodes to split the vote and Johnson coming off a great year with the feature film "Looper," look for Walt's birthday episode to land him the win.
Outstanding Directorial Achievement in Reality Programs
"America's Next Top Model," Tony Croll
*"Masterchef," Brian Smith
"Face Off," Peter Ney
"Ink Master," Tim Warren
"Stars Earn Stripes," J. Rupert Thompson
I wish "The Amazing Race" were in this line-up to make it easier. "Masterchef" is the only one here that was nominated last year, so maybe it will get some love this year.
Outstanding Directorial Achievement in Movies for Television/Mini-Series
"Hemingway & Gellhorn," Philip Kaufman
*"Game Change," Jay Roach
"Hatfields & McCoys," Kevin Reynolds
"Political Animals," Greg Berlanti
"American Horror Story: Asylum," Michael Rymer
The only lock of the night.