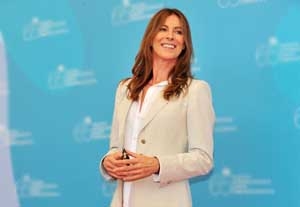 Kathryn Bigelow, director of "Hurt Locker," crashed the boys' club as the Directors Guild of America announced its nominations for best director Thursday morning.
Also breaking ground was Lee Daniels, director of "Precious," who became the first African-American to be nominated for the DGA's top award.
They will contend for the prize, which will be handed out on Jan. 30, with James Cameron, nominated for "Avatar"; Jason Reitman, whose ticket was "Up in the Air"; and Quentin Tarantino, nommed for "Inglourious Basterds."
Bigelow becomes the seventh woman to be nominated for the DGA honors. Although no woman has ever won the award, the list of female nominees consists of Lina Wertmuller ("Seven Beauties"), Randa Haines ("Children of a Lesser God"); Barbra Streisand ("Prince of Tides"), Jane Campion ("The Piano"), Sofia Coppola ("Lost in Translation") and Valerie Faris (who was nominated along with Jonathan Dayton for "Little Miss Sunshine").
Although the DGA Awards is considered a harbinger of the eventual Oscar for best director, when it comes to nominees, the DGA has been somewhat more welcoming toward women than the Academy has. Only three women have been nominated for the best directing Oscar: Wertmuller, Campion and Coppola.
Cameron -- who was once married to Bigelow -- has been nominated once before, for "Titanic," for which he took home the award in 1998.
Tarantino was previously nominated for 1994's "Pulp Fiction." Bigelow, Daniels and Reitman are all first-time nominees. All five of this year's nominees sat down with THR for its awards season roundtable video series.
"I can't even begin to explain how proud I am to be nominated by my fellow directors," Reitman tweeted shortly after the nominations were announced.
Only six times since the DGA Awards began in 1948 has its feature film winner failed to go on to win the Academy Award for best director. The last time that happened was 2002, when Rob Marshall won the DGA Award for "Chicago," but Roman Polanski took the best director Oscar for "The Pianist."
In addition to each director, the DGA Award goes to the full directing team. The complete list of nominees follows:
Kathryn Bigelow, "The Hurt Locker" (Summit Entertainment)
Unit Production Manager: Tony Mark
First Assistant Director: David Ticotin
First Assistant Director (Canadian Unit): Lee Cleary
James Cameron, "Avatar" (20th Century Fox)
Unit Production Manager: Colin Wilson
First Assistant Director: Josh McLaglen
Second Assistant Director/Additional Unit First Assistant Director: Maria Battle Campbell
Lee Daniels, "Precious: Based on the Novel 'Push' by Sapphire" (Lionsgate)
Unit Production Manager: Tony Hernandez
First Assistant Director: Chip Signore
Second Assistant Director: Tracey Hinds
Second Second Assistant Director: Michael "Boogie" Pinckney 
Additional Unit Production Manager: Patrick D. Gibbons  
Additional First Assistant Director: Tom Fatone
Additional Second Assistant Directors: Kim Thompson, Mirashyam Blakeslee
Location Manager: Gregory Routt
Jason Reitman, "Up in the Air" (Paramount)
Unit Production Manager: Michael Beugg 
First Assistant Director: Jason Blumenfeld
Second Assistant Director: Sonia Bhalla
Assistant Unit Production Manager: Samson Mucke
Second Second Assistant Director: Joseph Payton 
Additional Second Assistant Director: Heather L. Hogan
Quentin Tarantino, "Inglourious Basterds" (The Weinstein Co./Universal Pictures)
Unit Production Manager: Gregor Wilson
Unit Production Manager (Germany): Michael Scheel
First Assistant Director: Carlos Fidel
Second Assistant Director: Miguel Angelo Pate
Second Second Assistant Directors: Jill Moriarty, Tanja Daberitz
– Nielsen Business Media