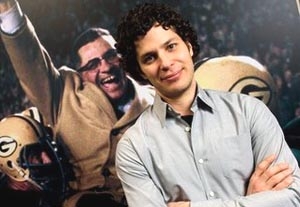 NEW YORK – Thomas Kail is having lunch in the theater district when his iPhone resting in the middle of the restaurant table starts buzzing. He casually looks down to check who's calling. It's Ben Affleck.
Kail hits "decline."
Then he laughs as his companion's eyes go wide.
It turns out that the 33-year-old director is playing a joke: It wasn't Affleck on the phone at all. Kail was just using an app that simulates a call from whomever the user wants. He has delighted friends by refusing to answer calls from Brad Pitt, Charles Barkley and Kayne West, among others.
"The key is leaving it on the table," he says. "Declining it is the power play."
Kail might be messing around now, but there's a good chance he'll soon really be getting A-listers calling. His resume already includes two Broadway shows — the hit musical "In the Heights" and the current drama "
Lombardi
."
This year has been a big one for Kail. One of his shows is winding down its Tony Award-winning run and another opened this fall. He's become an uncle. And he and his girlfriend just finished moving into a larger apartment.
"I think in one's life there are years that are like freshman and sophomore years, where you're brand new to something," he says. "Then there are senior years where you feel like this big transition. This feels like a year of transition for me, and an exciting one."
Kail is building a reputation for directing shows that are accessible to the traditional and nontraditional theatergoing audiences alike: "In the Heights" introduced salsa flavors and Latin characters to Broadway, while his latest is a portrayal of legendary coach Vince Lombardi that attracts football fans.
"I'm very interested in doing theater for everybody. It makes me feel incredibly gratified that the person who sees 50 shows a year is sitting next to someone who just found a theater for the first time," he says.
Kail is among a number of young guns making their mark on Broadway, a list that includes the director Alex Timbers ("The Pee-wee Herman Show" and "Bloody Bloody Andrew Jackson") and playwright Rajiv Joseph ("Bengal Tiger at the Baghdad Zoo").
Kail says he's often drawn to works that explore the themes of home, pointing to some of his projects such as 2009's "The Wiz" at New York City Center, last year's "Broke-ology" at Lincoln Center, "In the Heights" and playwright Eric Simonson's portrait of a behind-the-scenes Lombardi. The current trend of postmodern, head-scratching satire is less his style.
"I think sentiment is underrated. Often there's a tendency to use one's intellect as a substitute for allowing something in the heart," Kail says. "I think Eric wrote a play with a huge heart. 'In the Heights' had a huge heart. And there's a reason I'm drawn to that. To me, it makes me feel more alive to do something visceral and emotional than purely intellectual."
Kail's perspective and enthusiasm impressed actor Dan Lauria, who plays Lombardi. After talking with him for just an hour a few years ago, Lauria gave Kail his apartment in New York so he didn't have to pay rent while the actor was in Los Angeles. The two bonded over old movies — a passion for both.
"Tommy and I hit it off right away. I said, 'This kid knows where the theater's going,'" says Lauria. "You talk to him about movies — he knows them all. He literally studied them. And I think he uses that scope on stage."
Kail grew up as a rabid sports fan in Alexandria, Va., and attended Wesleyan University in Connecticut, but didn't study theater. That happened when he joined the American Stage Company in Teaneck, N.J., doing eight shows in 18 months, working his way up to being a director.
Asked to compare his leadership style with that of Lombardi's famously ferocious approach, Kail laughs. "I've never raised my voice and there's less spit that flies," he says. "But I do appreciate his dedication to communication."
These have been busy months for Kail. In the coming weeks, he will have to bid farewell to "In the Heights," which will end its Broadway run on Jan. 9 after more than 1,200 performances. He also directed one of this year's "24 Hour Plays" for charity and is gearing up to helm the Lincoln Center production of "When I Come to Die," a drama set in a Texas prison.
He also helps out with the hip-hop improv group Freestyle Love Supreme, which he co-created along with buddy Lin-Manuel Miranda of "In the Heights." He says he still visits that musical about once a week to check on its progress, and stops by "Lombardi" up to three times a week.
Is it a burden? He laughs. Kail has a genuine affection for theater that shows in his eyes whenever he talks about it. Maybe that's because he believes a kind of magic happens in the audience.
"At its truest form," he says, "it makes you feel like something is happening that only you are experiencing but you are experiencing with everyone around you."
---
Copyright 2010 Associated Press.  All rights reserved.  This material may not be published, broadcast, rewritten, or redistributed.