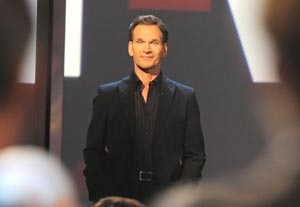 Patrick Swayze, who soared to stardom as a heartthrob dancer in "Dirty Dancing" and ascended to romantic icon status as a deceased lover in "Ghost," died Monday. He was 57.
Swayze died after a nearly two-year battle with pancreatic cancer. His publicist Annett Wolf said family was at his side when he died.
It was first reported in March 2008 that the actor was being treated for inoperable stage-four pancreatic cancer. In an ABC interview in January, Swayze said it "seemed likely" he would live for two more years.
A trained dancer and gymnast, the athletic Swayze was a swooner as a romantic lead in those two early '80s sleeper hits. He garnered his first of three Golden Globe nominations for his electrifying "Dirty Dancing" performance.
The 1987 movie showcased Swayze's dual abilities as a dancer and actor. He also composed and performed a song for the movie, "She's Like the Wind," which became a hit. And his line, "Nobody puts Baby in a corner," which he directed at Jennifer Grey character's father, played by Jerry Orbach, became a popular movie one-liner.
Swayze turned down an offer of $6 million to appear in a sequel, but 17 years popped up in a cameo role in "Dirty Dancing: Havana Nights."
Swayze followed "Dirty Dancing" with two projects that capitalized on his sex appeal and athleticism: "Road House" and "Next of Kin," both released in 1989.
He soared further as a romantic lead the following year with Jerry Zucker's "Ghost." His robust and delicate performance as a dead man who didn't tell his girlfriend that he loved her while he was alive captivated audiences. Swayze and Demi Moore teamed for one of most erotic scenes in mainstream movies when they sculpted clay to the Righteous Brothers' meltingly romantic love song "Unchained Melody."
Swayze won his second Globe nomination for "Ghost" and became a poster boy, earning People's "Sexiest Man Alive" cover in 1991.
That same year, Swayze parlayed his buff stuff into a role as a bank robber/surfer guru in "Point Blank."
While he was honored as ShoWest Male Star of the Year in 1992, Swayze's star aura dimmed by appearances in a number of lackluster films in the 1990s, including: "City of Joy," "Father Hood," "Three Wishes" and Blackdog."
An intelligent and introspective performer, Swayze did on occasion play against his stud persona. He won acclaim, and his third Globe nom, as a drag queen in "To Wong Foo, Thanks for Everything! Julie Newmar" (1995). Swayze also mixed things up by playing an antiseptic self-help guru in the subversive indie comedy "Donnie Darko," and as a golf instructor in the offbeat British comedy "Keeping Mum."
Before his breakout turn in "Dirty Dancing," Swayze built his career in a number of solid projects. From 1983-86, he appeared in "Uncommon Valor," "The Outsiders," "Red Dawn" "Grandview U.S.A." and Youngblood."
With his dancing prowess, he also took to the stage, starring on Broadway in "Chicago" in 2003 and as Nathan Detroit in "Guys and Dolls" in London in 2006.
Swayze was born on Aug. 18, 1952, in Houston. His father was a rodeo cowboy, and his mother was a dance instructor and choreographer. Combining his athletic and cultural heritage, Swayze studied dance, principally ballet, as a child.
It was at his mother's dance studio that he first met Lisa Niemi, a fellow dancer, whom he married in 1975.
Swayze, a Texas-raised boy, had to overcome the stigma of such pursuits, which he more than compensated for by his participation in sports. He excelled as a high-school jock, winning letters in football, gymnastics and swimming. He won scholarship offers for both athletics and dance, choosing a gymnastics scholarship at San Jacinto College in Houston.
His skills were made to order for figure skating, and Swayze soon became a top-notch ice skater. In his first professional gig, he skated as Prince Charming in a Disney on Ice traveling company.
In 1972, Swayze headed to New York, intent on becoming a professional dancer. He studied at the Joffrey and Harkness Ballet Companies and was hired to dance as the principal dancer at the Eliot Feld Ballet Company. However, an old football knee injury hampered him, and he veered from dancing to acting and musical comedy, soon landing Broadway roles in "Goodtime Charley," "West Side Story" and "Grease."
Buoyed by his successes on Broadway, Swayze moved to Los Angeles and studied acting at the Beverly Hills Playhouse. He soon garnered TV guest-star roles, including a noteworthy performance as a dying soldier on the hit series "M*A*S*H."
Swayze made his film debut in the 1979 rollerskating movie "Skatetown USA" in 1979, but his first notable performance was in the ensemble teen movie "The Outsiders," which also helped launch the careers of Rob Lowe, Tom Cruise and Emilio Estevez.
– Nielsen Business Media