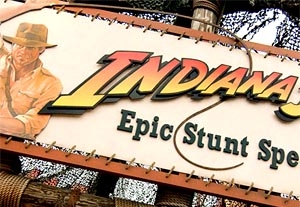 ORLANDO, Fla. – Walt Disney World canceled a stunt show Tuesday after an employee died during practice, the theme park's third worker killed on the job this summer.
Disney said the deaths weren't related, and federal investigators were treating them as separate accidents.
"The only common thread is the sense of loss we feel for these valued cast members," said Zoraya Suarez, a Disney spokeswoman.
Anislav Varbanov suffered a head injury late Monday while rehearsing an acrobatic move in the "
Indiana Jones Epic Stunt Spectacular
" and died a short time later. The move required Varbanov to jump into the air, dive over another performer and land in a tuck and roll onto a mat.
"It's worth noting that stunt is a common acrobatic maneuver and has been performed successfully thousands of times since the show was created" in 1989, Suarez said.
Disney World canceled Tuesday's performance in memory of the 30-year-old performer, who had only been with the show a week.
Earlier this month, 47-year-old Mark Priest died four days after being injured in a Magic Kingdom show. He was sword-fighting in "Captain Jack Sparrow's Pirate Tutorial" when he slipped and hit his head on a wall.
Last month, 21-year-old monorail driver Austin Wuennenberg was killed when his train and another monorail train collided.
An Occupational Safety and Health Administration investigator traveled to Disney World on Tuesday to begin an investigation that could take up to six months, said Michael Wald, a spokesman for the U.S. Department of Labor in Atlanta. The latest probe would be conducted separately from investigations into the two other deaths this summer, Wald said.
Some union leaders at the theme park said they were concerned that the resort's hiring of fewer workers this summer might affect safety. The 50,000-plus work force held steady this summer instead of increasing like it normally does during the busiest time of the year for Orlando's theme parks, said Eric Clinton, whose union, United HERE! Local 362, covers custodians, ticket takers and ride operators.
"The parks are open later and there are longer lines," Clinton said. "They need the staff to cover that and that hasn't been the case this summer."
Other union leaders believed that the three deaths were unrelated and didn't reflect a larger pattern of safety concerns.
"They've just been freak accidents," said Donna-Lynne Dalton, secretary-treasurer of Service Trades Council, a coalition of Disney's labor unions. "You also have to consider that Walt Disney World is the size of a small city. When you look at the size of Walt Disney World — and I'm not dismissing the tragedy of any of these events — but I'm just thankful it's not worse."
---
Copyright 2009 Associated Press.  All rights reserved.  This material may not be published, broadcast, rewritten, or redistributed.