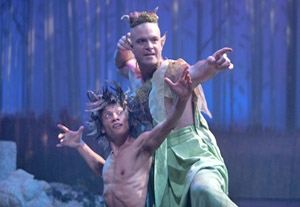 To most Americans, baseball is the sport of summer. But in the theater world, Shakespeare is the favored pastime. How else to explain the profusion of melancholy princes and merry wives at festivals across the country every summer?
For the aspiring theater artist, Shakespeare festivals present a myriad of performing and production opportunities. If you're a college student, you may not have to stray far from familiar territory to land an internship—and academic credit to boot. If you're a recent graduate, a Shakespeare festival can provide you with hands-on experience in a season's worth of shows—and perhaps points toward an Actors' Equity Association card.
The Shakespeare Theatre of New Jersey, located in Madison, gets many of its interns from Drew University, where the theater has been in residence for 38 years. The Oregon Shakespeare Festival restricts its acting internships to theater arts students at Southern Oregon University in Ashland, while its internships, in areas such as production and arts management, are generally filled by local undergraduates, although others may apply. That's also the case at the Pennsylvania Shakespeare Festival, whose acting interns come from DeSales University in Center Valley, Pa., while its production internships are open to anyone.
In many instances, you will need to have financial resources for the length of your internship or be able to live off the provided stipend. Housing is sometimes offered, but not always. Often you'll be working long hours with few if any days off, so unless you can go without sleep, you may not have time to supplement your income with a shift at the Olive Garden.
You may not even be in one place for the entire summer. Montana Shakespeare in the Parks, for example, tours two shows from the end of June to early September (this year's plays are "Julius Caesar" and "A Midsummer Night's Dream"); last year the company performed 74 times in 59 venues located in four states: Montana, Wyoming, Idaho, and North Dakota.
Internships and apprenticeships may involve classes as well as production or administrative work. Acting apprentices who take part in the Hudson Valley Shakespeare Festival's 17-week training program, which runs from May to the beginning of September, go from the classroom to the rehearsal hall to the theater, understudying roles and taking part in performances. It's free, and the six to 10 students accepted each year receive a weekly stipend but have to find their own housing while rehearsing in New York City.
Acting apprentices at some Shakespeare festivals pay tuition. At the Shakespeare Theatre of New Jersey, it's $3,300 for the 11-week program, which runs from the end of May through mid-August. That includes housing and classes in acting, voice, movement, stage combat, text analysis, and more, Monday through Friday.
Travel expenses to and from an interview or audition, not to mention an application fee, may also add to your costs, although in some cases a video audition is enough. Application deadlines and auditions are generally from late February through April, so the clock's tickin'. If the festival's programming starts before the summer, the deadline may be even earlier. The Oregon Shakespeare Festival, whose season runs from February to October, has a June 1, 2010, application deadline for the 2011 season. Internships last for two or three months only and are unpaid, but the festival also offers early-career fellowships to foster cultural diversity and advanced assistantships that include a stipend, housing, and transportation.
Corinne Farkas, education associate at the Shakespeare Theatre of New Jersey, often relies on phone interviews with long-distance candidates to help with the admissions process. "As we're doing the interview, I'm mainly focused on trying to get to know who they are as a person," she says. "Because it is such an intense program, we have to have people who are passionate about their work. When you're talking to their references as well, they'll often tell you what kind of a worker they are."
Some Like It Hot
Sometimes it's a simple matter of being able to take the heat—literally. When hiring interns for Shakespeare Dallas' summer season, Jenni Stewart, program and marketing manager, looks for candidates who can handle working in an amphitheater in a city where the average summer temperature is above 90 degrees. "It's extremely hot, and we have to have people who can handle the intense heat," she says.
The company, whose 2010 summer season includes "Cymbeline" and "The Comedy of Errors," has a two-tiered internship program—one for high school and college students, another for postgrads—in the areas of acting, producing, directing, and technical theater. Interns must commit to 20 to 25 hours a week for eight to 12 weeks, May to July. Housing and transportation are not provided.
Shakespeare Dallas interns typically come from the Texas-Oklahoma-Louisiana region, and Stewart tries to determine their skills and aspirations. When there are more acting applicants than positions available, she tries to place the overflow in positions in which they "still have contact with the acting company, even if they're not in the acting program," she says.
"A lot of times, if they successfully complete an internship, there will be a job for them next season," Stewart adds, citing former intern Jacob A. Climer, who has returned to design costumes for plays such as "All's Well That Ends Well" and "The Merry Wives of Windsor." "We are definitely interested in helping them find work and keeping in touch with them," she says.
Farkas advises applicants not to worry about being among others who may be more proficient. "We accept a wide range of skill and experience levels," she says. "It's not always the most experienced people who do the best, and it is very valuable for someone who's experienced to be with someone less experienced. Everyone brings a new perspective."
She cites a student from Brazil who previously had only read "Hamlet." "English is his second language, but he wanted to learn so much, and it really inspired some of the other students to step up their game," she says. "I cry pretty easily, and I'm often brought to tears during the summer."
Matthew Given, production manager for the Pennsylvania Shakespeare Festival, hires about nine or 10 interns—about half are DeSales students—for the festival's six summer shows: four mainstage productions (for 2010 they're "The Playboy of the Western World," "A Funny Thing Happened on the Way to the Forum," "The Merry Wives of Windsor," and "Romeo and Juliet"), a children's show, and a Renaissance-style Green Show before performances.
"I'm a big proponent of our internships really being an educational experience," says Given, who hires interns in areas such as costumes, props, electrics, sound, and scenic artistry. But, he adds, the positions involve more than just watching and learning: "Some can come in thinking this is just an educational experience, a class, but they're a strong part of the workforce. On the other hand, people can come in expecting to be a lower-paid staff person. It's great to have that ambition, but it's not necessarily what they need to do." However, those who successfully complete their internships can move on to paid positions in future summers.
Teaching Shakespeare can be a paid option at some festivals. The San Francisco Shakespeare Festival presides over more than 30 Shakespeare camps throughout the Bay Area each summer, for students aged 4 to 18, and education director Rebecca Ennals often hires BFA and MFA candidates as instructors. Her ideal candidate, she says, is someone equally comfortable with kids and the Bard: "Do they have an affinity for Shakespeare? Have they studied Shakespeare? Can they answer questions about Shakespeare for young kids?"
One thing Ennals doesn't want is actors who are only slumming it until that great role comes along. "We battle the idea that teaching is a secondary thing. Teaching is an art unto itself," she says. "You have to be a great artist and a great teacher." The festival also has paid opportunities for production assistants with some stage-management experience for its Free Shakespeare in the Park performances, which run until mid-September. Up this summer: "The Two Gentlemen of Verona."
Acting apprenticeships almost always include performance opportunities, though not necessarily in mainstage shows. At Shakespeare & Company in Lenox, Mass., apprentices appear in their own apprentice show for seven performances—this summer it's "The Comedy of Errors"—and take part in other productions. Shakespeare Theatre of New Jersey apprentices participate in three scene nights, the last of which is an abridged Shakespeare play that production and design interns also work on. Last summer's group undertook "Pericles." Directing interns also have their own scene nights.
Those fortunate enough to participate in a mainstage show—either as Third Sword Carrier From the Left or as an understudy to a principal performer—can earn Equity Membership Candidate points. Farkas notes that six apprentices were used in her theater's staging of "The Tempest" last summer. Those not cast must take a crew assignment, which can include constructing sets or assembling costumes.
What's the Attraction?
Hard work, long hours, little pay, if any. Not exactly the most carefree way to spend a summer. So what draws so many people into this world? For some, it's the chance to explore an undiscovered country.
"A lot of them say they apply for a program like this because they don't get that intensive training at college," says Farkas, who had more than 50 candidates for the Shakespeare Theatre of New Jersey's acting apprentice program (a maximum of 28 are accepted) and 200 for other internships. When interviewing acting candidates, she often hears, "I feel like if I can do Shakespeare, I can do anything." "They're intimidated," Farkas adds, "but they still want to jump in, and they're very passionate."
William Addis, artistic director of the Bakerloo Theatre Project, which performs a summer season in Troy, N.Y., completed two internships at the Shakespeare Theatre of New Jersey, in 1997 and '98, while an undergrad at Drew University. One was in directing, the other in education, which was a paid internship. For the former, he served as assistant director on mainstage productions during the day and rehearsed his own projects in the evening. Addis, who last summer staged "Hamlet: What Dreams May Come," a four-actor, 90-minute adaptation of the tragedy, says the "real-world rehearsal experience" was a confidence booster because it "allowed me to see what my skills were in relationship to some of the other people, what I did well and what I needed to learn."
He does wish he'd had more self-confidence going in, especially during a production of "The Threepenny Opera." "We lost the actor playing Macheath in the middle of the run," he recalls, "so we had to reconfigure the cast. There was one spot that needed to be filled, and no one could figure out how to fill it. I had the idea that the police chief could do it, but instead of telling the director myself, I had someone else tell him, so I lost credit for an idea."
Addis' advice to anyone considering an internship or apprenticeship is to not expect a guarantee of paid future employment with that theater. "In some ways, I think that internships breed a level of comfort for young artists that doesn't necessarily translate into professional careers with those companies," he says. "Sometimes it continues; sometimes it does not."
For John Holden, interning at the Shakespeare Theatre of New Jersey was "an absolutely incredible experience" and an opportunity to see from all sectors how a nonprofit organization is run. "The managing director really trained me throughout the organization—production, finance, box office," he says. "I knew I was heading into arts administration, so it was absolutely critical to get to know an organization inside out. Development requires you to have an overview of the field."
Also a graduate of Drew, Holden is now senior director of institutional giving at City Center in New York. He feels he was able to get the wide range of experience he was seeking at the Shakespeare Theatre of New Jersey because it's "professionally run but small enough to engage with interns. There's a lot more opportunity to play a range of roles and really get a sense of the business," he says. "There's also the passion for the art that goes along with that."
Plus, there are the people you get to know during those long hours, many of whom stay friends and colleagues well after the final curtain. "In a small industry, those kinds of connections are everything," says Holden. "The networks that you build early in your career evolve your career. So many connections are built working in regional theater and summer stock, and they really go on to endure throughout your career."