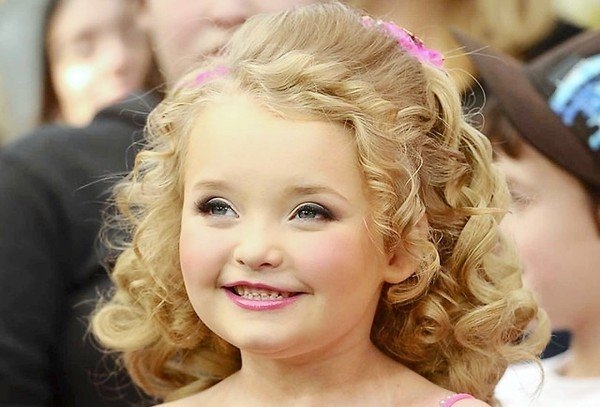 It's no secret that The Learning Channel's "Here Comes Honey Boo Boo" has captivated viewers. TLC has already picked up the reality series about the life of child pageant participant Alana "Honey Boo Boo" Thompson and her Georgia family, and, perhaps more telling about the show's cultural currency, Comedy Central's "South Park" recently skewered the series as well.
Thompson first appeared on an episode of TLC's similarly-themed "Toddlers & Tiaras." After a clip of her appearance went viral on YouTube, the network quickly approached her family about a show of her own. But "Honey Boo Boo" – which follows Alana, her overweight mother June Shannon, and the rest of her family around their rural Southern home – has also polarized many viewers, who claim that the show condescends to Southerners and can be exploitative. As the show continues to pierce the zeitgeist, the question remains: What kind of message is "Honey Boo Boo" sending about the world of child pageants?
"I have watched 'Here Comes Honey Boo Boo' and 'Toddlers & Tiaras' and am both enthralled and appalled," says Robert Galinsky, an acting coach, director, and corporate consultant who is also the founder of the New York Reality TV School. He isn't surprised by the ongoing fascination of the behind-the-scenes of the child pageant world. "It's as old as cave paintings," he continues. "At the base concept of child pageants, there is good. In its purest form it is designed to encourage uniqueness, to develop and display real talent, to teach showmanship and even sportsmanship." However, Galinsky acknowledges that this form has been corrupted by driven parents and producers.
"I watched a ten-minute clip of 'Honey Boo Boo,' and I can't even tell you what went on," says Gail Diedrich, whose daughter, Olivia, a high school senior, has competed in pageants for the last five years. "That show is not at all the world of pageantry. It focuses on the mess of that family, not on the strengths of what pageantry really is."
Diedrich worries that audience fascination with the sensational elements of reality shows like "Honey Boo Boo" and "Toddlers & Tiaras" obscures the true mission of pageantry: teaching young women how to be strong, independent, and make a difference.
"Pageantry is a poise school, grooming girls for success," Diedrich explains. "It's there to teach girls how to get on a stage and talk intelligently, how to hold a conversation." Since middle school, Olivia has volunteered with special needs adults and raised more than $40,000 for the American Cancer Society. Panel judges focus on the girls' interests and experiences. "These are girls who have made huge impacts," Diedrich says. "They have fed the homeless, brought awareness to bullying in schools. All of these shows give it a bad, inaccurate look. These girls [seen on television] aren't even in the same species."
As she and Olivia begin their college search, her daughter looks forward to a career in the medical field. While her future may or may not continue in the world of pageantry, Diedrich say, "it will be connected to doing good. Other girls will continue to capture the crown and make a difference. Those are working crowns. These girls have a heart of service."
"Honey Boo Boo is a very talented young girl and obviously very coachable," Galinsky said. "At the same time, as a perfectly packaged product of reality TV, she will at some point be dragged into the trash as soon as she stops winning high ratings and earnings for TLC and the Discovery Company."
Perhaps there is still hope for Honey Boo Boo to have a career beyond the TLC reality mold, though. Galinsky works with child performers as a part of his job, and thinks that it is important to teach young performers not to let reality show producers ruin their growing self-esteem. "I coach this one young girl who is in the process of auditioning and I do exercises with her so that she won't be so anxious or nervous on set," Galinsky says. "Stress reduction liberates her from just following direction blindly. We work together so that when she's asked to do something foolish or something she is uncomfortable with, she'll have a strong enough understanding of herself to say no."