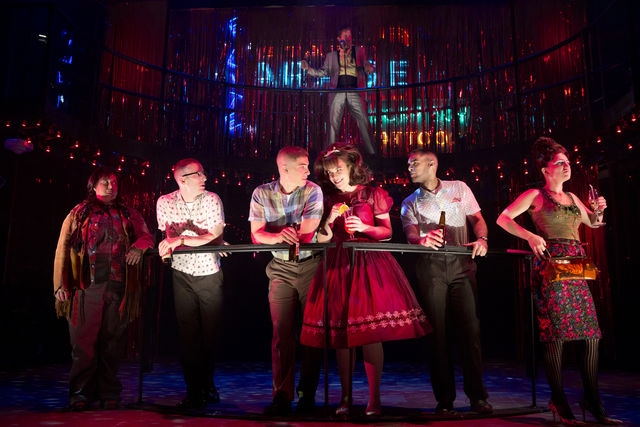 "Dogfight," "The Piano Lesson," and "The Whale" took home the top awards for best musical, best revival, and best play at the 2013 Lucille Lortel Awards, which were presented in a ceremony at NYU's Skirball Center on Sunday night.
"I'm so happy to be an actor!" said Shuler Hensley, who won Outstanding Lead Actor for his performance in "The Whale." "We kick butt, don't we?"
Hosted by Aasif Mandvi and Maura Tierney, the evening was a lovefest for theater and actors. The Lucille Lortel Awards have been honoring the best in Off-Broadway theater for 28 years.
Hollywood star Jake Gyllenhaal, who made his New York stage debut Off-Broadway this season on Roundabout Theatre Company's "If There Is I Haven't Found It Yet," presented the first award of the evening for Outstanding Featured Actress, which went to his co-star Annie Funke.
Chuck Cooper took home the award for Outstanding Featured Actor for his performance in "The Piano Lesson" and also delivered one of the memorable speeches of the night. "This is really good for one's ego," he joked, before enjoying a long time at the podium. When his "Piano Lesson" co-star Roslyn Ruff won Outstanding Lead Actress later, her time limit was set. "Sixty seconds, 'cause of Chuck!" she exclaimed, then more sincerely went on to thank people for believing in her.
"If you put the right artists in the room, the people will come," Ruff said, echoing the night's theme of community and the adage that you're only as good as the people around you. She thanked her director Ruben Santiago-Hudson, who landed Outstanding Director, for fighting for her when producers wanted him to cast a name.
Martin Moran won Outstanding Solo Show for "All the Rage," which presenter Ben Foster pronounced "All the Range," and Moran joked he liked that title better. Signature Theater Company's acclaimed production of "Old Hats" received a special award for Outstanding Alternative Theatrical Experience, and actors Bill Irwin and David Shiner performed an excerpt from the show.
Cynthia Nixon presented the evening's lifetime achievement award to Roundabout Artistic Director Todd Haimes, while actors Leslie Bibb and Fred Weller presented the playwrights' sidewalk award to Neil LaBute. The actors will appear in the LaBute's latest work "Reasons To Be Happy," which starts performances next week at the Lortel Theatre.
"The theater will never die," LaBute said in closing his acceptance speech. "You know that. I know that. Let's go tell the rest of the world that."