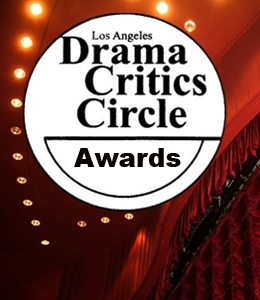 The South Coast Repertory's production of "The Fantasticks" and DOMA Theatre Company's production of "Dreamgirls" lead the Los Angeles Drama Critics Circle (LADCC) Awards nominations with a half dozen each.
The 2013 nominees, announced Monday, also included Center Theatre Group's production of the "Scottsboro Boys"—a season favorite—and "The Nether," which was CTG's standout production last year. At the Ovation Awards in November, it took home a playwriting honor for Jennifer Haley as well as awards for scenic, sound, costume, and lighting design, and featured actress and actor for Brighid Fleming's performance as Iris and Dakin Matthews as Doyle. The LADCC has it up for similar honors, although neither Fleming or Matthews is nominated in the performance categories.
The standouts in the lead performance include Constance Jewell Lopez, who's nominated for her turn in "Dreamgirls," and Mary Bridget Davies, who's garnered a nod for her performance in the Pasadena Playhouse's production of"One Night With Janis Joplin" (and is currently playing the role on Broadway). Sabrina Elayne Carten was also nominated for featured performance in the Playhouse's production. Moreover, Perry Ojeda is nominated for his role "The Fantasticks."
The ceremony is slated for March 17 at the Colony Theatre in Burbank.
The full list of 2013 nominees is below:
Production
•A Family Thing, Chris Fields and Lauren Bass, The Echo Theater Company at Stage 52
•One Night in Miami…, John Perrin Flynn and Roxanne Hart, Rogue Machine Theatre
•Our Class, Son of Semele Ensemble, Atwater Village Theatre
•The Nether, Center Theatre Group, Kirk Douglas Theatre
•The Scottsboro Boys, Center Theatre Group, Ahmanson Theatre
•Walking the Tightrope, Debbie Devine and Jay McAdams, 24th Street Theatre
•We Are Proud to Present a Presentation About the Herero of Namibia, Formerly Known as Southwest Africa, From the German Sudwestafrika, Between the Years 1884–1915, Matrix Theatre
McCulloh Award for Revival
•A View From The Bridge, Valerie Havey, Julianne Figueroa, Sara Newman-Martins, Robert Cannon, and Marilyn Fox, Pacific Resident Theatre
•Dreamgirls, Mike Abramson and Dolf Ramos, DOMA Theatre Co. at The MET Theatre
•The Fantasticks, South Coast Repertory
•The Normal Heart, Deborah Lawlor and Stephen Sachs, The Fountain Theatre
Direction
•T.J. Dawson, Parade, 3–D Theatricals at Plummer Auditorium
•Amanda Dehnert, The Fantasticks, South Coast Repertory
•Nancy Keystone, Alcestis, The Theatre @ Boston Court
•Jessica Kubzansky, R II, The Theatre @ Boston Court
•Matthew McCray, Our Class, Son of Semele Ensemble at Atwater Village Theatre
•Todd Nielsen, Master Class, International City Theatre
Writing
•Johnna Adams, Gidion's Knot, Furious Theatre Company at Carrie Hamilton Theatre at Pasadena Playhouse
•Allen Barton, Years to the Day, Skylight Theatre Company at Beverly Hills Playhouse
•Stephen Adly Guirgis, The Motherfucker With the Hat, South Coast Repertory
•Jennifer Haley, The Nether, Kirk Douglas Theatre
Writing (Adaptation)
•Richard Alger, Track 3, Theatre Movement Bazaar and Bootleg Theater at Bootleg Theater
•Nancy Keystone, Alcestis, The Theatre @ Boston Court Musical Score
•John Kander and Fred Ebb, The Scottsboro Boys, Ahmanson Theatre
Music Direction
•Eric Heinly, A Midsummer Saturday Night's Fever Dream, Troubadour Theater Company at Falcon Theatre
•Corey Hirsch, A Man of No Importance, Good People Theater Company at Lillian Theatre
•David Lamoureux, Parade, 3–D Theatricals at Plummer Auditorium
•Chris Raymond, Dreamgirls, DOMA Theatre Co. at The MET Theatre
•Ross Seligman, One Night With Janis Joplin, Pasadena Playhouse
Choreography
•Matthew Bourne, Matthew Bourne's Sleeping Beauty, Ahmanson Theatre
•Tina Kronis, Track 3, Theatre Movement Bazaar and Bootleg Theater at Bootleg Theater
•Kelly Todd, Bloody Bloody Andrew Jackson, Chance Theater
•Rae Toledo, Dreamgirls, DOMA Theatre Co. at The MET Theatre
Lead Performance
•Tony Abatemarco, Red, International City Theatre
•Gigi Bermingham, Master Class, International City Theatre
•Tim Cummings, The Normal Heart, The Fountain Theatre
•Mary Bridget Davies, One Night With Janis Joplin, Pasadena Playhouse
•Dana Delany, The Parisian Woman, South Coast Repertory
•Constance Jewell Lopez, Dreamgirls, DOMA Theatre Co. at The MET Theatre
•Perry Ojeda, The Fantasticks, South Coast Repertory
•Nicole Parker, Funny Girl, 3–D Theatricals at Plummer Auditorium
•Jeff Skowron, Parade, 3–D Theatricals at Plummer Auditorium
•Paige Lindsey White, Walking the Tightrope, 24th Street Theatre
•Michael Yavnieli, Years to the Day, Skylight Theatre Company at Beverly Hills Playhouse
Featured Performance
•Christian Barillas, The Motherfucker With the Hat, South Coast Repertory
•Sabrina Elayne Carten, One Night With Janis Joplin, Pasadena Playhouse,
•Nate Dendy, The Fantasticks, South Coast Repertory
•Michael Nehring, Our Class, Son of Semele Ensemble at Atwater Village Theatre
•Welton Thomas Pitchford, Dreamgirls, DOMA Theatre Co. at The MET Theatre
•Elizabeth Regen, A Family Thing, The Echo Theater Company at Stage 52
•Patrick Stafford, Red, International City Theatre
Ensemble Performance
•One Night in Miami…, Rogue Machine Theatre
•Our Class, Son of Semele Ensemble at Atwater VillageTheatre
•The Fantasticks, South Coast Repertory
•The Scottsboro Boys, Ahmanson Theatre
•We Are Proud to Present a Presentation About the Herero of Namibia, Formerly Known as Southwest Africa, From the German Sudwestafrika, Between the Years 1884–1915, Matrix Theatre
Solo Performance
•Lorenzo Pisoni, Humor Abuse, Mark Taper Forum
Set Design
•Lez Brotherston, Matthew Bourne's Sleeping Beauty, Ahmanson Theatre
•Danny Cistone, Cops and Friends of Cops, VS. Theatre
•Adrian W. Jones, The Nether, Kirk Douglas Theatre
•Jeanine A. Ringer, Pericles, Prince of Tyre, A Noise Within
Lighting Design
•Ken Booth, Pericles, Prince of Tyre, A Noise Within
•Paule Constable, Matthew Bourne's Sleeping Beauty, Ahmanson Theatre
•Christopher Kuhl, The Nether, Kirk Douglas Theatre
•Jeremy Pivnick, R II, The Theatre @ Boston Court
Costume Design
•Lez Brotherston, Matthew Bourne's Sleeping Beauty, Ahmanson Theatre
•Shon LeBlanc, Parade, 3–D Theatricals at Plummer Auditorium
•Sharon McGunigle, A Midsummer Saturday Night's Fever Dream, Troubadour Theater Co. at Falcon Theatre
•Michael Mullen, Dreamgirls, DOMA Theatre Co. at The MET Theatre
Sound Design
•Peter Bayne, The Normal Heart, The Fountain Theatre
•John Zalewski, R II, The Theatre @ Boston Court
•John Zalewski, The Nether, Kirk Douglas Theatre
•John Zalewski, Walking the Tightrope, 24th Street Theatre
Video Design
•Adam Flemming, The Normal Heart, The Fountain Theatre
•Matthew G. Hill, Walking the Tightrope, 24th Street Theatre
•Kaitlyn Pietras (Projection Design), R II, The Theatre @Boston Court
•Jason Thompson (Projection Design), Heart of Darkness, The Actors' Gang
Movement/Fight Choreography
•Ned Mochel, Cops and Friends of Cops, VS. Theatre
•Nenad Pervan, Tender Napalm, SIX01 Studio
Illusions/Magic Design
•Jim Steinmeyer, The Fantasticks, South Coast Repertory
•Johnny Thompson, Play Dead, Geffen Playhouse