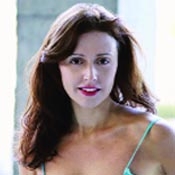 These days, just about any job is a great job to have. But before taking a stereotypical survival job -- waiter, babysitter, office drone -- it's worth thinking about how it might serve your acting career. If you want to improve your audition skills, combat nerves, learn about the industry, or hone your craft, wouldn't it be great to find a day job that helps you do it? Here are three actors who turned making the rent into making career progress.
Trip Langley is an administrative assistant at Abrams Artists Agency. Ben Gougeon is a sales associate at the Drama Book Shop. And Bettina Bilger is a freelance casting director with Caroline Sinclair Casting. All say that one of the best things about their work is being able to learn from other actors and industry pros while on the clock.
For Bilger, being on the other side of the audition table has been educational and inspiring. "You learn a lot by seeing," she says. "If someone is nervous or second-guessing themselves, it's probably not going to work. It's a lot of fun seeing exactly what they're looking for."
Langley also wanted to find out what agents, CDs, and directors are looking for, so he sought jobs in the industry, landing at Abrams and a film production company. "As an actor," he says, "it's really important to educate yourself about all the different components of entertainment."
Looking Lessons
None of the three found their jobs through a help-wanted ad, but once they knew what they wanted, the process was easy, they say. "When you move to New York, it can be overwhelming," says Bilger, "but once you find your groove, it's fine. It's a misconception that you have to be poor and miserable and just acting on the side." A New Jersey native, Bilger was always drawn to the city and moved to NYC to attend college 10 years ago. When a friend with an independent production company asked her to help out with casting, she agreed, even though it didn't pay. Then another friend, knowing she had casting experience, introduced her to Caroline Sinclair, who happened to need help casting children. "I never gave her a résumé," Bilger says. "I just fell into it." Her hours vary, sometimes in the realm of 9 to 5, sometimes later. There are days when she's pulling-her-hair-out busy and scrambling for interns, and other days when it's slow. Getting to her own auditions can be difficult, she says, but her boss is accommodating. In addition to juggling acting and her day job, Bilger is in her second and final year of study at the William Esper Studio. Spontaneity and flexibility are crucial to her life, she adds. For Gougeon, finding his job was more straightforward. After moving to New York last August with an MFA from Western Illinois University, the Michigan native dropped off his résumé at the Drama Book Shop. With previous bookstore experience and a theatre background, it was a natural fit. Though he works eight-hour shifts, all the employees are in the performing arts, so scheduling is flexible, he says.
Langley's job began with an internship at Abrams while he was in college. When the internship ended, he continued to visit the office regularly, keeping up a professional friendship. A year ago, his former boss needed someone immediately who knew the ropes, and Langley fit the bill.
On-the-Job Training
In dealing with writers, producers, and agents, Langley has come to understand his role as an actor in the casting process. "You can freak out going into auditions," he says. "But it's so not about you. I know a lot now, because I knew I didn't know things and I put myself in environments where I would learn." Among other things, he has learned the protocol for creating and maintaining professional relationships. "Don't call a million times," he says. "Don't email." He emphasizes that an agency receptionist is not a personal assistant or a directory for information that can be found in Call Sheet by Back Stage (formerly Ross Reports, a Back Stage sister publication). But, he says, "if you have a fantastic meeting and they say, 'I'll call,' and don't call within a week, you can call to say, 'Hey, I'm just checking in.' "
As the person who opens the mail to the children's commercial department at Abrams (among his several duties), Langley discovered what makes good and bad submissions. "Address your envelopes better," he advises. "Make sure that you put the project title or character on. Include a short cover letter with two or three things you've done recently. I open letters where people are spelling out their life stories, and it's just not necessary." The biggest mail offense? Addressing your submission to "Abraham's Artists." "If you can't even spell the name right," he says, "I could easily throw your picture in the trash." His experience working at Abrams means he can now "breathe easy" at auditions, Langley says: "You've done the homework; now you can do the work." Bilger agrees. She says her job has taught her that a successful audition depends on comfort and confidence: "If it's a commercial, you're getting cast on type. It's almost not worth getting nervous. You are who you are -- not just lookwise but your essence. Film is more creative, so you can bring a character to a role, but I think just being professional and being prepared is the best thing."
Gougeon's job provides a different kind of preparation -- like that of an industry newsletter or handbook. The Drama Book Shop, not surprisingly, is full of actors, in front of and behind the counter. Many of its employees have worked in the industry their whole lives, he says. "There are a lot of great minds there to pick and plunder for information about moving here or working in New York theatre for 30 years."
Being an Insider
Since moving to New York five and a half years ago to attend NYU's Tisch School of the Arts, Langley has compiled a list of CDs, agents, writers, directors, and companies he has met with -- a two-page, five-column spreadsheet in 10-point font containing all his contacts from internships, jobs, and workshops at Breakthrough Studios. Those connections have helped him land roles on Law & Order and 30 Rock and in indie films. "People think you go to school and get an agent, but that's not how it is," he says. "Make relationships with casting directors; get in their doors." Not only work but advice can come from those relationships: When Langley is finished putting together a reel, he can walk down the hall and get feedback from an agent.
Gougeon is surrounded by advice at work -- from the books on the shelves, his partner behind the counter, and the store's customers. "You're always aware of what's auditioning or opening," he says, "just because of people coming in to get scripts." He also gets to take in the classes, staged readings, and productions in the store's downstairs theatre. "People who come in are well-connected, and you get to meet lots of people and be kept abreast of what's going on." As he rings up books or chats with co-workers, he picks up tidbits about how the industry works -- "ins and outs that you can't find other places as far as good people to know."
Bilger is in an unusual position for an actor, because she is the person she needs to know. "I've booked jobs that we've cast," she says. "It's definitely been an in." While the director is the one who makes the final choice, and getting in to be seen is far from automatic, what Bilger finds helpful is what Langley and Gougeon have found helpful: taking full advantage of her surroundings. She frequently gets acting work through agents she knows from her job, as well as through other CDs who have become friends. Langley's focus on the business of acting has been deliberate. Before moving to New York from an East Texas cattle ranch in a town of fewer than 200 people, he spent a lot of time and effort researching all aspects of the city and the industry. He was surprised when people in his classes couldn't name a single agent. "It's fun to do Off-Off-Broadway in Brooklyn with friends, but I love what I do, and I want people to see it," he says. "You have to do all the business work to make it happen."