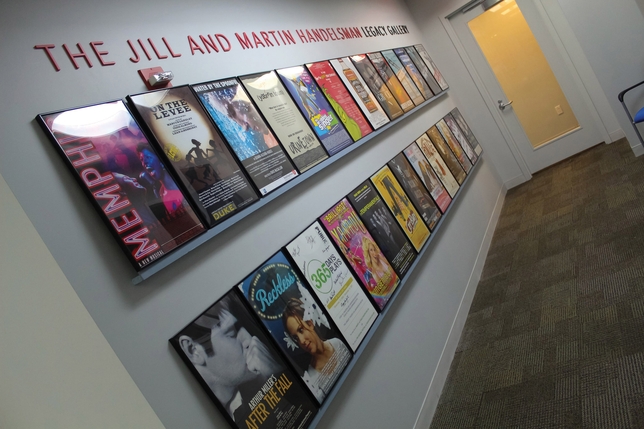 The economic realities of the theater world have hit artists hard. Even rehearsal spaces are no longer free from the vagaries of New York City rent, falling prey to outrageous fees or total shuttering.
Enter 98-year-old theatrical institution the Drama League and its brand-new Tribeca-based Drama League Theater Center.
Located on the lobby level of the former AT&T Building at 32 Sixth Ave., the center will serve as both an artistic home base for resident artists and a gathering place for the theatrical community at large, hosting workshops, readings, open rehearsals, and panel discussions.
The Drama League, dedicated to nurturing new artists and engaging audiences in ways that move beyond just performances, reaffirmed a commitment to its mission statement and blew the dust off its reputation with the move to downtown Manhattan—a conscious choice of location. "We knew there were these new pockets of work, these amazing companies here in Tribeca, that frankly we didn't have that much of a connection to because we didn't know them," Drama League executive director Gabriel Shanks told Backstage. "We'll always feel close to the Broadway community, but the feeling that we could expand and serve more of New York's theaters was exciting."
In addition to the center, the Drama League is initiating the Drama League Resident Artist Program, which offers institutional support and facilities to artists in various stages of the developmental process. Rachel Chavkin ("Natasha, Pierre and the Great Comet of 1812") has been named the Drama League's inaugural artist-in-residence. As part of her four-month residency, Chavkin will receive 150 hours of free rehearsal time in the space, as well as funding and administrative assistance. Her residency will focus on the in-progress "RoosevElvis," in which Theodore Roosevelt and Elvis Presley take a road trip through present-day America. "RoosevElvis" will premiere in October at Brooklyn's Bushwick Starr.
The resident artist program fulfills half of the Drama League's mission, and the other half, "strengthening the audience experience," will be better served by the center.
In addition to the Stewart F. Lane and Bonnie Comley Studio Lab, the center will house the Joseph and Lauren Pizza Welcome Center, which includes a hospitality lounge. "We're trying to design it as a community hub for the entire theater community, to find ways beyond performance to use the space," Shanks said. "You may come here and get a master class or get a lecture from a great critic. Or come hear a new play being read. On any given day you can drop by the center, and something interesting will be happening."