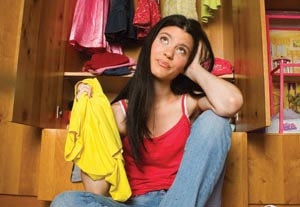 On camera or on stage, an actor's every garment is expertly chosen and arranged. If only actors had personal stylists and costume designers at their disposal the rest of the time. Once you've changed back into your own clothes, however, your choices are up to you. While it's a good idea to look your best whenever possible—in this industry, you never know who you'll meet—sometimes it's of utmost importance, such as when meeting with potential representation.
Sitting across the desk from an agent who may be interested in signing you, you're selling that person on your face, your personality, and your talent. So you want to infuse your outfit with a little bit of your personality, says veteran L.A. stylist Tin Wornom. But actors, especially women, should be careful their clothing doesn't draw too much attention. "You want them to look at your face," she warns. "You don't want them to look at your boobs."
Stylist Pascale Nyby, whose credits include
Grey's Anatomy
and
Boston Legal
, agrees. "I think that restraint should be used when showing the chest," she says. "Obviously, low-cut tops are good, but not to the extent where you're uncomfortable and somebody else might think that something's going to happen if you move too quickly in one direction or the other."
There are several guidelines for deciding whether a piece of clothing is suitable. Wornom stresses the importance of common sense: "If you wouldn't wear that to go meet your boyfriend's family for the first time, I definitely wouldn't wear it to meet an agent or manager for the first time."
Feeling comfortable and confident is also important, for men and women. Says Sabrina Newman, New York–based founder and style editor of the fashion website ANewMode
.com, "There are some people who can wear a low-cut shirt and make it look completely classy, and there are people who will wear it and you can tell they feel uncomfortable and they feel like they're being a little too revealing."
Adds Nyby, "You're taking a neutral stance when you go into a meeting with anybody, and you don't want to go too loudly in one direction or the other until you're sure what they really like." Though it may be wise to play it cool and avoid extreme fashion statements, there are ways to incorporate your personality and style in your outfit without being too loud.
For women, Wornom suggests avoiding bold prints on top—or, if you must, try wearing them on the bottom. "It's about mixing it up and making things look effortless," she says. Accessories are also a great way to show a bit of personality without coming off too strong.
If the Jeans Fit, Wear 'Em
All the stylists agree that it's appropriate to wear a nice pair of dark jeans to an industry meeting. But there are several common faux pas to avoid. Wornom, who has also worked in casting, advises men to steer clear of very tight pants: "I'm not casting you or interested in you because of your junk. I'm interested in you because you actually have talent." Find jeans that are neither too revealing nor too loose, she advises, and avoid the "skater, Urban Outfitter kind of thing," adding that men should always wear a belt to achieve a more polished look.
Tight-fitting jeans may not be a bad choice for women, but it depends on your body type, says Nyby: A woman in really good shape can wear tight jeans without exposing too much flesh and appear just as conservative as a woman who's not in great shape in looser-fitting jeans. It's common for women to wear jeans about two sizes too small, but to ensure the best fit, Nyby recommends trying them on and sitting down: If they expose your back, they're too small.
"It's a great feeling to fit into a size smaller," says Newman, "but it can make you look so much heavier because it doesn't fit you right, and if you're spilling out or you have a muffin top, it's definitely no good."
If you don't already own a pair of high-quality, great-fitting jeans, the stylists highly recommend investing in one. Wornom suggests Ernest Sewn or Antik Denim; Newman likes J Brand and Rock & Republic. While they're definitely more pricey than Old Navy, you'll notice the difference in quality, they say. "There are going to be people who are like, 'Oh, no, it's all the same,' " says Wornom. "You know what? It ain't the same. My ass does not look as good in a pair of Forever 21 jeans as it does in my Diesels." Nyby agrees, adding that a nice pair of jeans from a recognizable designer helps an actor appear successful and confident.
Sacrificing quality to save money may have adverse affects, according to Wornom. "You don't look polished," she says. "You look like you're broke and you need a job, and no one wants to hire you if you look like you're broke and you need a job. I've been doing this for 16 years, and the desperate-looking people that walk through the door are never the ones that get hired."
Bottom line? "If you're wearing something that you love, it's going to show," says Newman. "The No. 1 fashion tip in general is that it's always important to stay true to yourself and to your own personal style." So before you walk out your front door, be sure you not only look good but feel good too.