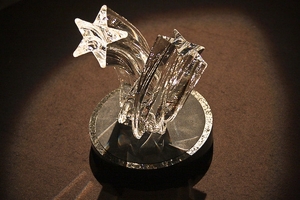 Broadway lyricist Fred Ebb is probably best known for his classic musicals like "Cabaret" and "Chicago," but before the legend was canonized in the world of musical theater his career was marked by never-produced shows and mildly received productions. Like many current budding songwriters, Ebb knew the lessons of perseverance and passion for the art form, and now the Fred Ebb Foundation presents the yearly Fred Ebb Award to a songwriter or songwriting team that has yet to achieve significant commercial success. This year's recipient is Sam Willmott.
David Hyde Pierce will present the award to Willmott Nov. 26 at the American Airlines Theater. The prize includes $50,000 and a one-night-only showcase of Willmott's work.
An alumna of Ebb's alma mater, New York University, Willmott's written work has been performed at Lincoln Center, Joe's Pub at the Public Theatre, and the Kennedy Center, among others. His musicals include "Standardized Testing—The Musical!!!!" and "Scarlet Takes a Tumble." This past summer, Willmott made his Broadway debut working with the production of "Sister Act."
Previous recipients of the Fred Ebb award, which is in its eighth year, have included Jeff Blumenkrantz, Douglas C. Cohen, and Marcy Heisler and Zina Goldrich.
The Fred Ebb award is funded through royalties from Ebb's catalog. Every year, the Foundation also makes a donation to the Broadway Cares/Equity Fights AIDS.