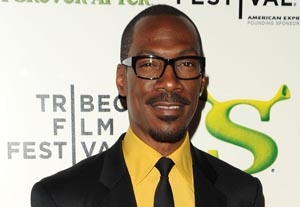 It's official: Eddie Murphy will host the 2012 Oscars. Honestly, I don't see how Murphy can lose: anything has to be better than the James Franco/Anne Hathaway debacle, right?
Interesting sidenote: I remember after a particularly boring Oscar cast a couple years ago, a nominee telling me that it wasn't boring at all if you were inside the theater, at the actual event. And that he had no idea it was coming across as dull to those watching at home until he read the reviews the following day.
So I asked two people who attended the Oscar ceremony this year: Could you tell Franco and Hathaway were bombing during the show? The answer? Not really. According to my friends, the hosts definitely weren't killing it, but people were playing along and amused and having a good time. Once again, they had no idea how much the general public loathed the ceremony until after the fact.
Anyway, back to Murphy. I don't know how long it's been since he performed stand-up, but let's not forget this is the man behind "Delirious" and "Raw," two of the best stand-up concert films ever. He has just the right amount of star power and irreverence to make for a great host.  So count me as optimistic. Then again, I was fairly optimistic about this year's hosts, too...
CONTINUE READING ON BEHIND THE SCENES