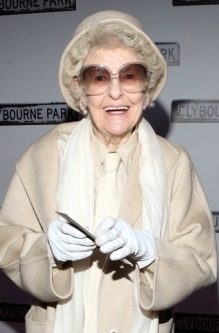 Have you ever found yourself wondering in idle moments, "I wonder how much it would cost to have living legend Elaine Stritch record a personalized outgoing message on my voicemail?" The price, as it turns out, is $10,000. The end result, no doubt, would be priceless.
That $10,000 voicemail is part of the online fundraising campaign for new documentary "Elaine Stritch: Shoot Me." The octogenarian powerhouse (an Emmy winner for her stint on "30 Rock" as Jack Donaghy's mother) consented to director Chiemi Karasawa's request for filming privileges, and according to a recently released trailer, Stritch has given full access. Photos from her personal collection punctuate interviews with some of Stritch's famous friends—including the brave Tina Fey, who says what surely everyone is thinking: "It is sometimes fucking exhausting. But it's always been worth it."
The fundraising campaign ends April 9, and includes several incentives in addition to that personalized voicemail.