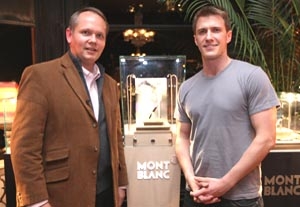 The Montblanc Young Writers Project for the 24 Hour Plays has announced six finalists for the first emerging writer to be showcased in this annual event. Margaret "Mag" McCloskey, Harrison Rivers, Mac Rogers, Josh Koenigsberg, Bekah Brinsetter, and Megan Mostyn-Brown have made the cut, and one will be selected to have frantically written play presented on Broadway.
On Nov. 8, a star-studded group of actors—including the likes of Ashton Kutcher, Emmy Rossum, Julia Stiles, Rosie Perez, Sam Rockwell, and Rachel Dratch—will assemble, a single prop in hand.
According to Patrick Heusinger, who has participated for several years, "You stand up there on a stage and tell a quick story about yourself, and then you leave and the writers pick four or five actors each and spend the whole night writing a play." This play will be ready when the actors arrive the next morning to rush through rehearsals, blocking, and tech to present a show by the time the curtain rises at 8 p.m.
"This is our third year working with the Urban Arts Partnership on the 24 Hour Plays," said Kelly Hodrick, Director of Communications for Montblanc North America. While this is the ninth annual production of the 24 Hour Plays on Broadway, this is the first in which an up-and-coming writer will be selected by
Talenthouse
to participate in the writing. "We wanted to make sure to give a chance to emerging artists," Hodrick said.
All proceeds from the Nov. 9 event benefit Urban Arts Partnership, a not-for-profit organization that brings arts education programs into New York City public school classrooms. "You get to help kids and hang out with the coolest people in the world—how can you say no?" said event veteran and former "Law and Order: Special Victims Unit" star Diane Neal.
Neal is not the only one who finds participating fun—in fact, the event has a strong following among actors who return each year. Neal joined Rachel Dratch, Patrick Heusinger, and Craig "Mums" Grant at the Welcome Reception at the National Arts Club Oct. 15 to support a cause that keeps bringing them back.
"It's like my favorite night of the year!" said Dratch. "It's really great to watch because you get to see actors you normally would never find working together putting on a show. It is kind of like improv: I like that edge of not knowing what's going on or what will happen."
In giving advice to the young playwright finalists, Neal emphasized the significance of the common cause as the ultimate motive for participating. She said, "I blow. I don't do theater—it makes me gassy when I'm up there. But remember, when you're scared that what you write sucks and will ruin your career: it won't. You're all here for the kids and that's awesome."
"The personality and character of children is what's at stake here," said Jan-Patrick Schmitz, CEO of Montblanc North America. "Urban Arts Partnership and Talenthouse are bringing talent into schools and nurturing children's creativity."
Given the current economic climate, corporate sponsorship increasingly dries up for theater events, and many actors struggle further to find jobs, let alone find funding. "We're sticking with missions like this," said Schmitz. "Even in more difficult times like these."