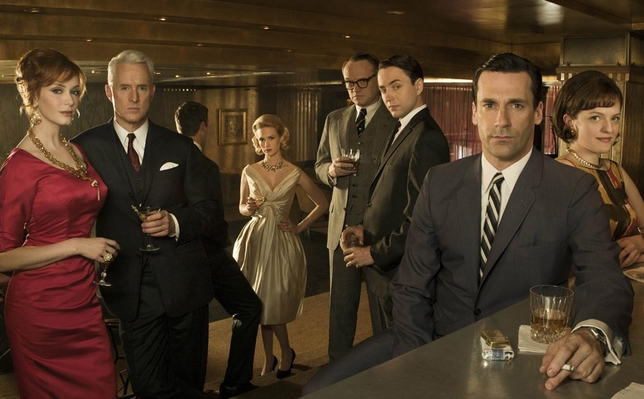 For those who complain that award shows are too predictable, there's good news: One way or another, something groundbreaking will happen in the Outstanding Drama category this year. Either "Mad Men" will snag its fifth consecutive win, setting a new record for consecutive wins in the category, or there will be a major upset. Whatever the outcome, it should be fascinating.

The AMC show is currently tied with "Hill Street Blues," "L.A. Law," and "The West Wing" for the most consecutive wins—four in a row—in the category. That's a huge enough achievement on its own, but "Mad Men" has the chance to break ahead if it takes home the top prize again this year. And conventional wisdom says it will, as the beloved show is coming off a strong season critically and commercially.

But wait! Things just got complicated, with the beloved "Downton Abbey" leaving the miniseries race and entering the drama series category. If there is any show that equals "Mad Men" in terms of popularity, it's the British import. Obviously, Emmy loves the show, nominating six of the actors, most of whom are unknown in America aside from Maggie Smith.

Let's be honest. The other nominated dramas—"Game of Thrones," "Boardwalk Empire," and "Homeland"—have their passionate fans, but aren't going to take the top prize. "Breaking Bad" might have an outside chance, riding a wave of publicity and buzz that is deafening. But I'm guessing "Breaking Bad" won't take home the gold until next year, when the second half of its fifth and final season has aired. It's going to come down to the very American "Mad Men" and the British invasion of "Downton Abbey."

In the end, it's likely "Mad Men" will prevail. The show hasn't lost any of its cache in five years on the air and continually proves it's not afraid to take risks, whether diminishing once-prominent characters (the ex-Mrs. Draper) or boldly putting newcomers front and center (the new Mrs. Draper.) If it comes down to the judges, individual "Mad Men" episodes stand alone better than those of "Downton Abbey," which are very reliant on each other to keep track of all the relationships and intrigue. So the safe bet is the incumbent, but don't be surprised by the underdog. Either way, it's going to be an exciting night.