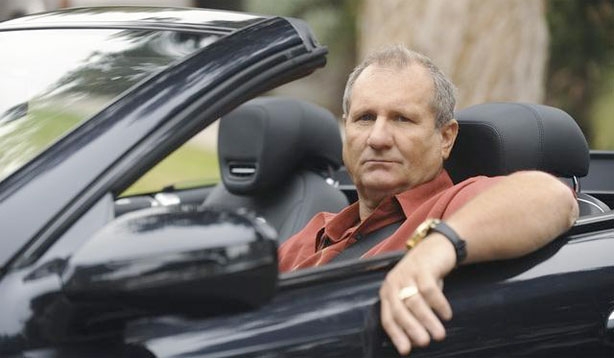 For the Emmy Awards, acting nominees get to submit an episode that they feel best showcases their talent. We'll be looking at the episodes submitted in each category over the next few weeks. Last week, we looked at supporting actress in a comedy series category. This week, it's the men's turn with supporting actor in a comedy.

Ty Burrell ("Modern Family") - "Mistery Date"
Phil doesn't realize the new friend he's invited over for a Guy's Night (Matthew Broderick) thinks he's gay. It's a testament to "Modern Family" and Burrell that a logline as silly and hackneyed as that one sounds could result in a genuinely funny, sweet episode. Phil's reaction when he realizes he's inadvertently misled his new buddy is priceless.
Adam Driver ("Girls") - "It's Back"
Adam returns to the show and is seen in AA and on a date. While the "It's" in the title might be referring to Hannah's OCD, it's likely more about Adam Sackler, Hannah's awful ex-bofyriend, so wonderfully played by Driver. It's nice to see some of the guys getting love on "Girls." And whether you love to hate Adam (the character) or just hate him, everyone agrees Driver is a standout on the show.
Jesse Tyler Ferguson ("Modern Family") - "The Wow Factor"
Mitchell deals with a schoolyard bully by beating him in handball. As partner to Cam (Eric Stonestreet), Mitch usually has to play the "straight man," throwing out the occasional zinger. This episode gives Ferguson a chance to show off his physical chops as well. And watching Mitch become the bully is an awkward but completely believable transition.
Bill Hader ("Saturday Night Live") - "Host: Seth MacFarlane"
Highlights include "Clint Eastwood…and the Chair" and a puppetry class where Hader's creepy puppet Coleman recalls his tour in Vietnam. While I might have voted for the season finale—where Hader's "Weekend Update" correspondent almost marries Anderson Cooper and bids farewell, it's hard to argue with this solid episode. His Eastwood is always good for laughs and his performance as grizzled Coleman (oddly, not that different from his Eastwood) is demented and hilarious.
Tony Hale ("Veep") - "Running"
Gary grows increasingly passive-aggressive towards Selina, who has a bad reaction to the St. John's Wort he recommends. On both "Veep" and "Arrested Development," Hale has perfected the art of playing the sycophantic manchild. And I mean that in the best possible way. And as with "Arrested," where he had a comic pro like Jessica Walter to play off of, his best scenes tend to be with Julia Louis-Dreyfus' Selina. His desperate need for her approval and his glee when he feels acknowledged by her are one of the best parts of the series.

Ed O'Neill ("Modern Family") - "Bringing Up Baby"
Jay endures a fishing trip with Phil and learns Gloria is pregnant. I've been rooting for O'Neill the last few years, and every year I think he's finally going to win. Thus far, I've been proven wrong, but this episode is a perfect example of why the actor formerly known as Al Bundy is so deserving. His slow-burn in tolerating Phil is hilarious, but it's the sweetness he brings out when he learns he's about to be a father that is truly wonderful. This isn't easy work; O'Neill just makes it look that way.
Final thoughts: Though it would be great to see Hader rewarded for his consistently great work, it also feels odd that he's in this category--he's playing multiple roles, not really being given a character arc to play out like the others. Then again, if judges are basing it all on one episode, Hader certainly stands out. Of all this year's nominess, the always excellent Burell probably has the showiest episode. But now that Eric Stonestreet (oddly not nominated this year) and Burrell have already won Emmys, I hope for a win for the long overdue O'Neill.