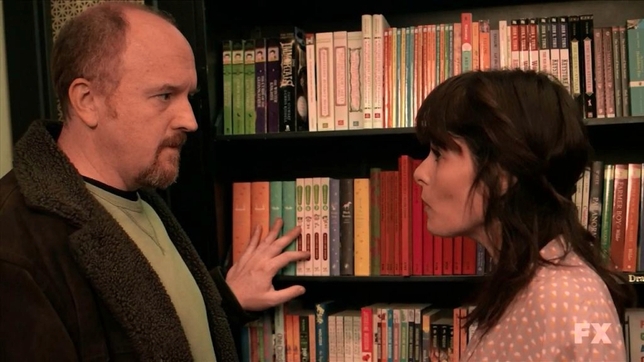 There are six very funny men nomianated for lead actor in a comedy at the Emmy Awards this year—two of whom are playing themselves. Each nominee gets to submit one episode from the season for Emmy judges to help determine who to vote for. We look at what episode each actor submitted, and how it might affect their odds.

Alec Baldwin ("30 Rock") - "A Goon's Deed in a Weary World"
Jack begins the process of choosing his successor. Baldwin is always terrific, but the final season of "30 Rock" was not his best, largely because he was saddled with re-entering the dating world after his split from his wife Avery—a choice I still don't understand. Baldwin was smart to submit an episode that kept him in the workplace and his scene partner Kenneth the Page (Jack MacBrayer), who he eventually hires as his replacement after a candidate search inspired by "Charlie and the Chocolate Factory."

Jason Bateman ("Arrested Development") - "Flight of the Phoenix"
In the first episode of season four, Michael hits a new low. There was so much excitement going into this episode, before the latest season proved to be a bit of a disappointment. It's probably the only episode Bateman could submit as a stand-alone since as the season progresses, the jokes rely increasingly on having seen previous episodes. Still, Bateman makes a great straight man, as always, and his scenes moving into George Micheal's college dorm are hilarious. His expression the moment he realizes he's been voted out by his own son is priceless.
Don Cheadle ("House of Lies") - "Hostile Takeover"
Marty goes to Las Vegas to meet Carson and his competitor. Cheadle is great at a slow burn, and nothing is more fun than watching him try to tolerate the unbearable casino magnate Michael Carson (Mather Zickel.) After Carson takes him to shoot watermelons, we start to think Marty has sunk to a new low…until he drives off, leaving Carson in the desert. It's a great moment in an episode that has quite a few, as Marty then goes off and sells himself to Carson's competition and Jeannine realizes her true feelings for him.
Louis C.K. ("Louie") - "Daddy's Girlfriend, Part 1"
Louie works up the nerve to ask out a woman at a bookstore. While the best episode of the season is "Telling Jokes/Set Up," in which Louie is assaulted by Melissa Leo, this is probably a less divisive choice. And it features a beautiful monologue that Louie delivers to Parker Posey, as a bookstore employee he's asking out. His rambling, beautiful speech to her is both touching and hilarious, and puts Louie at the front of the pack.

Matt LeBlanc ("Episodes") - "Episode 202"
Perhaps the most underrated show on television last year, "Episodes" succeeds thanks to the total commitment of LeBlanc playing himself as an unrepentant jerk. After sleeping with Sean's wife, Beverly, he tries to buy forgiveness by getting them both new cars. Sean is outraged, refusing to even grab the keys when Matt tosses them to him—leading to a great callback where Matt reiterates how bad Sean is at sports. Sean is even more upset when he realizes Beverly accepted the gift without a second thought. But by the end, their relationship is healing, which is what we really want to see. The best scenes are with these two together, where Sean humanizes Matt a bit.

Jim Parsons ("The Big Bang Theory") - "The Habitation Configuration"
Sheldon is caught between his girlfriend Amy and his man crush Wil Wheaton. Kind of a no-brainer, this was one of the season's best episodes overall and Parsons is great as always. Trying to mediate a fight between his two loves, Sheldon learns more about relationships when everyone tells him he needs to take Amy's side, no matter what. Watching the socially-challenged genius compute facts about human behavior is always a winning scenario.
Final thoughts: It's likely this category comes down to two previous winners--Baldwin and Parsons. But barring a sentimental vote for Baldwin's final season, I'm going to go out on a limb and say it's Louis CK's year at last. He and LeBlanc are both teriffic at playing caustic versions of themselves—which isn't easy, no matter what anyone says. Unfortunately, "Episodes" doesn't get the love "Louie" does, so between the two, my money's on the hot comic.