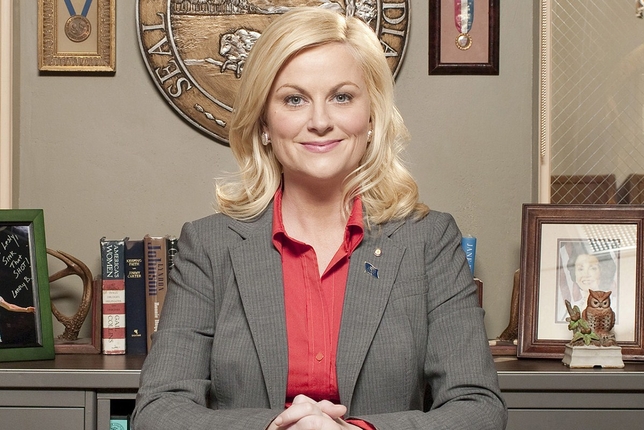 Six very funny ladies (including three previous winners in the category) are competing for the lead actress in a comedy Emmy Award. As each nominee gets to submit one episode that best showcases their ability (or, in some cases, two—more about that below), we take a look at what was submitted and how it might affect their odds.

Laura Dern ("Enlightened") - "All I Ever Wanted"
Amy is torn between her ex Levi and new love Jeff. "Enlightened" can sometimes feel a bit overly whimsical, but this was one of the show's best episodes. Just as Amy has consummated her relationship with journalist Jeff, her ex appears, fresh from rehab and determined to win her back. The scene where the high school sweethearts sit at a baseball field and reminisce is "Enlightened" at its best—sweet and sentimental, without being maudlin. And Dern's scenes with her real-life mother Diane Ladd are a nice bonus.
Lena Dunham ("Girls") - "Bad Friend"
Hannah and Marnie's friendship is tested when long-simmering resentments come out. It's a bit surprising Dunham didn't choose one of the more talked-about episodes, such as "One Man's Trash," where she notoriously played naked ping-pong with Patrick Wilson. But this centers on a different kind of relationship, between female friends. Hannah's reaction when she learns Marnie had sex with her ex Elijah is classic "Girls"—she finds out about the betrayal in the midst of doing cocaine with Elijah. Marnie's actions undermine her character somewhat, so I wouldn't say this episode showcases the best of the writing the show has to offer. But it's a solid vehicle for Dunham as an actor.

Edie Falco ("Nurse Jackie") - "Luck of the Drawing"
Jackie butts heads with her husband in divorce mediation over custody of the kids. As usual, this episode is a good mix of comedy and drama. It's Jackie's birthday and she starts off by arguing with Kevin, who won't let her see the girls that night. She then has to deal with a little boy who has a spider in his ear—one of the most intense medical maladies seen on the show. But the day ends with a sweet victory, as she gets to see her children after all. Through it all, Falco effortlessly breezes through high comedy and dark drama like the pro she is.

Tina Fey ("30 Rock") - "Hogcock/Last Lunch"
Liz finally becomes a mother in the two-part series finale. It's odd to me that both Fey and co-star Jane Krakowski picked these episodes (a bit of a cheat by lumping two together) as their submission—it's actually a pretty weak showcase for both. All I can reason is that Fey is relying on the sentimental vote—a strategy that just might work. But it is fun to see Liz Lemon as a mother—to junior versions of Tracey and Jenna, no less. And a sweet send-off for the show.
Julia Louis-Dreyfus ("Veep") - "Running"
After an injury and mixing medications, Selina gets some clarity about her future. After giving a disastrous TV interview in the previous episode, things only seem to get worse for Selina, who walks through a plate glass door and has a bad reaction to mixing St. John's Wort with Prozac. But aside from the humor of seeing Selina intoxicated and blowing off work, the episode ends with a triumph—she is determined to no longer cower to the President, saying she'll resign from the ticket in the upcoming re-election. As always, there are the great one-liners that Louis-Dreyfus nails ("I'm not going to get beaten by a banana!" she says, as justification for running a race despite her injury—and indeed, she does beat the guy in the banana costume.) But Selina getting some self-esteem at the end and taking charge is what truly elevates this penultimate episode of the second season.
Amy Poehler ("Parks and Recreation") - "Emergency Response/Leslie and Ben"
Leslie is called away from a gala for an emergency meeting, then ends up deciding to get married that night. Again, I'm not sure how Poehler was able to sneak in two episodes—unlike Fey, this isn't even a season finale. Still, anything that helps the deserving comic finally win is OK by me. And "Leslie and Ben" is the real highlight of the season, starting with the pair rushing to put together a wedding that night, calling it off after Ron punches a party crasher, then pulling it off by the end. Poehler is always at her best when paired with Adam Scott's Ben, and the episode manages to be both hysterical and touching.

Final thoughts: All the women nominated are deserving, so no offense intended by the clinical way I'm about to break things down. There are a couple sentimental choices here, as both Dern and Fey are nominated for shows that aren't returning. Still, "Enlightened" was divisive and Fey's won before, so I don't think sentiment will play a big part. And it's starting to feel like the Dunham/"Girls" obsession has waned somewhat. Likewise, Falco has a been-there-done-that feel to it already. Which would lead me to hope that the wonderful Poehler could finally snag this award. But I think Louis-Dreyfus will likely repeat her win from last year. Voters love her, "Veep" has just the right amount of popularity (not a cultural phenom like "Girls," not a virtually unwatched show like "Enlightened"), and her episode was a terriffic choice.