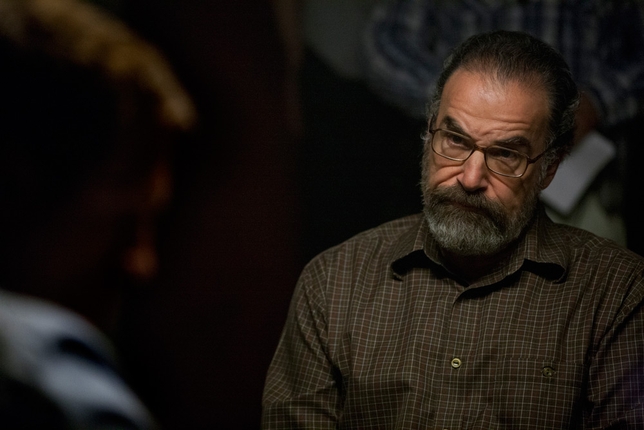 For the Emmy Awards, acting nominees get to submit an episode that they feel best showcases their talent. And the supporting actor in a drama field is typically a tight race—when Noah Emmerich of "The Americans" and Corey Stoll on "House of Cards" aren't nominated, you know it's got to be a competitive group. We look at the episodes submitted by the nominees.
Jonathan Banks ("Breaking Bad") - "Say My Name"
Mike has a final, tragic confrontation with Walter. I think everyone knew Mike's time was limited on "Breaking Bad," but what a poetic send-off for the grizzled character. The first part of the episode shows his soft side: spending time with his beloved granddaughter and insisting his men get their payments. Then, the tough stuff: After being shot by Walt, who suddenly realizes he didn't need to kill Mike and stammers an apology, Mike tells him to shut up and let him die in peace.

Bobby Cannavale ("Boardwalk Empire") - "Sunday Best"
It's a busy Easter Sundy for Gyp, who spends time with his family and his boss. Cannavale has emerged as the best thing about "Boardwalk Empire," and this episode is a great showcase for him. We truly see the two sides of Gyp: First, he is utterly emasculated by the women in his family, then he goes to church to complain to Jesus and ends up punching a priest and stealing from the church.

Jim Carter ("Downton Abbey") - "Episode 3.06"
Carson has to deal with a potential scandal when Thomas makes overtures to Jimmy. Carson may be a bit of a stuffed shirt, but he definitely has his soft side, and Carter excels when showing it. Remember when he refused to go to work for Mary when he didn't approve of her groom? In this episode, he's forced to deal with the revelation of Thomas' homosexuality—and turns out to surprise everyone with his compassion and kindness.
Peter Dinklage ("Game of Thrones") - "Second Sons"
Tyrion weds Sansa. Another episode that shows a softer side to a tough character. Tyrion is forced by the worst father ever to wed Sansa—something neither one is happy about. At the most awkward ceremony ever, "The Imp" must endure Joffrey's teasing—he removes Tyrion's stool so he can't place the cloak on his bride. But he puts his foot down when Joffrey tries to get the bedding ceremony started. Tyrion has such a protective nature to his child bride, you almost hope these two crazy kids can work things out.
Mandy Patinkin ("Homeland") - "The Choice"
In the second season finale, Saul is on lockdown while things fall apart. Patinkin didn't earn an Emmy nomination for his first season, but he's likely to win for this one. After realizing Carrie is in love with a terrorist, he summarizes what every viewer has been thinking for months, shouting: "Carrie, you are the smartest and the dumbest fucking person I've ever known!" But his expression in the final scene when his protégé comes back and he sees she's alive says more than pages of dialogue.
Aaron Paul ("Breaking Bad") - "Buyout"
Jesse partners with Mike to get out of the business once and for all. While everyone descends into darkness—even Skyler—Jesse starts to unravel after a young child is killed for witnessing their train heist. He tries to get out but it's not threats that work on him—it's guilt. When Walt tells him he's lost everything, Jesse can't leave him. For someone who started off as a simple punk, Jesse is turning into the heart of "Breaking Bad."
Final thoughts: Emmy loves to bid farewell to departed characters, so Banks might have an advantge over "Breaking Bad" co-star Paul, who was already won this award twice. But Paul is a powerhouse and he's currently on TV doing amazing work in the new and final season, so don't count him out. Still, the actor to beat has to be Patinkin, who manages to be tough, warm, funny, and frightening as Papa Bear Saul on "Homeland."