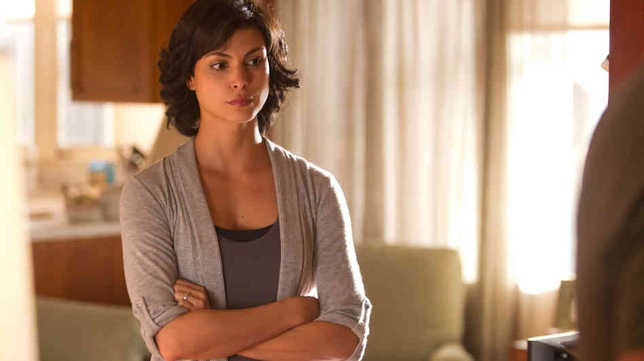 For the Emmy Awards, acting nominees get to submit an episode that they feel best showcases their talent. We'll be looking at the episodes submitted in each category over the next few weeks. We've covered supporting players in comedy, now it's time to look at the competitive supporting actress in a drama field.
Morena Baccarin ("Homeland") - "State of Independence"
Jessica has to fill in for her husband when he misses a big fundraising dinner. Because he's burying a body. As you do. One of the most pleasant surprises of this year's nominations was the inclusion of Baccarin, who truly deserved a nod for the first season. But in Season 2, the role of Brody's long-suffering wife only grew richer, and this episode shows how both Baccarin and Jessica have come into their own. When Brody doesn't appear for the fundraiser Jessica has thrown herself into planning, she ends up giving a speech that is devastating and lovely.
Christine Baranski ("The Good Wife") - "The Seven Day Rule"
Diane offers Alicia a partnership, but all is not what it seems. This is a somewhat lighthearted episode by "Good Wife" standards, and Baranski is of course a vet of comedy and drama. When Alicia discovers she was only offered a partnership at the firm as a way to bring in money (kind of a pyramid scheme), Diane handles the situation as gracefully as possible, telling her to appreciate the gesture, if not the intention. It's the kind of clever, crisp delivery at which Baranski is a pro.
Emilia Clarke ("Game of Thrones") - "And Now His Watch Is Ended"
Daenerys buys the Unsullied from Kraznys. Several people have remarked that Daenerys only shows up for 5–10 minutes an episode and proceeds to steal the whole thing. This is a perfect example—she turns up at the end to given a dragon to Kraznys in exchange for his Army. Once she takes control of the Army, she orders them to kill Kraznys and his crew. She then offers her slave army their freedom—and they choose to stay. Though I might have gone with the previous episode where she makes the bargain, it's hard to argue this is brilliant, powerful stuff. If Judi Dench can win an Oscar with 12 minutes of screen time, there's no reason Clarke can't snag an Emmy.
Anna Gunn ("Breaking Bad") - "Fifty-One"
It's Walt's birthday, and Skyler celebrates by trying to drown herself. As someone who has never understood the Skyler hate some people seem to have, this was a great episode for Gunn to show how Walt's descent has affected people other than himself. When Skyler essentially tells her husband she hates him and is waiting for him to die, you realize just how far she's come from the naïve, loving wife she began the show as. Walt's not the only one transformed.
Christina Hendricks ("Mad Men") - "A Tale of Two Cities"
Joan lands the company an Avon account—but doesn't get to manage it herself. Hendricks also did wonderful work in another episode, "Collaborators," but didn't get nearly as much screen time as in "A Tale of Two Cities." We get to see Joan manipulate her way into landing the Avon account, and finally have a long overdue face-off with Peggy. It's Joan at her best—tough, determined, yet vulnerable, and Hendricks aces it.
Maggie Smith ("Downton Abbey") - "Episode 3.01"
It's Mary and Matthew's wedding day. The Dowager Countess is witty and hilarious. Honestly, does it even matter what episode Smith submits? She's predictably witty and hilarious as the Dowager Countess, though she has the extra bonus of slamming Shirley MacLaine playing Cora's American mother. "She is like a homing pigeon. She finds our underbelly every time. Dreadful woman," quips Smith. She's predictably delightful, and might well take home her third consecutive Emmy for the role.
Final thoughts: This always seems to be the hardest category to call, with every actor a powerhouse. And some—particularly Hendricks and Gunn—are long overdue. I'd be happy to see any of them win, but really think it comes down to a battle of the long-suffering wives: Baccarin and Gunn. Gunn might have the advantage as new episodes of "Breaking Bad" are currently airing and her terrific work is fresh in voters' minds. But then again, never underestimate the appeal of "Downton Abbey."