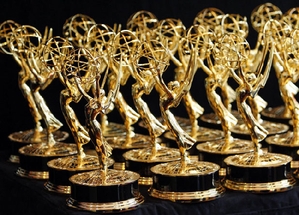 AMC's "Breaking Bad" swept the 66th annual Emmy Awards with five wins to top off the show's final season. Bryan Cranston won in the outstanding lead actor in a drama series category for "Breaking Bad," beating out Matthew McConaughey, Kevin Spacey, and Jon Hamm, while Anna Gunn and Aaron Paul won for best supporting actress and actor in a drama, respectively. The series about a high school chemistry teacher who cooks meth to make ends meet after being diagnosed with lung cancer also won the drama series and writing categories. It has been nominated a total of 58 times over its five-season run.
Julianna Margulies won for outstanding lead actress in a drama series for her turn on "The Good Wife" with Julia Louis-Dreyfus taking lead actress in a comedy series for "Veep." Louis-Dreyfus referred to a mustachioed Cranston as Clark Gable while they presented an award and later, when accepting her win, the two shared an 11-second kiss. This is Louis-Dreyfus' third consecutive win for the HBO comedy and fifth career Emmy.
Lead actor in a comedy went to Jim Parsons for the second year in a row, just weeks after the actor signed a contract that would ensure him $1 million per episode of CBS' "The Big Bang Theory." ABC's "Modern Family" won for best comedy, with the show's Ty Burrell taking the category for best supporting actor in a comedy.
The BBC's "Sherlock: His Last Vow" fared well with wins for both Benedict Cumberbatch and Martin Freeman as best lead actor in a miniseries and best supporting actor in a miniseries, respectively.
Although Uzo Aduba ("Orange Is the New Black") won for best guest actress in a comedy series, Netflix's "OITNB" and "House of Cards" were shut out of the winner's circle by more traditional broadcast and cable television.
The Emmy Award for best television movie went to HBO's "The Normal Heart," which garnered a total of six nominations, including nods for writer Larry Kramer, Matt Bomer, Mark Ruffalo, Julia Roberts, Joe Mantello, Alfred Molina, and Jim Parsons.
FX's breakout series "Fargo" won for outstanding miniseries while Oscar winner Kathy Bates swooped in for the outstanding supporting actress in a miniseries win for her turn on "American Horror Story: Coven." Her co-star Jessica Lange won for best lead actress in a miniseries.
The academy honored the year's deaths, which included a heartfelt tribute to Robin Williams from fellow comedian Billy Crystal.
The Emmy Awards were held at the Nokia Theater in Los Angeles.
A full list of nominees and winners is below.
Best Drama Series
"Breaking Bad" (WINNER)
"Downton Abbey"
"Game of Thrones"
"House of Cards"
"Mad Men"
"True Detective"
Best Comedy Series
"Modern Family" (WINNER)
"The Big Bang Theory"
"Louie"
"Orange is the New Black"
"Silicon Valley"
"Veep"
Lead Actor in a Drama Series
Bryan Cranston, "Breaking Bad" (WINNER)
Jeff Daniels, "The Newsroom"
Jon Hamm, "Mad Men"
Woody Harrelson, "True Detective"
Matthew McConaughey, "True Detective"
Kevin Spacey, "House of Cards"
Lead Actress in a Drama Series
Julianna Margulies, "The Good Wife" (WINNER)
Lizzy Caplan, "Masters of Sex"
Claire Danes, "Homeland"
Michelle Dockery, "Downton Abbey"
Kerry Washington, "Scandal"
Robin Wright, "House of Cards"
Lead Actor, Comedy
Jim Parsons, "The Big Bang Theory" (WINNER)
Ricky Gervais, "Derek"
Matt LeBlanc, "Episodes"
Don Cheadle, "House of Lies"
Louis C.K., "Louie"
William H. Macy, "Shameless"
Lead Actress, Comedy
Julia Louis Dreyfus, "Veep" (WINNER)
Lena Dunham, "Girls"
Edie Falco, "Nurse Jackie"
Melissa McCarthy, "Mike & Molly"
Amy Poehler, "Parks & Recreation"
Taylor Schilling, "Orange Is the New Black"
Lead Actor in a Miniseries or a Movie
Benedict Cumberbatch, "Sherlock: His Last Vow" (WINNER)
Chiwetel Ejiofor, "Dancing on the Edge"
Martin Freeman, "Fargo"
Billy Bob Thorton, "Fargo"
Idris Elba, "Luther"
Mark Ruffalo, "The Normal Heart"
Lead Actress in a Miniseries or a Movie
Jessica Lange, "American Horror Story: Coven" (WINNER)
Helena Bonham Carter, "Burton and Taylor"
Minnie Driver, "Return to Zero"
Sarah Paulson, "American Horror Story: Coven"
Cicely Tyson, "The Trip to Beautiful"
Kristen Wiig, "The Spoils of Babylon"
Supporting Actor, Drama
Aaron Paul, "Breaking Bad" (WINNER)
Jim Carter, "Downton Abbey"
Peter Dinklage, "Game of Thrones"
Josh Charles, "The Good Wife"
Mandy Patinkin, "Homeland"
Jon Voight, "Ray Donovan"
Supporting Actress, Drama
Anna Gunn, "Breaking Bad" (WINNER)
Maggie Smith, "Downton Abbey"
Joanne Froggatt, "Downton Abbey"
Lena Headey, "Game of Thrones"
Christine Baranski, "The Good Wife"
Christina Hendricks, "Mad Men"
Supporting Actor, Comedy
Ty Burrell, "Modern Family" (WINNER)
Andre Braugher, "Brooklyn Nine-Nine"
Adam Driver, "Girls"
Jesse Tyler Ferguson, "Modern Family"
Fred Armisen, "Portlandia"
Supporting Actress, Comedy
Allison Janney, "Mom" (WINNER)
Mayim Bialik, "The Big Bang Theory"
Julie Bowen, "Modern Family"
Kate Mulgrew, "Orange Is the New Black"
Kate McKinnon, "Saturday Night Live"
Anna Chlumsky, "Veep"
Reality-Competition Series
"The Amazing Race" (WINNER)
"Dancing with the Stars"
"Project Runway"
"So You Think You Can Dance"
"Top Chef"
"The Voice"
Variety Series
"The Colbert Report" (WINNER)
"The Daily Show with Jon Stewart"
"Jimmy Kimmel Live"
"Real Time with Bill Maher"
"Saturday Night Live"
"The Tonight Show starring Jimmy Fallon"
Miniseries
"Fargo" (WINNER)
"American Horror Story: Coven"
"Bonnie & Clyde"
"Luther"
"Treme"
"The White Queen"
Television Movie
"The Normal Heart" (WINNER)
"Killing Kennedy"
"Muhammad Ali's Greatest Fight"
"Sherlock: His Last Vow"
"The Trip to Bountiful"
Supporting Actor, Miniseries or Movie
Martin Freeman, "Sherlock: His Last Vow" (WINNER)
Colin Hanks, "Fargo"
Jim Parsons, "The Normal Heart"
Joe Mantello, "The Normal Heart"
Alfred Molina, "The Normal Heart"
Matt Bomer, "The Normal Heart"
Supporting Actress, Miniseries or Movie
Kathy Bates, "American Horror Story: Coven" (WINNER)
Frances Conroy, "American Horror Story: Coven"
Angela Bassett, "American Horror Story: Coven"
Allison Tolman, "Fargo"
Ellen Burstyn, "Flowers in the Attic"
Julia Roberts, "The Normal Heart"
Outstanding Writing for a Drama Series
"Breaking Bad" • Ozymandias • AMC • Sony Pictures Television (WINNER)
Moira Walley-Beckett, Written by
"Breaking Bad" • Felina • AMC • Sony Pictures Television
Vince Gilligan, Written by
"Game of Thrones" • The Children • HBO • HBO Entertainment in association with Bighead, Littlehead; Television 360; Startling Television and Generator Productions
Written by David Benioff, written by D.B. Weiss,
"House Of Cards" • Chapter 14 • Netflix • Donen/Fincher/Roth and Trigger Street Productions, Inc. in association with Media Rights Capital for Netflix
Beau Willimon, Written by
"True Detective" • The Secret Fate of all of Life • HBO,
Nic Pizzolatto, Written by
Directing for a Drama Series
True Detective • Who Goes There • HBO • HBO Entertainment in association with Neon Black, Anonymous Content, Parliament of Owls and Passenger (WINNER)
Cary Joji Fukunaga, Directed by
Boardwalk Empire • Farewell Daddy Blues • HBO • HBO Entertainment in association with Leverage, Closest to the Hole Productions, Sikelia Productions and Cold Front Productions
Tim Van Patten, Directed by
Breaking Bad • Felina • AMC • Sony Pictures Television
Vince Gilligan, Directed by
Downton Abbey • Episode 1 • PBS • A Carnival Films/Masterpiece Co-Production in association with NBC Universal
David Evans, Directed by
Game of Thrones • The Watchers On The Wall • HBO • HBO Entertainment in association with Bighead, Littlehead; Television 360; Startling Television and Generator Productions
Neil Marshall, Directed by
House of Cards • Chapter 14 • Netflix • Donen/Fincher/Roth and Trigger Street Productions, Inc. in association with Media Rights Capital for Netflix
Carl Franklin, Directed by
Directing for a Comedy Series
Modern Family • Vegas • ABC • Picador Productions and Steven Levitan Productions in association with 20th Century Fox Television (WINNER)
Gail Mancuso, Directed by
Episodes • Episode 309 • Showtime • Showtime Presents, Hat Trick Productions, Crane Klarik Productions
Iain B. MacDonald, Directed by
Glee • 100 • Fox • Ryan Murphy Television in association with 20th Century Fox Television
Paris Barclay, Directed by
Louie • Elevator, Part 6 • FX Networks • Pig Newton, Inc. and FX Productions
Louis C.K., Directed by
Orange Is The New Black • Lesbian Request Denied • Netflix • Lionsgate Television for Netflix
Jodie Foster, Directed by
Silicon Valley • Minimum Viable Product • HBO • HBO Entertainment in association with Judgemental Films, Alec Berg, Altschuler Krinsky works, and 3 Arts Entertainment
Mike Judge, Directed by
Writing for a Comedy Series
Louie • So Did The Fat Lady • FX Networks • Pig Newton, Inc. and FX Productions (WINNER)
Louis C.K., Written by
Episodes • Episode 305 • Showtime • Showtime Presents, Hat Trick Productions, Crane Klarik Productions
David Crane, Written by
Jeffrey Klarik, Written by
Orange Is the New Black • I Wasn't Ready (Pilot) • Netflix • Lionsgate Television for Netflix
Liz Friedman, Written by Jenji Kohan, Written by
Silicon Valley • Optimal Tip-To-Tip Efficiency • HBO • HBO Entertainment in association with Judgemental Films, Alec Berg, Altschuler Krinsky works, and 3 Arts Entertainment
Alec Berg, Written by
Veep • Special Relationship • HBO • HBO Entertainment in association with Dundee Productions
Simon Blackwell, Story and Teleplay by Tony Roche, Story and Teleplay by Armando Iannucci, Story by
Writing for a Miniseries, Movie or a Dramatic Special
Sherlock: His Last Vow (Masterpiece) • PBS • Hartswood West for BBC/Cymru Wales in co-production with Masterpiece (WINNER)
Steven Moffat, Written by
American Horror Story: Coven • Bitchcraft • FX Networks • 20th Century Fox Television
Ryan Murphy, Written by Brad Falchuk, Written by
Fargo • The Crocodile's Dilemma • FX Networks • MGM and FX Productions
Noah Hawley, Written by
Luther • BBC America • A BBC and BBC America co-production
Neil Cross, Written by
The Normal Heart • HBO • HBO Films in association with Plan B Entertainment, Blumhouse and Ryan Murphy Productions
Larry Kramer, Screenplay by
Treme • …To Miss New Orleans • HBO • HBO Entertainment in association with Blown Deadline Productions
David Simon, Written by Eric Overmyer, Written by
Directing for a Miniseries, Movie or a Dramatic Special
Fargo • Buridan's Ass • FX Networks • MGM and FX Productions (WINNER)
Colin Bucksey, Directed by
American Horror Story: Coven • Bitchcraft • FX Networks • 20th Century Fox Television
Alfonso Gomez-Rejon, Directed by
Fargo • The Crocodile's Dilemma • FX Networks • MGM and FX Productions
Adam Bernstein, Directed by
Muhammad Ali's Greatest Fight • HBO • HBO Films in association with Rainmark Films and Sakura Films
Stephen Frears, Directed by
The Normal Heart • HBO • HBO Films in association with Plan B Entertainment, Blumhouse and Ryan Murphy Productions
Ryan Murphy, Directed by
Sherlock: His Last Vow (Masterpiece) • PBS • Hartswood West for BBC/Cymru Wales in co-production with Masterpiece
Nick Hurran, Directed by
Writing in a Variety Special
"Sarah Silverman: We Are Miracles" (WINNER)
"67th Annual Tony Awards"
"Billy Crystal: 700 Sundays"
"The 71st Annual Golden Globe Awards"
"The Beatles: The Night That Changed America"
Directing in a Variety Special
"67th Annual Tony Awards" (WINNER)
"Six By Sondheim"
"The Beatles: The Night That Changed America"
"The Kennedy Center Honors"
"The Oscars"
"The Sound Of Music Live!"