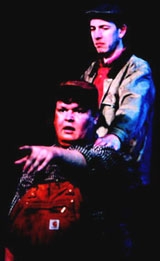 We all know that a life in the American theatre is, for most of its actors and directors, a life of uncertainty. It is usually characterized, even for those who manage to earn their livings in it, by stretches of unemployment and a constant search for the next job.
New York City, Chicago, Los Angeles, and other cities are full of young theatre artists bursting with energy and creative vision. Yet the financial and social insecurity that accompanies a life in the American theatre not only brings countless casualties, it also often creates diminished expectations among those who manage to stick with it.
Actors, hungry for work, tend to accept any role in any play, grateful to have a job in their chosen profession. Dreams of being able to deepen the creative process beyond what can be accomplished during a six-week rehearsal period, of helping to shape a production or a season, of creating something new, of impacting on the direction of the theatre are all placed in plain brown bags of practicality and put on a back shelf in the closet. When spoken about at all, it is often with a chuckle and a sad shake of the head about the happy idealism of youth.
Yet even in our intensely profit-driven economy, in the midst of our "showbiz" theatre with its jobbed-in productions, there are those who have managed to build another kind of life in the theatre. In New York and elsewhere, actors, directors, playwrights, and designers have managed to create ensembles, theatres in which groups of artists have found ways of working and creating together over an extended period of time.
Ensembles have, of course, played an important role in the development of the modern theatre. From the traveling troupes of the commedia dell'arte in Renaissance Italy and Shakespeare's men at the Globe through the Moscow Art Theatre, Brecht's Berliner Ensemble, and the Group Theatre here in the U.S., ensembles have given the world some of its greatest theatre. They have been the environments that fostered new styles, new approaches to performance, new ways for the theatre and its audience to connect.
Unlike in Europe, where government funding encourages the development of ensembles, in the United States the dynamics of the market economy, the widespread opposition to public funding of the arts, and our culture of individualism have mediated against the formation and survival of ensembles. Nonetheless, some have been formed and have survived.
According to the Community Arts Network, there are approximately 100 ensemble theatres in the United States today. They range from venerable regional theatres such as the Milwaukee Repertory Theater and Houston's Alley Theatre to politically committed collectives like the San Francisco Mime Troupe and New York's Irondale Ensemble Project. Some of them -- including the Living Theatre, Mabou Mines, the Talking Band, and Chicago's Steppenwolf -- have helped to shape the cutting edge of American theatre in the last decades of the 20th century. Others, deeply rooted in local communities, have flown under the radar for years.
A few have very long histories; Barter Theatre of Abingdon, Va., for example, is 70 years old (although it was not an ensemble for all that time). Many came into being during that flash of political and cultural creativity known as the '60s. Others, such as New York's Oberon Theatre Ensemble, were founded in the last few years by the latest wave of theatre graduates flooding into the country's theatre centers.
An Artistic Home
These ensemble theatres vary in many ways, including in their understanding of what exactly an ensemble is.
Yet whether they produce the classics or experiment with the collaborative creation of new performance pieces, each provides a stable collaborative environment for theatrical activity and growth. Many involved with these theatres speak of the ensemble as a creative "home."
"Having an artistic home is invaluable, really," says Sharon Fogarty, one of the five artistic directors who form the core of the 34-year-old Mabou Mines. "I'm not worried about where I'm going to get my next job, so I can actually think about what interests me artistically." She became an artistic director in 1999 after nearly 20 years of admiring their work and occasionally performing with them.
"We're not auditioning every day. We've got a job and we can grow," says John Hedges, who has been a member of the acting ensemble at Barter Theatre for five years, during which time he has performed in 30 plays and musicals. "In this context an actor can actually have a life. My wife and I have bought a home and we have a three-and-a-half-year-old daughter who is growing up in and around the theatre with both of her parents around."
Ruth Maleczech, who helped found Mabou Mines in 1970, makes much the same point. "The fact that you can do this at all and actually make a living at it and raise a family was the big surprise," she notes. "To be able to do that while doing what you really want to do is very rare in the American theatre. It is a gift."
The stability that an ensemble provides can have an artistic, as well as personal, impact.
"I've come to value working with the same people, people whose creativity I admire, over a long period of time, counting on them and building with them," says Paul Zimet, who helped to found New York's Talking Band in 1974 along with Ellen Maddow and Tina Shepard. They had all worked with the Open Theatre, which helped pioneer the collaborative creation of plays in the '60s. "The way we work and the nature of the shows we create are very connected. It would be very difficult to give the script to another set of actors and say, 'Go do this show.' "
Jim Niesen, artistic director of New York City's Irondale Ensemble Project, also considers longevity and continuity to be at the core of the art that Irondale, which he founded 20 years ago with Terry Greiss and Barbara Mackenzie-Wood, creates. It is firmly rooted in improvisation even when they are doing scripted plays.
"The work we're doing only works if you have a company there for a long period of time," he insists. "Our process leads our product; each project is really an accumulation of our entire history."
Evalyn Baron, who has been a member of Barter's ensemble for two years and recently became an associate artistic director, says that working with a group over a long period of time allows for much more development than a typical jobbed-in regional production or Broadway show allows. She has done both for most of her career.
"The conventional level of achievement always comes quickly (in rehearsal). Then we can go further and try new things. Being an ensemble allows us to go much deeper," she reports while taking a break from directing "1776." "We can challenge each other in the context of knowing that we can fall off the trapeze and be caught."
"As an actor, it's really important to me to have a say in what's being made," says Laura Siner, who doubles as marketing director for Oberon, which is based in the Jan Hus Playhouse at East 74th Street and First Avenue on Manhattan's Upper East Side.
Last season, Oberon did "Of Mice and Men" because one of the ensemble members was interested in playing the character Lenny, and he succeeded in getting the whole company interested in the play. "Ensemble members can have input into what we're going to do as artists. You can work to fulfill your vision rather than work to fit into someone else's vision. That makes so much difference."
Decision-making processes vary in different ensembles. Some groups have a traditional artistic director with the final say. Others function as collectives in which all decisions are made by vote or consensus. Yet, across the board, the artists involved speak of an increased sense of artistic empowerment.
"As a black artist, there are not many theatre companies where I'm not going to have my point of view filtered through someone else's set of priorities," reflects Michael Sullivan, a performer with the San Francisco Mime Troupe who is also its chief writer. "If you're in the Mime Troupe, you have your say."
At the Milwaukee Rep, which has been an ensemble since 1963, Artistic Director Joseph Hanreddy meets weekly with the ensemble for what he terms "research and development" sessions. They talk about plays they're interested in, novels they'd like to see adapted to the stage, writers and directors whose work they find interesting. "When we finally announce a season, it's not a surprise to anyone; sometimes a project may be in development for two or three years," says Hanreddy.
He adds that as far as he is concerned, the most valuable thing about ensemble work is the deeper involvement of the artists -- particularly the actors -- in the work. "Ownership of the work is the main thing," he explained. "It's our theatre, it's our audience, it's our stage; they're our rehearsal rooms, they're our projects. It's a sense of being able to own the work in a much deeper way."
BackStage.com members: To read the rest of this terrific feature, click here.
Not a member yet? Click here for information on how to receive all the benefits of BackStage.com.