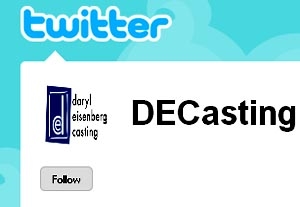 'Twittergate' has ended. New York-based casting director Daryl Eisenberg and Actors' Equity announced separately today that they had resolved their differences over a
controversy that erupted on the web
this week.
Eisenberg had drawn fire on several message boards for using Twitter to comment on actors auditioning in front of her for the New York Musical Theatre Festival's "Gay Bride of Frankenstein." That drew the attention of Equity, which rebuked the casting director in multiple public statements.
Eisenberg told the
New York Times' Arts Beat blog
today
"After a productive meeting with AEA this afternoon, I'm happy to report that we have agreed to both put this behind us.
"By mutual agreement, future tweets will not be coming from the audition room regarding the actors auditioning.
"I apologize to the actors and professionals who put themselves on the line every time they audition, and will continually strive to make the audition room an inspiring, nurturing place for creativity and talent.
"I look forward to working with AEA and its members on future projects, and hope to see you all in the audition room soon."
Equity also released its own statement:
"Earlier today representatives of AEA had a productive meeting with Ms. Eisenberg to discuss her use of twitter in auditions. AEA firmly blieves that twitter is a valuable promotional tool for producers to reach a wide potential audience but that tweeting has absolutely no place in the audition room, which is a safe haven for actors who are seeking employment in this competitive market. We believe this incident is now closed."
After Eisenberg said yesterday that she intended to continue to Twitter from audition rooms despite the controversy, Equity announced that the producer of "Gay Bride of Frankenstein" would hold a second audition, and would invite actors who had already auditioned once for the production to return.