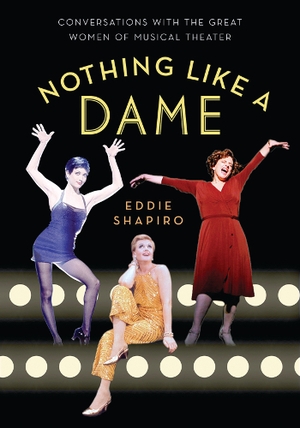 It might be lonely at the top, but it's also anxiety-inducing. At least that's what several of Broadway's former and current leading ladies told author Eddie Shapiro.
For his new book, "Nothing Like a Dame: Conversations With the Great Women of Musical Theater," Shapiro conducted extensive interviews with Tony Award–winning performers ranging from Lillias White to Patti LuPone.
"One of the great surprises to me in the book was the level of insecurity, even at the most accomplished levels—people like Audra McDonald, with five Tony Awards," Shapiro told Backstage. "I think that's inspiring because we always assume that people who are far along in their careers or are stars at this point have got nothing to be insecure about. They've made it. But Audra McDonald said she's still waking up thinking, 'Today's the day they're all going to figure out that I'm a fraud.' "
Still, some actors such as White professed to have "unshakable faith" in their talent. "I had to build that confidence," said White, who won a Tony for playing a hooker in Cy Coleman's "The Life."
"I am at the point in my life where it's waned a little bit, but it's coming back."
Shapiro's "Dames" also said they didn't consciously plan their careers, which often took them from stage productions to films or television series. "All of them said if things worked out, fantastic, but there was no [plan]. It was just the next thing that came along," he said about their careers.
LuPone sounded fatalistic when Shapiro asked her about saying "I may never work again." Did she really mean that? "What actor doesn't?" LuPone shot back. "It is sad. And you know, I'm hanging on for dear life."
Many of the actors said they weren't getting offers thrown at them, even after winning top acting awards.
Debra Monk, who won a Tony in 1993 for "Redwood Curtain," said she still has to audition in Los Angeles. "You're always looking for work and having to prove yourself," said Monk, who also has an Emmy for her performance on "NYPD Blue." "I'm not too proud [to audition]. These days everybody has to work hard to get in."
Other actors, such as Leslie Uggams (a Tony winner and nominee), weren't too proud to take roles outside of Broadway. "She said, 'I get to do roles like Maria Callas in "Master Class" or like Dolly in "Hello, Dolly!" that they're not going to let me do on Broadway,' " said Shapiro.
Still, there were limits for where the actors would go to perform. "It is becoming more and more prohibitive to be an actor on the stage," said Laura Benanti, who won a Tony for her performance in "Gypsy." "And I don't want to have to do some bullshit theme park musical."
Inspired by this story? Check out our theater audition listings!