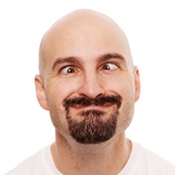 Have you suffered a disastrous headshot? How did you handle it?
Are you willing to share the offending shot with us and let us publish it? Of course, it'll be accompanied by your great headshot.
If you're up for sharing and speaking with us for an upcoming feature on the dos and don'ts of headshots, to be published in our quarterly magazine, Exposure, get in touch!
Please contact Dany Margolies, executive editor of Back Stage West, at dmargolies@backstage.com, ASAP with "Headshot Tales" in the subject line and your great and awful headshots attached. (We promise not to use them without your permission!)