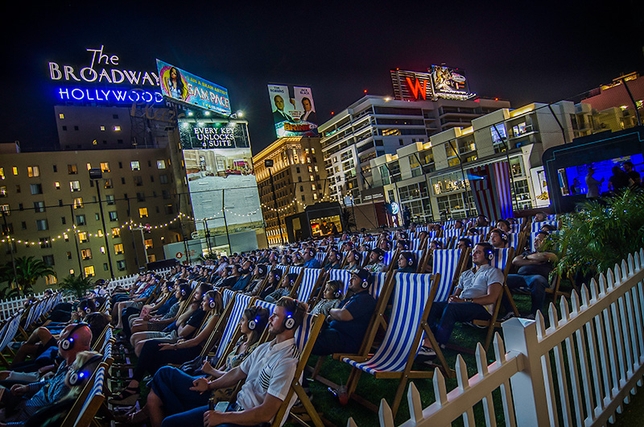 Whether you're recovering from Coachella, prepping for weekend two, getting psyched for that big audition, or shopping for your next project, make sure you set aside time to check out these exciting events this week in L.A.
Give (feed)back.
You probably already know that before a TV pilot ever makes it to the small screen, it's tested endlessly. The iO Theater's staged reading series, "On Its Feet," features pilots or specs from up-and-coming television screenwriters. Each script is performed by actors, then critiqued Q&A style by the audience. On April 17, Jessie Stegner presents "Fluff Piece" in a night moderated by comedian Thea Lux. (Free.)
Change your perspective on "bad kids."
Black Rock Continuation High School in Yucca Valley is often the last resort for teens who've failed to thrive in traditional educational environments. "The Bad Kids," a new documentary premiering April 18, follows three teens at the school. The evening features refreshments and a panel discussion presented by artworxLA. (Free. Ticket required.)
Spend some time in front of the camera.
What's better than a class that promises guaranteed on-screen experience? Audit filmmaker and actor David Rountree's acting experience on April 24 to spend a little time on set. Go through the entire journey of auditioning for a role, preparing, and shooting a sequence while also receiving feedback and walking away with the finished piece. Whether you're a seasoned pro or as green as they come, you're sure to gain some pointers from a pro. (Tickets: $10)
Participate in a musical movement.
What began as a way to funnel foot traffic to indie record stores has blossomed into a frenzied holiday. Held annually, Record Store Day (April 22) celebrates the tradition of buying music from brick-and-mortar storefronts (though some releases are also available online and from digital retailers) with a slew of RSD-exclusive releases, mostly on vinyl. (Events are free.)
Work on your improvisational skills.
Having at least some understanding of improv is vital to any actor: it helps you think on your feet and diversifies your skill sets. No matter your level of experience, Second City's Improv Drop-In on April 23 promises to challenge and entertain you during its two-hour, noncommittal class. Registration is open to current and former students, but others may be eligible to enroll (just give them a call). (Tickets: $20.)
Show off your best duds at Disneyland.
Channeling the glamour and nostalgia of the past, Dapper Day (April 23) invites Disneyland-goers to dress in their best "sophisticated attire" during its biannual meetup. Favoring vintage frocks and smart suits, nothing is too prim and proper, though anything considered cosplay is unofficially off limits. Though Dapper Day occurs throughout the city at places like LACMA, the Disneyland events are by far the most popular. (Free with park ticket.)
And while you're at it, check out our Los Angeles audition listings!