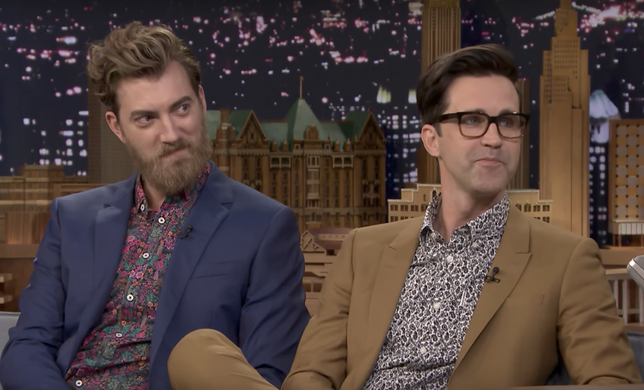 Just because fall is here doesn't mean comedy goes into hibernation mode—New York is rife with comedic opportunities this month! With so much happening, though, it's not always easy to pick and choose what's worth your time. To help you out, here are Backstage's picks for comedy performances and castings to explore in October for anyone looking to get their monthly dose of funny.
PERFORMANCES
Christi Chiello and Giulia Rozzi team up to host Stand-Up With Planned Parenthood, a comedy show to do good. Featured comedians include Janeane Garofalo, Josh Gondelman, Jo Firestone, Rebecca Vigil, Nore Davis, and Yamaneika Saunders, with proceeds going to support Planned Parenthood. The show is being held at Littlefield on Oct. 4. (Tickets: $20)
Rhett and Link are YouTube stars known for their wacky games and segments on their podcast, "Good Mythical Morning." Now, the duo brings their unique comedy to the stage, featuring rap battles, extreme food challenges, and viral videos that are sure to present a new wave of comedy. The show is set for Oct. 14 at the Playstation Theater. (Tickets start at $41)
Controversial comic Ricky Gervais hits the road for his first global tour in seven years with Humanity. Expect the show to be sprinkled with caustic and dark comedy touching on everything from his personal life to American politics. The tour hits the Theater at Madison Square Garden on Oct. 25. (Tickets start at $75)
Demetri Martin brings his deadpan, surreal humor to New York City with the Let's Get Awkward tour. Using uncommon methods like large-pad drawings and musical instruments, Martin's one-liners and longer jokes are sure to make the audience think about comedy in a different way. There are four performances in New York City on Oct. 27 and 28 at Gramercy Theatre. (Tickets start at $49)
Ilana Glazer of "Broad City" recently announced another run of her stand-up show, Ilana Glazer & Friends. The show stars Glazer performing her own hour of comedy before turning the mic over to two special guests for their own funny features. Performed at Union Hall, the next show is set for Oct. 30. (Tickets: $10)
EVENTS
The New Yorker Festival isn't strictly a comedy event, but there is plenty of funny to go around. With guests like Pete Holmes, who is set to perform on Oct. 6, Seth Myers, and Hasan Minaj, fans of current news-based comedy are in for a treat. The festival runs Oct. 6-8 at various venues around NYC.
AUDITIONS
RAC Productions is currently looking for improv performers and stand-up comedians who are interested in participating in showcases at comedy clubs on Saturday nights. The company is also seeking improv performers to join a troupe for a comedy jam. More details can be found on Backstage.
Bonner and Company is seeking a male comedian to join a monthly paying sketch comedy show. The company is also searching for someone who would be interested in developing an ongoing run of comedy shows and seeking bookings.
If you are someone who loves writing sketches or has a desire to learn, IN Studios is hosting a virtual, international, sketch-writing training class, and now's your chance to be a part of it. The class is described as a two-hour virtual writers' room with international collaboration and access to a "private career desk" for veteran and amateur writers alike. Check out the casting call if you're interested in participating.
A Sketch of New York Productions is casting "A Sketch of New York," an ongoing satirical sketch comedy show about living in New York City. Actors from all genders and ages are encouraged to respond to the call.
Check out Backstage's comedy audition listings!